SHARE Atlanta



"As you heal - making your child's presence meaningful"



Thoughts on this Page

"...to helping children who needed "mothering." by Sharen (9/97)



"...called upon by my pastor to help other women" by Laura (9/97)



"...the eyes to see what miracles" by Tracie (9/97)



"...to me is compassion" by Vickie (12/97)



"Gifts from Miguel Edwardo Munoz" by Priscilla (10/13/98)



"...to help Drs, nurses and anyone" by Michelle (2/98)



"..We learned so much about ourselves and others.." by Leanne (4/30/99)



"What Debbie shares 4 years later gives folks hope..." by Debbie (4/30/99)



"ALMOST THERE" by Tracy (4/30/99)



"I deal with life a lot better then I did before.." by Wendy (6/24/99)



"Christian's gift...I'm currently a volunteer at a support group for high risk mothers. The web site is called: www.sidelines.org" by Kristi (10/11/99)

"Kylie's Gift" by Susie (1/22/02)

"More Than Just A Name" by Jim (2/10/02)

"Alex, my angel on earth and now he is my angel at heaven... 1993" by Irene (3/22/02)

"Zane ~ Keiton's Guardian Angel" by Keiton and Anita (6/17/02)

"Time and Treasures in memory of Colton" by Chrissy (9/4/02)

"My Love, my tiny angel, my son" by Jennie (midterm loss) 11/30/02

"Ten Years." by Jennifer Greer of SHARE Atlanta (Miscarriages) 1/14/03)

"Rachelís Rose" by Maria (9/25/03) GA

"The Loss of My Daughter---The Birth of an Angel" by Katie (10/10/04)

Pass It On
Just a few months before my wedding, one of my closest friends miscarried her first child. They had been trying to get pregnant for nearly a year, and everyone had been so excited by the news. When she called to tell me the baby had died, I had no idea what to say.
I was so sad for her and felt helpless to do or say anything of use. For a while it was frightening. One day her husband came to me nearly in tears with worry for her. He said she felt like a failure and was sure they would never have a baby. Neither of us knew what to do.
When she got pregnant again fairly quickly and had a healthy baby boy, she seemed to want to put the loss behind her. As so many family members and friends do, we put it behind us too, relieved to see her back to her old self.
It was during this second pregnancy of hers that I found out that I was pregnant also. Although we had only been married a few months and were very surprised by our news, we were thrilled. I remembered my friend's experience though, and cautioned my husband not to be too excited.
When I miscarried quickly I was upset, but felt that this was a very normal pattern and that our next baby would be fine. I followed everyone's advice and put it behind me and focused on being in the best possible shape for the next pregnancy.
I was shocked, however, when I became pregnant several months later only to miscarry again. I had never dreamed it would happen again.
When my friend was on the phone saying, "I'm so sorry. I know how you feel." Somehow it was comforting to know that she really did know what it felt like.
In my roller coaster of emotions that followed, I experienced tremendous guilt for not realizing what she had gone through.
Finally I conceived again and this time things were going fine. Another of my very best friends called to tell me she was expecting. It was a bittersweet time for their family, because a cousin had become pregnant around the same time and had already miscarried. My friend was anxious about how her pregnancy would affect their relationship.
Fast forward seven months...my healthy son was the focus of my life, my friend's baby was due any day, and we had made big plans to see each other the following summer. They knew they were having a boy, too, so I knew the babies would be good buddies.
I was thrilled when she called to say that the baby had been born and he was fine, but our joy was short lived. The next day her mother-in-law called to tell me the baby was not expected to live. He died early the next morning.
My friend's grief, of course, was devastating. At times I ached so much for her that it felt as if I were losing my own babies all over again. After all that I had experienced, I still didn't know what to say, but I tried my best.
I tried to remember the important days...I was careful not to be too exuberant about my own precious son...and I listened. I didn't judge her anger or tell her to move on. I vowed never to utter the words, "it was for the best."
The day came, as I thought it must, when she felt the guilt I had felt. She apologized for not being more supportive when I lost my babies. She wondered how I knew to call and listen and remember when no one else around her seemed to understand.
I told her about feeling the same way about that first friend. I told her not to worry...I wouldn't hold it against her any more than that friend did me.
I knew then that this was one of the most precious gifts my babies would ever give to me...the ability to be there for my friend when she needed me the way someone had been there for me.
I know, unfortunately, that the day will come when someone will need her the way she needed me, and I know she'll be there and find the right words and understand. That person will wonder at her kindness and strength. All she'll have to do is say, "I know how you feel." And the gifts will be passed on.
(See

Dad and Mom - Support Each Other and

Sibling Grief ~ "Little Stars" and

"A letter to Jacob G." by his mommy, Jennifer for more of Jennifer's thoughts.)
Jennifer G.
Jesse and Jamie
miscarried - 1/14/93 and 12/16/93
Atlanta, Ga.
6/97
SHARE Atlanta's Newsletter editor
~~~~~~~~~~~~~~~Forever in Our Hearts~~~~~~~~~~~~~
Return to list of Letters and Poems

"Kimberly Faith, stillborn 5/5/64"

Sharen shared her child's dedication with us this September. When I wrote her to tell her how moved I was by her dedication, she returned the rest of her beautiful story of her life.

Dear Kimberly,


When you were born you were pretended away by everyone associated with your birth. They thought it best to pretend you never happened.

You happened! You shared nine months with me in the most intimate way. I longed to hold you but before I could, you were wisked away. Even though my hair has turned gray and my steps falter,I will always be the young Mother yearning to hold you in my arms. For now,I will just forever hold you in my heart... until tomorrow...

Dear Marcia,

It is nice to hear from you. I am sorry about your losses! It is true, we never forget. Christmas always meant singing "Silent Night" and wondering how many years it would take to get through it....Funny, I still cry all these many years later!

Please feel free to use my letter anyway you see fit. It is an on going tribute to my daughter. I never had any living children. I was born to Mother so it was tough.

I turned my energies to helping children who needed "mothering." I had 9 foster children and worked in a street ministry where over 500 kids called me their spiritual "Mom." The loss of my babies shaped my life in a way I never thought possible!

In our grief we can't see tomorrow. Today I can look "back" and see the result of the pain.

Redeeming grace...God bless you and the great work you are doing. I have read so many letters from young Mothers on Prodigy and AOL with broken hearts. I was searching for helpful links for "them" when I found your site. Thanks for being there.

Sincerely,
Sharen S.
Rockford, Il


E-mail
9/97



~~~~~~~~~~~~~~Forever in Our Hearts~~~~~~~~~~~~




Return to list of Letters and Poems
~~~~~~~~~~~~~~~~~~~~~~~~~~~~~~~~~~~~~~~
Laura shares what "3 years since her baby Paul Angelo" has meant to her.

Dear Share Website,

What a wonderful site you have here. As an RN and a fellow parent who has experienced the death of a child I truly appreciate what you are accomplishing with this site.

Although it will be 3 years on Sept. 27 since the loss of my son at times it feels as if it were yesterday. As I read through other entries on this page I felt an overwhelming sense of SHARED grief and common support.

Coming into this month I knew it not would be like any other month of the calendar. It would be unique and I have to acknowledge what this "uniqueness" means to me. So as Paul Angelo's date of the 27th draws nearer I'm sure I will be revisiting this website with more of my story to tell, more of my memories to share. Thank you for this opportunity.

As a result of having experienced this loss in my life I have been called upon by my pastor to help other women who have had a child die.

I am very glad that I found your website and will look for a local SHARE support group. In reaching out to others I have been able to heal a little more each time and validate my baby's brief life within me. I have come to realize that his existence had meaning to both me, my family and God.

Thanks, again and may God bless all of you and all of your beloved children.

With love and prayers,
Laura
9/97

for Laura's thoughts and feelings on Paul's anniversary.)
~~~~~~~~~~~~~~Forever in Our Hearts~~~~~~~~~~~~
Return to list of Letters and Poems
~~~~~~~~~~~~~~~~~~~~~~~~~~~~~~~~~~~~~~~
Tracie's mother shares the miracle of life -

Oh, but for a brief moment...
Thank you for the gift you gave me, the eyes to see what miracles
your brothers and sister are.

For the reminder that we are spiritual beings having a human experience
not the other way around.

I pray that I will always keep the eternal perspective in mind and
be worthy to one day to see you with our eternal family.

I love you Nichole.



Tracie Nichole - Second trimester loss
Lincoln Park, MI


E-mail
9/30/97


~~~~~~~~~~~~~Forever in Our Hearts~~~~~~~~~~~~
Return to list of Letters and Poems
~~~~~~~~~~~~~~~~~~~~~~~~~~~~~~~~~~~~~~~
Kyle's lasting gift to me is compassion.




As the holidays approach I find it difficult to deal with the fact that our son, Joseph Kyle, will not be here AGAIN. He was stillborn on January 23, 1996 due to a cord accident.

The difficulty with the holidays is compounded by the dreaded anniversary I know is just around the corner in January. It will be two years.

Kyle's lasting gift to me is compassion. He taught me that, through my pain, I can reach out to others who have been through a similar loss. I certainly cannot make their hurts go away but I can be there with a hug, a tear, and sincerely sympathy. Each time I speak to another grieving parent....Kyle is there.

Since losing Kyle we have had another child, a beautiful and healthy daughter named Lauren. She is precious in her own rite but can never replace her big brother...nor would we want her to.

My intense love for Lauren is also a gift from Kyle. Having lost a child, I know how precious life is. She knows every minute of each day the love her father and I feel for her.

I think the love felt by a parent who has lost a child is at such a different level than by one who has never lost. It's easy to take for granted what has always been there. Until you have lost...you don't, or can't, understand.

Best Wishes and Continued Healing to all. How wonderful to have a forum such as this for parents to SHARE.

Vickie
Franklin, NC
Joseph Kyle - stillborn
1/23/96


E-mail
12/3/97


~~~~~~~~~~~~~~Forever in Our Hearts~~~~~~~~~~~~
Return to list of Letters and Poems
~~~~~~~~~~~~~~~~~~~~~~~~~~~~~~~~~~~~~~~
I have done what I can to help Drs, nurses and anyone
I come in contact with to try and look at it
from the parent's perspective.

My precious baby girl was diagnosed with Anencephaly at 18 weeks. Not a single day passes without me wishing she was with us. I miss her deeply and can feel her presence with me always.

I have five beautiful children and Emily was my fourth. I don't care what others think; I love them all very much.

At first I wondered what was allowed - was I allowed to include her as part of my family when I spoke of them. I was encouraged by family and friends and aquaintances to forget her and get on with my life.

After quite some months I decided I will do what I want, there are no rules, and its about time peoples attitudes changed. Our babies are very special.

I have done what I can to help Drs, nurses and anyone I come in contact with to try and look at it from the parent's perspective.

We have unconditional love from the before our babies have even been conceived. I love you my precious Em and never will a day pass without thinking of you. All my love Mummy xxx

Visit

"Emily's Story" to read about Michelle and Andy's experience. Also visit

Sibling Grief/Alison

to read the beautiful and loving poem that Emily's sister, Alison, wrote about her sister.

Michelle
Emily Shenae Graham
28.8.95/18 weeks
Other /Anencephalic Baby
Collie, W.a. Australia


E-mail
2/12//98



~~~~~~~~~~~~~Forever in Our Hearts~~~~~~~~~~~~~




Return to list of Letters and Poems
~~~~~~~~~~~~~~~~~~~~~~~~~~~~~~~~~~~~~~~
Gifts from Miguel Edwardo Munoz



My precious little one, I will always love you and miss you. I believe you are happy and safe in God's arms. Your daddy and your brothers love and miss you too.

Migelito I still can't let go of you even though it has been three years old. When I am asked how many children I have I always include you. I am told not to include you because you are no longer here with us. I think that if I were to leave you out. It's like I was forgetting you and I will never forget you my little Angel.

Thank you for changing my life you've made a big difference. I have learned to appreciate your brothers more than ever before. I don't take anyone for granted anymore.

I wake up thanking the Lord for my life, my children, husband, familly and friends and escpecially for you. I would like to thank you for sending us a baby. I LOVE YOU MIGELITO.

Priscilla
Miguel Edwardo Munoz
Other
6/17/95
El Paso, TX
10/13/98


E-mail


~~~~~~~~~~~~~~~Forever in Our Hearts~~~~~~~~~~~~
Return to list of Letters and Poems
~~~~~~~~~~~~~~~~~~~~~~~~~~~~~~~~~~~~~~~
We know you are in heaven with your brother or sister. We love you and are so sad that we never knew you and held you in our arms.

We learned so much about ourselves and others through the experience of losing you. Your short life was not in vain.

With Love,
Mama and Daddy



Leanne
Baby George 2
Miscarriage
7/95
Bremen, Indiana
4/30/99


E-mail
Marcia's thoughts: I just had a letter from a mother who just lost her baby and the question was, as always..."why?" (What is the meaning for this.)
Your statement means so very much. Our children's life can give us many different gifts, as time passes, these can become clearer if we are open to them. I try to believe that our special babies and the pain of loosing them will not be in vain. Thank you for sharing your thoughts.
~~~~~~~~~~~~~Forever in Our Hearts~~~~~~~~~~~~
Return to list of Letters and Poems
~~~~~~~~~~~~~~~~~~~~~~~~~~~~~~~~~~~~~~~
ALMOST THERE





It is coming upon a year May 15 that I lost my daughter and only child Dominique at 22 1/2 weeks.

I can honestly say I have come a long way and am a better person because of this loss.

I didn't think in this life time I would ever understand the reason for my loss, but believe now that it was to make me a stronger/better person. I have dealt with depression off and on in my life and never really felt good about myself. I now have a more positive out look of myself and of life.

I have a hard time believing it myself sometimes, but TIME DOES HEAL.

I have met some wonderful people through this site who have helped me, and I have also been able to help. To me it makes a big difference when I am able to help others who have lost babies.

I miss my baby girl everyday and still shed plenty of tears, but the pain is less each day. Thanks to all of you who have provided support thru this most difficult year.

"Lost Soul" by Tracy (7/98)

Lots of Love
Dominique's Mom
Tracy

Dominique Lee
051598
Second trimester loss
Mt Pleasant, Mi
4/30/99


E-mail


~~~~~~~~~~~~~~Forever in Our Hearts~~~~~~~~~~~~~
Return to list of Letters and Poems
~~~~~~~~~~~~~~~~~~~~~~~~~~~~~~~~~~~~~~~
This one was my first and it has been four years now, but it still hurts like it did three years ago.

I am now the Community Leader for Pregnancy Loss on Parents Place and I deal with life a lot better then I did before. I had a real hard time with this in the beginning, I am just now able to get on with my life.

I lost a lot in those three years since I was not able to understand what I was going though. I lost a friend and almost lost my Dear hubby since I was so angry at the world and God for taking my baby away. It has been a long road, but things are working out now.

I just lost another one back in May, but knowing what I know now, I am dealing with it a lot better and getting on with my life.

Please remember that the loss of a child is the worst loss in anyone's life, but God and your baby do want you to go on.

Wendy (wenmay)
Catherine
1-8-95
Miscarriage
San Antonio, TX
6/24/99


E-mail

Marcia's thoughts: I think your thoughts are very normal...we have many losses as a result of our baby's death and we gradually have some gifts.
I know I lost some friends who couldn't cope with what I had to go through...but I also made some lasting wonderful new friends. I directed my anger at God for awhile(thus protecting my family!!) and now feel as though we all have grown for the better. I know my faith is stronger!
Being involved in some sort of outreach is a gift and a comfort for so many of us as we cope. What do you do for Parents Place? I would love to know if you have time to share with me.
I co-found SHARE Atlanta as a result of my three losses and we support National SHARE's efforts to support folks who have had a pregnancy or neo-natal loss. There's a lot of us out here...and outreach is so important.
I agree with you...God and our babies would want us to heal and to support one another. I say this many times in our groups!
~~~~~~~~~~~~~~Forever in Our Hearts~~~~~~~~~~~~~
Return to list of Letters and Poems
~~~~~~~~~~~~~~~~~~~~~~~~~~~~~~~~~~~~~~~
Christian's gift...
I'm currently a volunteer
at a support group for high risk mothers.
The web site is called: www.sidelines.org





Death is the hardest thing in life to accept and overcome. As parents, we want to protect our children. When that blessing is taken away, it leaves an empty feeling in our hearts. With time the emptiness fades but the loss will never heal.

In December of 1997, I lost my baby boy at 22 weeks due to an incompetent cervix. I still remember the shock I felt when the doctor told me that my baby had dropped and my cervix was open. I was not prepared to hear the doctor tell me my baby wouldn't survive at 22 weeks.

I had two options: to stay at bed rest but the bag of water would slowly deteriorate or have surgery - rescue cerclage. The cerclage is a draw string like stitch in the cervix that keeps the cervix firmly closed. This decision was a very difficult one to make and with my families support I was able to feel good about my decision.

I knew that I might make it another week if I stayed at bed rest but if I had the surgery I would have a greater chance to carry full term. I agreed to do the surgery but during the last stitch, my water broke.

At that moment, I knew I would loose my baby and there was nothing anyone could do to stop it from happening. Those hours that followed were the hardest moments I've ever had to go through.

Sometimes, I try to remind myself of a well-known saying....


"Grant me the serenity to accept
the things I cannot change,
the courage to change the things I can,
and the wisdom to know the difference".



Three months later, I conceived my second child. I wasn't ready emotionally to go through the pregnancy but I was determinded to do everything possible to save my child.

I had the cerclage done at 14 weeks and I carried my baby to 36 weeks. I had a little girl, Kari Michele. She is wonderful!

*I'll never forget my little boy, Christian.*

I'm currently a volunteer at a support group for high risk mothers. The web site is called: www.sidelines.org

Kristi
Christian
12/04/97
Second trimester loss
TX
10/11/99


E-mail


~~~~~~~~~~~~~~Forever in Our Hearts~~~~~~~~~~~~~
Return to list of Letters and Poems






~~~~~~~~~~~~~~~~~~~~~~~~~~~~~~~~~~~~~~~

I can't believe that it has been almost 2 years since we lost our beautiful daughter Kylie (2/8/00) at 17.5 weeks pregnant. I won't go into the whole story as I sent it April of 2000, but wanted to update on where we are now. In the summer of 2000 I sent an update telling about our subsequent pregnancy (coincidentally due one year to the day from when we lost Kylie).

In August of 2000 we found out that we were again expecting a little girl. We were thrilled. We didn't feel like our new baby would replace Kylie in any way, but we had gotten used to the idea of having a baby girl and it just felt right.

Needless to say the pregnancy was both joyful and frightening, especially when we hit the second trimester. Luckily, I had an extremely patient doctor who took many extra steps to make me feel at ease.

In December, at 31 weeks along, I tripped and took a small fall (landing on my hands but not touching my tummy). The doctor decided to do a non-stress test just to be safe. The results were called "non-reassuring" since there were none of the normal heartrate accelerations with movement. They did a full biophysical profile and everything else looked ok. I was kept in the hospital for the weekend, but the NST never changed.

After I was sent home, the doctor cut my hours at work and had me come in for NSTs and BPPs twice each week. The NSTs never improved, but the doctor was not overly concerned because the BPPs looked so good. Still, I was very anxious to have the pregnancy over and have a healthy baby in my arms.

I was coping pretty well until I got to 38 weeks and I had an overwhelming feeling that something was going to happen to our baby. I begged the doctor to induce me. He didn't want to until at least 39 weeks. He said if I had any concerns I could come in any time to be monitored. I sobbed to my husband that I was afraid that she was going to die from a cord accident and it would be too late. I am not at all the hysterical type so I am sure now that it was intuition.

I went in to be induced on Feb. 1, 2001. Labor progressed well, except the nurses were pretty nervous about the nonreactive heartrate and the baby was also having a few late decelerations. I was watched over very closely all day and at 8:03 that evening we delivered a beautiful, perfect baby girl with apgars of 8 & 9.

In the midst of our joy the doctor said, "well this accounts for the non-reassuring NSTs there is a true knot in the umbilical cord". Luckily, the knot was considered to be loose enough that she was not deprived of oxygen. Still, it must have had some effect of the NSTs would have been normal.

Unfortunately, this is not the end of our happy story. We named our daughter Haven Danielle. I can't tell you how much we appreciate having her in our lives, especially having known loss. My husband actually grieved harder for Kylie as he saw all of the things that Haven was doing that we would never get to share with Kylie.

Haven was a very happy, delightful baby, but we did notice beginning around 3 weeks old that she was more easily agitated than our 2 older children. She met all of her milestones and became such an important part of our family that we can hardly remember a time before she was here.

In August, at 6 months old, she became extremely fussy one week. After a few days she began to have some subtle seizures. To make a very long story short, she was diagnosed with Infantile Spasm Syndrome which is a very severe infantile epilepsy. We were given a prognosis of 85-90% chance that she would be moderately to severely mentally retarded. We were devastated and began the long process of diagnostic tests to look for a cause. Incredibly, it is actually better if no cause is found and so far none has been found.

We have been going through a whirlwind of anti-epileptic medications, EEGs, and fighting the battle of our and her lives. So far, Haven has defied every prediction and is developing completely normally and the doctors say she may fall into the 1% that end up completely normal. Still, we have not been able to gain seizure control for more than 10 weeks at a time and there are many hurdles ahead for Haven.

If you have read this far you may be thinking that this does not sound very uplifting so I will get to the point of my story. I feel that Kylie has given us so many gifts that are helping us through this difficult time. I imagine her as an angel in heaven looking down and protecting her baby sister, Haven.

I never knew true grief nor the power of God to heal and protect us before we lost Kylie. I feel like since we made it through her loss, I know that we can make it through anything.

Kylie's loss also made me realize the strength of my marriage and of our family's love. Most of all, I have learned that I can't handle everything on my own and I have learned to let go a little bit and put it in God's hands. I feel very strong and hopeful and very, very very grateful to have Haven alive and doing so well.

I don't know if the knot in the cord caused her current problems, but I suspect that it did and I would much rather be dealing with her epilepsy than to have lost her.

I have learned to live my life day by day and to appreciate every moment. This has been so crucial because I appreciate every good moment we have with Haven and don't obsess (too much) about what the future holds.

Hugs to all who have lost so much. I wish for you the discovery that you are stronger than you ever imagined yourself to be! Susie

Susie
Kylie Marie
2/8/00
Second trimester loss
1/22/02


E-mail

"Kylie's Story" by Susie (4/11/00), (6/21/00)
Marcia's comments:
Dear Susie,
Once again, I am touched by your story and what you have shared with me/us. I pray for Haven's continued improvement and your continued strength. I know God's love is surrounding your family.
I have included your entry in several places: our new section "Making your child's presence meaningful" (with a link to your original entries) and as a continuing story in our Caregivers section, "Susie's Story". So many people - both grievers and caregivers - benefit when they can read how our children's presence can make a meaningful contribution to our life.
Yes, we feel pain and anguish, we grieve, but we CAN reflect on these special babies in a loving, helpful way at some point in our journey. We can make the CHOICE to be positive with our memories. Not everyone does or can - it often takes years and much work. Stories such as yours provide insight into this process. They can help others see how doing so can benefit our family.
Thank you for sharing this with me/us. Please give yourself and Haven a hug from me.
~~~~~~~~~~~~~~Forever in Our Hearts~~~~~~~~~~~~~
Return to list of Letters and Poems






~~~~~~~~~~~~~~~~~~~~~~~~~~~~~~~~~~~~~~~

My wife and I had lost our baby almost five years ago. And although we have moved passed our initial grief, we still remember. We both deal with our grief in very different ways. My wife started a support group on line called "PGLOSSMAIL". She was very open about what she was going through, and took comfort in talking to others who were going through the same. She had also made some very dear friends, who she still stays in contact with.

I on the other hand was not so open. I would give my wife comfort and love for what she was going through, but felt I needed to be the strong one, and be there for her. My way of dealing with our loss was to write a song. Writing is therapy for me, it helps me work things out, and gives me the ability to release my emotions through music and lyrics. It took me a year to write this song, called "More Than Just A Name". I wrote it for my wife and as a tribute to our son.

I wrote what I thought was the perfect song for my wife, and I was done. And I felt much better. And I put the song away. The same reason my wife had stopped with her web site. It was time for us to move on with our lives, still try to have a baby, and to never forget about our sweet Tristan.

And now, years later my wife and her friend had started up this wonderful web site again. And you can visit it at www.pglossmail.com. And I recorded "More Than Just A Name", and also put it out on the web, to share with others who have lost a baby. Hoping that they realize that healing doesn't mean you have to forget about your baby. I think healing comes with love and support and time. And to remember, all of our babies are more than just a name.

Peace & Love

Jim & Teresa
Tristan
4-9-97
Tampa, FL
2/10/02


E-mail

Click hearts to visit Jim and Teresa's website.
6/11/98



~~~~~~~~~~~~~~Forever in Our Hearts~~~~~~~~~~~~~




Return to list of Letters and Poems
~~~~~~~~~~~~~~~~~~~~~~~~~~~~~~~~~~~~~~~
Alex, my angel on earth and now he is my angel at heaven... 1993

In 1992 I was 27 years old and my spiritual life was realy bad. I was a single mother of a 3 years old girl. I was in love with her father, someone who couldn't love no one else than himself. I was a drug addict and I tried to end with my life. It didn't work and I stayed on earth. Soon I get pregnent again from the father of my daughter, my great love, but he went away.

When it was time for the baby to be born, this man who makes me so bad, came to receive his son (as he said). One night his attitude was so agressive to me, putting himself as a victim, throwing a bitter arrow directly into my heart... that after that I felt strange movements in me. Two days after that my baby was born, but with brain death. He must be connected to an artificial respirator.

I cried day and night praying to God, not to make me, be forced to make the decision of keeping him connected or not.

Five days after his birth, in the morning, my baby began to breath alone, without help of any machine. The doctors couldn't explain why, but therefor they decided to disconnect him.

The night after that, my little angel started to go away. I was all the time with him. I could hold him in my arms. I could sing my favorite cradle song for him. He stopped breathing, but his heart pumped and pumped until he could liberate himself and fly to heaven...

His name was and is Alex. I think he came to earth to take me away from alcohol, drugs, depression, etc. and showed me the beautiful daughter I have and how beautiful life can be.

It seems to be that he decided to go, when he noticed the kind of father he would have. He said to me in a dream while I was praying to god "we are too valious to suffer for that man... we will be together again some time... but now you have to be with my sister Micaela before she also wants to go away..."

So he was my angel on earth and now he is my angel at heaven...

Irene
Alex
24.07-30.07.1993
Died soon after birth
Santiago, Chile
3/22/02


E-mail
Marcia's comments: Your story touched my heart. You had several tragic experiences and have moved through these to make your child's presence meaningful in your life. We never can fully take in all that happens to us in our life, but working to make them a part of who we are - a positive outcome can provide us much strength. Now, you have shared this and perhaps someone else who has had a similar experience can gain some comfort in your words. I know Alex knows your love for him and your daughter.
Entry #2:Thank for your words and for considering my thoughts.
~~~~~~~~~~~~~~Forever in Our Hearts~~~~~~~~~~~~~
Return to list of Letters and Poems
~~~~~~~~~~~~~~~~~~~~~~~~~~~~~~~~~~~~~~~
Zane ~ Keiton's Guardian Angel

Dear God,


Thank you for my big brother Zane. I know that he is my guardian angel. When I was sick, and the doctors said that it would take a miracle, you sent someone to help and comfort me and my mommy and daddy. I know that it was Zane.

I know that Mommy and Daddy miss him. It would have been nice to have a big brother here with me to play with and love. I know that you had a reason for choosing him to be with you. Maybe it was to cause my Mommy and Daddy to cherish me even more. Maybe it was because you knew my future and knew that I would need a guardian angel. Although it is hard to accept, we will understand why when we see you in heaven.

Give him extra love for me. Tell him that I will see him one day, and we can do all the things that brothers do.

I love you Zane.
Thank you for watching over me.
Keiton Gunner McCoy



Zane - a special angel ~ The McCoy's Story as told by Keiton and Zane's mom, Anita

Dear Zane,


I found out the exciting news that I was carrying you on August 30, 2000. I only suspected that I was about six weeks pregnant. I became very sick and after an examination and an ultrasound, I found out that I was eighteen weeks, and that you were a boy.

Through all of the complications, you were a trooper. Three hours before you were born, we saw you moving and I felt you kicking. We heard and saw your heartbeat and were told that you would be fine. Then, later that night, our hearts were broken when your body could no longer fight, and you were born asleep at twenty weeks.

One year to the day of your journey to be with Jesus, I was once again sitting in the doctors office. For you see, I was carrying your baby brother. I heard the news of the 9/11 attacks on the Twin Towers. A day we will not forget. What an awful way to remember what had happened just a year earlier.

While I was carrying your brother, I also had many troubles, and there were times that the doctors thought he would not make it. I felt guilty the entire pregnancy. I was saddened about you, and wondered what it would have been like to carry you longer. I was scared that the same fate would come to your brother. But your brother is strong, and he was born alive and well on November 28, 2001-just four days after Mommy and Daddy's anniversary.

We are so happy with your brother. He is a precious miracle from God. His name is Keiton Gunner. He is so beautiful and loving. Even amidst all of the joy we have over your brother, not a day goes by that I don't think of you. I wish that you were here.

I miss the opportunities to hold you, feed you, rock you, and just smell and kiss you. I loved you from the start, and I miss you more every day. I am anxious for the day that we will get to be united again. Although you were tiny, you were perfect-every toe, even a headful of black hair. I keep your image in my heart.

I believe that you are Keiton's guardian angel. We nearly lost him when he was 3 months old due to an infection. The doctors said that we needed to pray for a miracle, and God sent someone down to us and Keiton, and I believe that angel was you. God had a purpose for you, to watch over him.

We will always hold you in our hearts, and can't wait to be with you in heaven. Love, Mommy, Daddy, and Keiton Gunner

Keiton
Zane Stephen McCoy
September 11, 2000
Second trimester loss
St. Paul, VA
June 17, 2002


E-mail
Marcia's thoughts: I love the special letter from Keiton to Zane. I know that through the years I have treasured the thought that my three in heaven have been guardian angels for our two sons. It gives me great peace and a sense of how every member of a family is special - here and in heaven. Thank you for sharing these tender thoughts.
~~~~~~~~~~~~~~Forever in Our Hearts~~~~~~~~~~~~~
Return to list of Letters and Poems
~~~~~~~~~~~~~~~~~~~~~~~~~~~~~~~~~~~~~~~
I was going through some stuff I had written a couple years after my son died of congenital heart defect and thought I would share it.
Time and Treasures in memory of Colton

In the beginning people said time would heal our souls. In a way they were right, though I never would have believed them.

At first each new day brought another day for my broken soul to wander, my heart aching all day. I really canít remember a sunny day, literally. Although I know there were many. Mackenzie was my only bright shining light at that time. I had to cling to her to make my life happy.

But as time went on the grayness lifted day by day. My soul began to see happiness and love. As I look back now, there is still pain, there always will be. But for the most part there are wonderful moments. My first and only smile from Colton. Cuddling him next to my bodyÖ Watching him suckle in his sleepÖ Seeing him sleeping with his little bottom sticking up in the air. And I loved looking into his bright blue eyes. I could go on, for all these wonderful memories, I am always thankful.

Through Colton I have truly learned closeness to God. I have felt Coltonís love and still do. I have found that I should be patient with others and I should forgive. I have learned a lot from my baby boy. God and Colton taught me so much in the 9 months and 10 days we had him.

Is there a reason for his life? Yes! I now know to love unconditionally, be thankful for what I have, cherish Mackenzie, Shelby and Mike, and I have found out that I am a survivor. I am not weak, but strong, much stronger than I ever imagined.

So God, thank you for sending us Colton, your message of love to us disguised in a way that I thought, in the beginning was heartache, but in time found out was a wonderful treasure of brilliance and everlasting love: lending us Colton to share and love with You!

Chrissy
Colton
Pleasant Hill MO
9/4/02


E-mail

Marcia's Comments: I am sorry about the loss of your Colton. Your writings I treasure. How can we ever believe after such a tragedy that any such gifts could be carried forth. I thank God that they are and that we can see them - if gradually.

Your son was indeed a blessing and your memories make that very tenderly clear. I can imagine that your first writing them and now sharing them with other parents are a very special gift from Colton to many. These words will bring comfort to parents who are working so very hard to find some peace in their own loss.





~~~~~~~~~~~~~~Forever in Our Hearts~~~~~~~~~~~~~




Return to list of Letters and Poems
~~~~~~~~~~~~~~~~~~~~~~~~~~~~~~~~~~~~~~~
"My Love, my tiny angel, my son"





My Love, my tiny angel, my son

On a cold day in Feburary 1998, the 10th to be exact, I found out I was carrying you. Soon, it seemed the whole world knew. I just couldnt keep my mouth shut of the miracle of you.

I made it to 12 weeks and we heard your heartbeating, your daddy, grandma, and I. 145 BPM. BEAUTIFUL.

Just three weeks passed, and I knew someting was wrong, something was not right. Though I was told I worried too much I knew you were gone. I knew, and I was right.

They couldn't tell me why.

I never saw your face, just a body on an ultrasound screen. 15 weeks and that was all god gave you to live. And a D&C took you away.

Since then I remember you in many ways. Everyday you cross my mind. You are a part of me and always will be.

I make sure people know about you. I know you have made my life a better thing to live. My life means something because of you. I know how to grieve and how to help others when they feel the pain of loss. You are still with me until i see you again....

Jennie
Dylan Patrick O'Keefe
4/1998
Second trimester loss
Cedar Rapids, Iowa
11/30/02


E-mail
~~~~~~~~~~~~~~Forever in Our Hearts~~~~~~~~~~~~~
Return to list of Letters and Poems






~~~~~~~~~~~~~~~~~~~~~~~~~~~~~~~~~~~~~~~

How can it be ten years ago already? Ten years since the last of my innocence was shattered. Ten years since I woke up believing that nothing bad could happen. Ten years since I carried you, in the depths of my body and soul, and waited for you.

And yet it feels like an eternity. Havenít I always known you? Havenít you always been here with me, just beyond my sight, guiding my steps and filling me with your light?

Picturing you now, with your awkward, lanky body and hesitant smile, bright red hair and beautiful green eyes, I can see you blowing out all those candles, saying ďDouble digits!Ē But I can close my eyes and see you as the baby I never got to hold, tiny and fragile, precious and sweet. You would have given me a run for my money, kept me on my toes, and never let me take my eyes off of you. You would have been climbing trees, walking fences, and running to see as much of the world as you could squeeze into a day.

Know that I am not sad all the time, that I donít sit and pine for you like I once did. It doesnít mean that I donít love you or miss you, only that I have chosen to make your life stand for good things. Instead of allowing your death to turn me bitter and cold, I have willed myself to be open and warm and caring in your name. Whenever someone tells me what my words have meant to them, I just smile and think of you. When I get a phone call full of fear and despair and want so badly not to return to that place of pain, I take a breath and know that you would never have turned away from any challenge or any person in need.

You are my strength, my hope, my peace, filled with the innocence and trust that your death took from me. When I feel you close to me, I am free, and I know that I will see you again. Until that day, stand by me, remind me of how blessed I truly am, and know that I will love you forever. You will always be my first baby, and I will always be your mama. Happy birthday, my little boy, my angel. How I wish you were here.

In loving memory, Jesse David Greer, lost to miscarriage January 14, 1993.

Jennifer Greer, SHARE Atlanta

Jennifer
Jesse David Greer
1/14/93
Miscarriage
Atlanta, GA
1/14/03


E-mail

Marcia's Comments: Jennifer has been a dear friend to me as well as an inspirational force in our SHARE Atlanta support group. She came, as all of us do, as a wounded mom who was searching for peace and comfort during a very confusing and overwhelming time in her life after her losses. As she healed she helped others to begin to heal. Then she returned after the birth of Baxton and has been ready to support others through her wonderful newsletter and then with the dedication of the (her idea driven by her husband's gift) brick pathway and later by initiating and working on our Angel project. Many have also felt her warmth as they gather, on occasion, to lay the memorial bricks at our angel's garden.

Jennifer's thoughts and "gifts" are a testamony to what can happen when we take our tragic losses and make our babies a special part of who we are - and provide an outreach to others. I am forever grateful for her many gifts to all of us and for her open willingness to share them with us through the last eight years.

~~~~~~~~~~~~~~Forever in Our Hearts~~~~~~~~~~~~~




Return to list of Letters and Poems
~~~~~~~~~~~~~~~~~~~~~~~~~~~~~~~~~~~~~~~
Rachelís Rose

For seven years we tried, prayed and hoped that we would be blessed with a child. After finally giving up and accepting that it was not to be, we were surprised with the wonderful news that God had blessed us with a miracle. We were going to have our baby after all. As the weeks passed we started making plans, as most couples do, for our babyís room, who would be the godparents, what would we name our babyÖ

I was scheduled for my 20 week ultrasound on Wednesday, February 10, 2001. We arrived at the doctorís office that morning, I remember being anxious but sitting in the waiting room trying to decide if I wanted to know if it was a boy or a girl. This was to be a happy occasion, but it turned out to be the saddest day of our lives.

As the doctor and technician tried to find a heart beat, my heart sank and I could see in Haydenís eyes something was terribly wrong. They didnít find a heart beat, and the doctor thought our baby had been dead a couple of weeks. We drove home in a trance. I didnít think it could be real, it just had to be a nightmare and I would soon wake up. I cried as I called my Mom on the cell phone as we drove home from the doctorís office. It broke my heart to tell her that our baby was dead, and they would induce labor two days later. Could she come and be with us? I could barely get the words out as the tears rolled down my face. I could hear her heart breaking as she tried to be brave for her little girl.

Rachel was delivered on Saturday morning at 6:20am. Her daddy held her and carried her into my room in a little white basket. He was smiling as he carried his little girl, wrapped in her little blanket, so still and lifeless, and set the basket next to me on the bed. He said it was the most wonderful day of his life.

I couldnít understand that, our baby was dead! I looked at her but didnít want to touch her or hold her. I now regret that, and still try to figure out why I didnít hold herÖjust once. I guess I didnít have the strength to endure any more pain; maybe I just didnít want to love her more than I already did. We returned home that afternoon Ėwithout our little Rachel.

I was touched by all the gifts, cards and flowers we received from our friends and family. My mother-in-law brought us a little angel statue she had in her garden and we put it under a little dogwood tree in our backyard. Among the all the flowers and cards was a miniature rose bush full of tiny yellow roses. It had been sent by some friends from work. We planted that rose bush near the angel statue.

Rachelís rose bush was our little miracle. It always seemed to bloom at special times, as if to say Iím here with you. In October 2001, a single rose appeared. Oddly, this rose had actually started growing two weeks before and then all of a sudden it stopped so as not to go into full bloom and wilt before October 21. That was the rose we would lay on her memorial brick during the dedication of the Angel Garden.

Christmas week, it had two roses; those were also laid on her brick when we visited the Angel Garden on Christmas day. It bloomed again for Rachelís first anniversary on February 10, and again on Motherís day and Fatherís day. We have other rose bushes in Rachelís garden, but her special rose bush was the one that always bloomed on special occasions.

Rachel will always be in our hearts, but she also has a special place in our garden. A place we can always go and feel close to her. Although the rose bush has now died, and our hearts have learned to accept the loss of our precious little angel, Rachel will always be in our hearts and the strength in our love for each other.

Maria
Rachel
Feb 10, 2001
Stillborn
Atlanta
9/25/03


E-mail

Thank you, Maria, for sharing this beautifully, touching story. The rose had many gifts - in memory of your daughter. It certainly seems as though the rose was Rachel's gift to you saying "I love you." I am touched that her roses were laid in our Angel garden...from one angel to another.

The book Angelic Presence by Cathi Lambert has stories that share moments that might seem to be given by our special babies.

Entry #2 - 9/28/03

Marcia,


Thank you for your kind words. I had shared my story (verbally) with Jennifer when we installed two memorial bricks for my mother-in-law's losses (7 over many years). I sent her an email today as well, since it was due to her suggestion that I wrote the story. It was a wonderful healing process to put it on paper and sharing it will also be another way to remember our special angel, and perhaps help someone else in coping with their loss.

Thank you for the wonderful work you do with Share! Share has helped us deal with our loss in many, many ways over the last 2 1/2 years since we lost our Rachel (it's amazing how quickly time passes!); and the angel garden is such a special place for us to visit whenever we need to feel close to our angel.

We will see you at the ceremony. Maria



~~~~~~~~~~~~~~Forever in Our Hearts~~~~~~~~~~~~~




Return to list of Letters and Poems
~~~~~~~~~~~~~~~~~~~~~~~~~~~~~~~~~~~~~~~
The Loss of My Daughter---The Birth of an Angel

My little Laura was born just too early....somewhere around 24 weeks. Despite excellent prenatal care and all the support around her birth, she was just too little to survive all the challenges of such an early arrival. But in the five days we had her, she changed my life forever in at least five major ways.





1. She brought me and my husband closer to each other than we've been in years, rekindling love and laughter between us as the two of us faced her loss.

2. She gave me a new patience and understanding for my two year old and all of her two year old trials and tribulations--helping me to laugh and be glad I have her...even when she pours chocolate milk on the floor.

3. She helped me to find God again.

4. She taught me how to treat my own patients and understands their fears and pains.

5. She taught me to appreciate my own health, gentle breezes, stars at night and to take time to notice sunsets....to value life and its pleasures, instead of being so concerned with work and agendas.

Despite her small size and so little time with me, she lived and taught me a life time of lessons. If all life has a purpose, she found and completed hers, making me a better person, a better wife, a better mom and a better doctor. I'd gladly give my life for hers and to have her back, but she has forever changed me in ways no other ever has.

4/62

"My granddaugher ~ Laura Nicole Trahan ~ 9/15/04" by Carolyn (10/11/04) GA

Katie
Laura Nicole Trahan
9/10/2004-9/15/2004
Died soon after birth
Atlanta, Georgia
10/10/04


E-mail
Marcia's thoughts: Your clear vision of the gifts that Laura have brought you is very special to read and to think about. For so many it takes a very long time to realize some of these special qualities in ourselves that have come to us because of the loss of our baby. It helps us to heal when we can bring together in our heart those gifts that our child has given us. We never have to like that our little one died, but to bring meaning to his/her essence and presence in our life is important, and as I said healing. Thank you for sharing your insight with us and others. I feel sure that your insight will help others along their own path of healing.
~~~~~~~~~~~~~~Forever in Our Hearts~~~~~~~~~~~~~
Return to list of Letters and Poems
~~~~~~~~~~~~~~~~~~~~~~~~~~~~~~~~~~~~~~~


Making Your Child's Life Meaningful Menu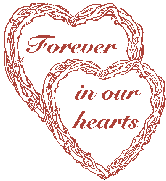 copyright(c)SHARE Atlanta '97-'12



Graphics on this Site are Copyright