Our mission, our focus, and our successes...Click on Hearts to go to pages..

SA Pictorial Timeline - Advocacy and Awareness since 1984 in pdf

SA's FACEBOOK Page is full of current events and up to date with needs and issues that concern both SA and the Pregnancy and Newborn Loss Community.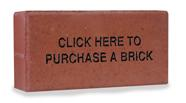 "ORDER a MEMORIAL BRICK for SA's Angel Brick Pathway - 11.3.2016 to 2.15.17

"Outreach for Healing" Sharing and Caring tied with SA - Advocacy and Awareness in the NEWS
Key for members of SA and of the Pregnancy and Newborn Loss Community: TV and Radio...2016

Fox 5's SA Segment 1 - SA parents discuss issues around Stillbirth and Pregnancy Loss featuring Phil and Debbie Wright Family; Feb.2016

Fox 5's SA Segment 2 - SA parents discuss issues around Stillbirth and Pregnancy Loss featuring Lauren Irin and other SA parents, including Megan Brown, Kimberly Chanel, Debbie Wright; Feb.2016
SA mom, Kimberly Chanel's thoughts after being part of the filming: "Today I had an opportunity to participate in the filming of a segment with Fox 5 Atlanta regarding child loss and the importance of support groups. When I was at an all time low, my linesister Audrey reached out to her friend seeking ways to help me. I will forever be thankful to Lydia for taking the time to pick me up and take me to my first SA group meeting only 3 weeks after my loss. Although it's a group no parent wants to be a part of, you realize you're not alone. You feel comfortable letting your raw emotions show because you know they get it. Healing is possible and it does happen, but having a support system plays a major role in that. For me, a lot of that support came through SAe and the friends I made in the group. We're thankful for Marcia for all she has done in the 30 pyears of SA. She's been a major part of the healing process for many families. Pregnancy loss will always be a topic that is near and dear to me. Sharing my story was a major part of my healing. We will forever remember Phara and do all we can to keep her memory alive. We hope you will tune in at 5pm on tomorrow to watch the first segment.

Faith Talk Live Atlanta 970, 10.18.2016: Miscarriage, Grief Process, Coping Ideas with Marcia McGinnis for SA about Pregnancy and Newborn Loss and Stephanie Holmes MA, author of Confessions of a Christian Counselor about her miscarriages, loss of 12 precious babies, and healing.

SA on WSB TV with MODS - This link takes you to 2 SA features. The first one is SA's 2011 Memorial Service. When it ends, look at the bottom left and click on the link that reads "P2P Share Atlanta". It highlights SHARE Atlanta's mission, our babies, and their mementos as well as why we walk. (Year-2011)

SA's October: Pregnancy and Newborn Loss Awareness Month 2016 Brochure pdf Covers Pregnancy and Newborn Loss Community issues and needs. Advocacy and Awareness must be ongoing..all year long.

We are an ACTIVE GROUP: Current Events as of 10.16
Click on Hearts to go to pages..


SA's Women's Candlelighting - 11.16.16 - 7 to 9 pm. - Kairos Church- Atlanta, 5855 Riverside Dr NW, Atlanta, Georgia 30327 - Holiday Support - We come together to share and remember during the holiday season. Please consider joining us for a very special evening. Bring a candle to light in honor of your baby(s) and your momentos to share. Questions: marcia.mcginnis@gmail.com Hope to see you there.. Group facilitators: SA members, Megan Brown and Lauren Irvin

SA's 10.23.2016 Memorial Celebrations Angel Garden Memorial Photos on FB with NEW SA Memorial Quilt

SA's 2016 and Second Memorial Quilt More Photos on FB - SA Memorial Quilt created by SA mom, Angela Miller and 25 SA families.

2016 Bridal Gowns to Baby Burial Gowns headed up by Mindy Seger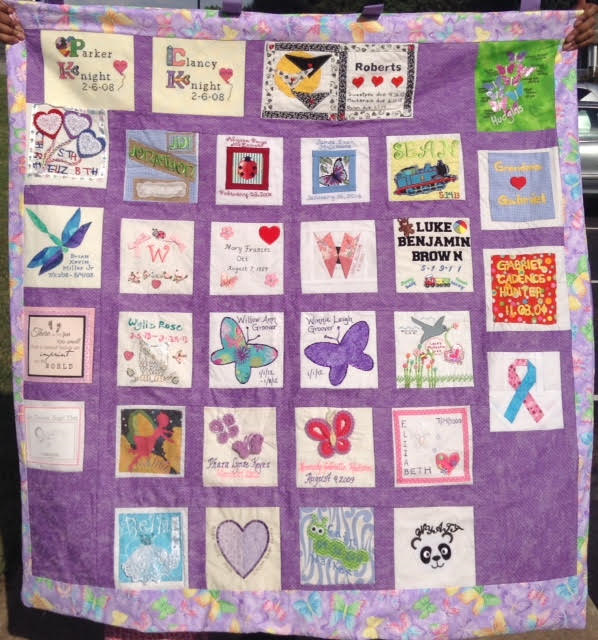 SA's 2016 Memorial Quilt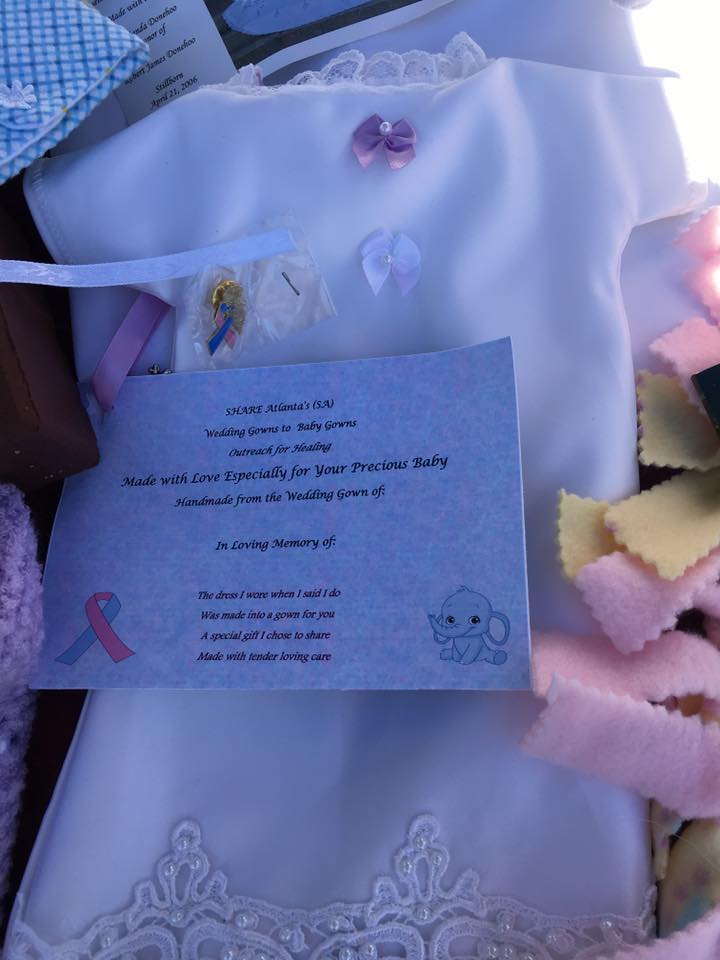 SA's 2016 Bridal Gowns to Baby/Burial Gowns

2016 SHARE Atlanta is #1 Family Team for 2016 March of Dimes for the 12th time!!!
We "Walk to Remember" our precious babies while raising funds for healthy babies!!
SA mom, Tamera Partis, places, once again, in top walkers in 2016!!! Go Tamera!!

SA's #1 Family Team - 2016 MODS' pictures on FB..Team Captains Cindy Ivey and Marcia McGinnis

Walk With or Sponsor SA's "Walk to Remember" Campaign with March for Babies..April 2016 Click to join us!


"SA helped keep me from drowning in my sea of grief."
"You made me feel normal in my grief, and you helped me see that eventually life would once again, be worth living. I just wanted you to know that I hold you in the highest esteem. I thank you from the bottom of my heart for all you do." 12/2004
Leah, A SA Parent & Volunteer - In loving memory of Cole and in honor of Katie (03) and Alex (07).

Connecting with SHARE Atlanta (SA) - Click on Icons

Come Visit SA on our FaceBook Page

Contact SA

-

SA's Meetings-SA has a Women's Meeting on the Third Wed. of each month except for Dec. Please contact marcia.mcginnis@gmail.com or visit our FB page for more information..

First Visit..Initial Support

Online Support for Emotional Healing

Grief Process after a Pregnancy or Newborn Loss by Marcia McGinnis

Links to Keepsakes, Books, Jewelry, Portraits...

Certificate of Birth Resulting in Stillbirth (CBRS) passed by SA in 2008. How to receive a CBRS.

"Healing Happens" PDF of SHARE Atlanta Families by Marcia McGinnis

Miscarriages & Ectopic Pg. Loss Support - The largest Section on this Site - Parents have a voice!

Thinking about and planning a memorial service..or a loving good-bye..even years later.

"Anniversary, Due Date, & Holiday" Grief

"Healing & Making Our Child's Presence Meaningful"

Understanding the Pregnancy & Newborn Loss Community & SHARE Atlanta...

SA's Story since 1984

Google Site Search - specific to SA's site

Special Needs & Coping...

"Be Truthful in Grief" brochure (How friends and family can aid the grieving parent, and still take care of themselves.) These can be ordered for your group.

Email Lynne

Father's Grief Menu

Supporting Our Other Children After a Loss Menu

Specific Types of Losses..Preterm Diagnosis of fatal/short life expectancy, etc.

SA Partners with Hospice Atlanta for support during this time...."Preterm Diagnosis-fatal/short life expectancy Menu - Perinatal and Newborn Hospice Support now available...contact marcia.mcginnis@gmail.com for correct information for Atlanta area hospice."

Now I Lay Me Down To Sleep, NILMDTS
NTLMDTS is a nationally organized group of volunteer photographers who come to your hospital room and lovingly and gently take pictures soon after our babies are born. Many hospitals know about NILMDTS, so ask. If you know that your baby has died or has had a Preterm Diagnosis of a fatal/short life expectancy, you may call them and arrange for them to come to your hospital room. SA parents who have been blessed to have them have some of the most tender and loving pictures I have ever seen. And, the experience has been one of many blessings. (Marcia)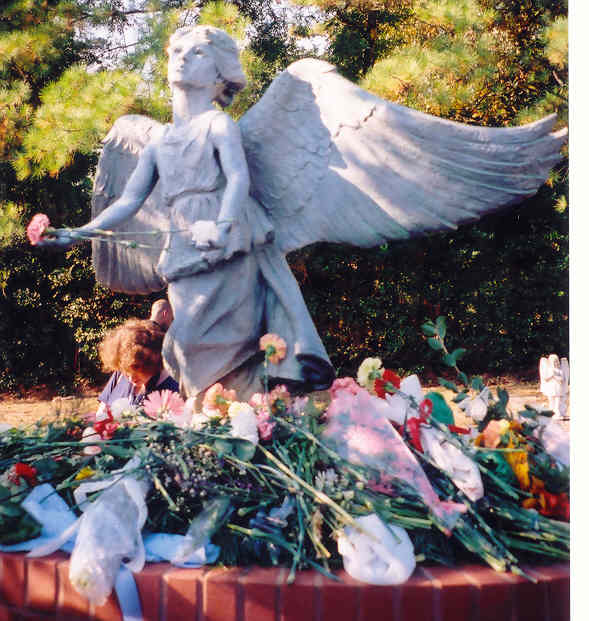 SA's Christmas Box Angel

In 2009 SA mom, Reece Ritter, created this beautiful video that brings together visually the "story" of SA's Angel and Memorial Brick Garden.

SHARE Atlanta's Angel Garden Video

A video of SHARE Atlanta's Beautiful Angel of Hope Memorial Garden at Arlington Memorial Park, Sandy Springs, GA

"Babyland" in Arlington Memorial Park Cemetery in
Sandy Springs, GA

Join with a positive group of healing parents that began online in 1997...
SHARE Atlanta (SA) was one of the first sites to have interactive email exchange..long before forums and blogs. What parents were saying and experiencing then is much like it is today. Though, there is an increase in medical and emotional support because of advocacy and awareness programs. Reading through others' stories can help you understand that others have "been there" and survived. Healing does happen.
Visit often..
Please take your time. Our needs change as we move t-h-r-o-u-g-h the process of grief in order to heal. As bereaved parents, ourselves, we understand the need to slowly work through your grief.
Parents helping parents to heal....
We offer this site, forums, our groups, and materials to help you as you heal. We have found that giving back to our community in memory of our babies is healing and a wonderfully, positive way to remember these special children.

"Healing Happens" PDF of SHARE Atlanta Families - Highlights HOW to Make a Difference!! by Marcia McGinnis
Parent Support for Healing
Please seek professional and/or medical help for more support in any way. This site is not a substitute for professional guidance.
Sincerely,
Marcia McGinnis,
Webmaster and Co-Founder of SHARE Atlanta


Email Marcia

In memory of Seth, Catherine and Elizabeth McGinnis
This site is updated continuously.


The SHARE Atlanta web site is dedicated in the memory of all the precious children whose short lives touched the hearts and lives of their parents and friends.



Their special gifts and our love for them will be...
Forever in Our Hearts


Thank you for visiting.


DONATIONS
All donations go directly into the operation of SHARE Atlanta
to help parents who have experienced a Pregnancy or Newborn Loss and
for promoting Advocacy and Awareness of the needs and issues
of the Pregnancy and Newborn Loss Community.
No salaries: We are all volunteers!

All Donations are tax deductible...SA is a 501(c)(3)non-profit organization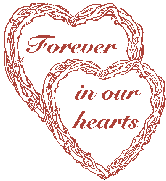 A Link for your site from ours... click on the logo.

copyright(c)SHARE Atlanta '97-'17



Graphics and "Music Box by Eclipse" on this Site are Copyright...click on icons!