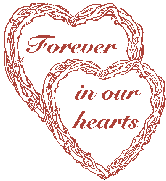 "Father's/Man's Grief" Menu with E-Mail Exchange
~~~~~~~~~~~~~~~~~~~~~~~~~~~~~~~~~~~~~~~~~~~~~~~~~~~

The stories and articles that I have read so far
have helped me continue to cope with our loss.
Thanks, again,
Steve


From SHARE Atlanta's Kim - Bracelet's of Hope: Just in time for Fatherís Day, I have some cute key chains / zipper pulls. Prices start at only $12! Several styles are available for both men and women.

Click on the "hearts on the rope" icon at the end of each page to return to this Menu.

How Men and Women Respond Differently in Grief

Some ideas on how to support one another so healing can happen

Differences in grief as the first anniversary approaches

A Man's Grief - E-Mail from fathers 2007-08

A Man's Grief - E-Mail from fathers 1997-06

Dads and Moms Supporting One Another - E-mail from Mothers and Fathers

"Thinking of you on Father's Day" - E-Mail Poems from fathers

"Letters 'from' our babies by moms and dads..."

Book lists and bookstore sites for Father's Grief.

Tom Golden's Website that has info. on men's grief

Finding support with SA Online:

Come Visit SA on our NEW FaceBook Page