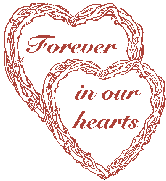 Preterm Diagnosis-"fatal/short life expectancy"(Support/Suggestions/Links)
"My brother and his wife have a terrible choice to make.... their baby is severely deformed and will not survive the birth. They must decide whether to induce labor and deliver their baby (4 months pre-mature), continue the pregnancy, or to have the baby removed surgically. Our hearts are broken."
"Are there articles available on the subject of grieving this loss, can one compare the grief brought about by one decision versus another?"
...Parts of several different letters
received by SHARE Atlanta...
but, mainly from a loving, concerned brother...


Some thoughts and information by Marcia McGinnis (based on 27 years of experience).

Now I Lay Me Down To Sleep, NILMDTS, are volunteer photographers who come to your hospital room and lovingly and gently take pictures soon after our babies are born. Many hospitals know about NILMDTS, so ask. If you know that your baby has died or has had a Preterm Diagnosis of a fatal/short life expectancy, you may call them and arrange for them to come to your hospital room. SA parents who have been blessed to have them have some of the most tender and loving pictures I have ever seen. And, the experience has been one of many blessings. (Marcia)

Perinatal and Newborn Hospice Support now available...SA partners with Atlanta Hospice...

A Place to Turn When a Newborn Is Fated to Die

Links to Sites and Online Pages dealing with this topic

E-Mails that discuss how parents dealt with these issues - what helped and what was meaningful.

Letters sharing experience, seeking and /or giving support

Online stores that have books and other information

Finding support with SA Online:

SA's Moderated Forum Come join us on our Forum