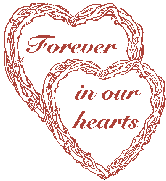 Pregnancy and Newborn Loss Medical Information
Pregnancy Definitions and Procedures
Miscarriage, Stillbirth, Newborn Death - Causes and Support
High Risk, Infertility Issues/Recurring miscarriages
Drs. Collins, Beer, Toledo, Korokin, and others included
For many of SA's parents, understanding and finding support for the medical condition or situation that led to the death of their baby is a very important step towards healing. It can be very difficult to do the research to make that happen, so we offer this page as a beginning platform for finding possible answers.
Some find those answers, others realize that for today, no answers are available. SA continues to do Advacacy and Awareness programs and outreaches, especially with the March of Dimes, so more answers will be found. The good news is that we have come a very long ways in the last 25 years! This is true in a great part because of parents' influence in the medical world, and because there are medical professionals that believe in finding the answers, too.
SHARE Alanta offers this information, but we endorse none of them. We always encourage our parents to return to a doctor, of their choice, with many questions and for added support. Often, the information on some of these sites can help parents better formulate questions for their care professional. Under each category, where appropriate, we have included links to local and international doctors and their offices that have been supportive of our issues.
Many of these sites have been posted since 1997! I try to go through and check to see if they are still operational every year or so, and they usually are. If you find one that is not, please let me know. Often the site is still there under a different URL. I have added many others through the years. If you locate a supportive site that would help others, please e-mail its URL to me and I will include it on the site. Thanks, Marcia McGinnis - Updated 1.11

Email Marcia


"Medical Terms" for the "types of losses"

Books about Pregnancy and Newborn Loss

"Thoughts about a cerclage, for incompetent cervix, by SHARE Atlanta mothers."

Sites that describe or have information about Medical Procedures Common to Pregnancy Loss

Pages of Sites for Specific Types of Losses Most Often Seen in SA's Groups - That Marcia has researched...