The Story of our Angel Garden

Angel's History - How it came to be..

SHARE Atlanta's Garden Groundbreaking Ceremony on July 30, 2001 with pictures!!

"What the angel and the garden mean to me." From the Groundbreaking Ceremony

SA's Angel arrives in Atlanta on 8.28.2001

Pictures of Angel's arrival in Atlanta!

"Creating a Garden" - pictures of the construction of the angel's garden

Angel's Homecoming/Raising on September 15, 2001 - a day of hope...the story.

"Angels Homecoming" - pictures of the raising of the angel

"Taking On Wings" - program's cover -designed by Sharon Jollay

"Taking On Wings" - the actual program from Oct. 21, 2001

"Taking On Wings" - pictures of the program in the church

Pictures of the Angel Dedication Ceremony at the angel's garden-10/21/01

Participants, Companies, Friends & volunteer parents that helped make our angel a reality

Angel of "Hope" - Acceptance and Validation for Grieving Parents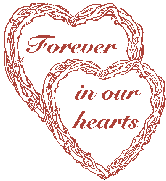 copyright(c)SHARE Atlanta 10/97-'2018



Graphics on this Site are Copyright