SHARE Atlanta





Thank you to all of the Participants, Companies, Friends of SHARE Atlanta, and volunteer parents that helped make this dream a reality.

Order a Video of "Taking On Wings" (soon!)

Participants and their websites -click on white dots:

Richard Paul Evans author The Christmas Box- more about the angel and other angels.

Atlanta Young Singers of Callanwolde (Sharon Moore and Paige Mathis)

Don Eaton, composer of "I Am One Voice" (order music CD and sheet music)

Diane Rooks author Spinning Gold Out of Straw: How Stories Heal and storyteller - order her book or ask her to do a workshop or presentation about storytelling

"Precious Child" by Karen Taylor-Good from The Compassionate Friends (order music CD and sheet music)

Wes Sarginson, Anchor for 11Alive

Thanks also to: Tammie Creery, Donna Babb, St. Luke's Presbyterian Handbell Choirs (Sue Mitchell-Wallace), and Joel McGinnis, bagpiper

Companies and "Friends of SHARE Atlanta:

Maureen David and Arlington Memorial Park
Rev. John Page and Sandy Springs United Methodist Church
Sharon Jollay, Gemini Graphics (designed cover of brochures and program)
Wise Design (designed bookmarks and bookplates)
Tim Epps, Epps Printing (brochures and posters)
Carol Rucinski and Catherine Manning, Print Works of Atlanta (programs)
Tom Hannaford, Visual Solutions (video)
Cindy and Rusty Adams, Star Granite (angel plaque)
Hope Brooks, Grandmother of Seth, Catherine, and Elizabeth McGinnis (paid for insurance)
Lynn Klein of Klein Communications
Ernie Higgins, Itsaul Natural
Chris Deedy of Envelopes and Forms
Atlanta Waste Industries
Blue Circle Materials
Bold Springs Nursery
Century Rain Aid
Franklin Industries
Rainbird Corporation (sprinkle system for garden)
Northbrook Homes
Diane Norris and the Dunwoody Womenís Club (helped distribute posters and brochures)
Karen Major's Orange Hill Baptist Church Sunday School Class (ushers and volunteers after program


SHARE Atlanta angel Committee Members

Chris and Terry Clontz, angel benefactors
Polly and Joe Keen, angelís garden architectural design and landscape
Mary Morgan, angel sketch for cover of brochures, posters, and programs
Marcia, Leon, Joel and Aaron McGinnis
Karen (pr coordinator) and Randy Gipson
Karen and Charles Major
Jennifer and Braxton Greer
Christie and Charles McGraw
Melina and Todd Smith
Paula and Hal Fine
Angela and Jemal Johnson
Sharon and Dennis Cryor
Valerie and Pete Scholovich
Lynne, John, Ryan and Colin Anderson
Pam Slayback and George and Erin Policastro
Kathleen and Bob Blum
Caroline Hale
Taylor and Roger Deane
Diane, Bill, Virginia, and Matthew Jordan
Sakina and Clarence Hanson
Nicole Swann
All those SHARE members who cheered us on!!






The Story of SA's Angel Garden & Memorial Bricks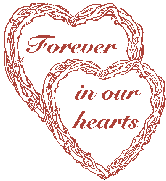 copyright(c)SHARE Atlanta '97-'07



Graphics on this Site are Copyright