The Gift of SHARE
We too often bog down with our own misery without reflecting upon God's purpose. That is one of our human frailties. We say, "Woe is us!" and "Please, everybody, say something to me to show you care." In our self-pity we may miss God's message.
God gifted Betty and me with six children. Two are now grown, married and doing their own lives. Four "others" are but memories. We knew them only a painfully short while. In fact, even today, I often do not give them their due...as being as much our children as are the two who are with us. The difference is time and relationship. We hardly got to know them.
These "other four" were used by God to open my Betty's heart to parents of "other" children. To minister to parents as they cope with what might have been and what never will be.
God used these "other four" to communicate to me just how fleeting is life and just how urgent is His message to us to seek Him and to abide in Him. I was forty-six years old before I finally figured that out. I was in denial and harbored great and deep-seated anger growing out of this and other personal losses I had experienced. It finally dawned on me that, all the while, God was preparing me to be my Betty's partner. He prepared me to encourage her to reach out and into tragedy to help others find His rays of hope.
SHARE Atlanta is such a vital ministry to hurting parents of every creed and walk. Grief knows no ethnicity or wealth or poverty. Beyond those superficial aspects of life, we each are His children and He never loads us up with more than we can carry. Coping with grief without the support of friends through an organization like SHARE is more than most of us can carry. I suppose then that SHARE is truly a gift from God.
Bob Sullivan, father of six
~~~~~~~~~~~~~~Forever in Our Hearts~~~~~~~~~~~~~
Return to list of Letters and Poems
~~~~~~~~~~~~~~~~~~~~~~~~~~~~~~~~~~~~~~~
Karen and Charlie Major lost their first five children Charles, Christian, Michael, Cole, and Tracy between January, 1989 and February, 1994 before adopting Jenna Li-Lynn on January 7, 1998. Jenna was born in Dian Bai, Guangdong, China on November 26, 1996. For this issue (of SHARE Atlanta's newsletter), they shared some of their thoughts and feelings about their first Father's Day with Jenna.





100% Mine!





After all our losses over the years I began to wonder if I would ever be a parenting father. This father's day is very special because we now have Jenna, our adopted daughter from China. I can't help but think, had we not had our losses we would not have Jenna today. If Jenna were not with us, where would she be? Still in her orphanage? Maybe adopted by another family?

I can't imagine Jenna not being my daughter. I would have missed her first kiss on my check. I would have missed getting her bed ready at night. I love getting her bed ready. I would have missed picking the green blocks out of the cat's food. I would have missed out on the love I give to her and the love she gives to me.

Jenna is 100% mine and I love her dearly. Charlie M.





~~~~~~~~~~~~~~~Forever in Our Hearts~~~~~~~~~~~~




Return to list of Letters and Poems






~~~~~~~~~~~~~~~~~~~~~~~~~~~~~~~~~~~~~~~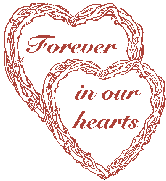 copyright(c)SHARE Atlanta '97-'08



Graphics on this Site are Copyright