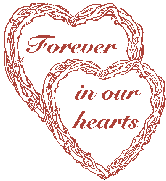 SHARE Atlanta
"Sharing" Our Stories/Thoughts
Along this Path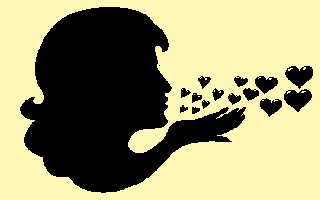 Fourth Anniversary ~ Entries 1997-2005


I feel like I should be use
to this week by now
but for some reason I'm not
..I still feel unprepared
for this rush of emotions.
Colleen
Michael Galloway Weber
Born in Las Vegas, NV
SHARE Atlanta
1/3/98


"In Memory of Michael on your Birthday" by Colleen (1/98)



"My Angel Baby" by Michelle (4/5/99)



"Sarah, stillborn" by Debbie (4/30/99)



"I deal with life a lot better then I did before.." by Wendy (6/24/99)



"Where the Day Takes You" by Kally (10/1/99)



"Ashley's Story" by Rachel (12/20/99)



"This is actually an update to my story, Precious Baby...." by Jill (1/13/00)



I asked her one day who she was talking to (we were the only ones at home) and she said matter of factly "my sisters mommy". by Barbie (3/01)



"Samantha Nicole Lee" by Tammy (8/22/02)

"My Baby Jan Sebastian" by Angie (12/02 and March 26, 2003)

"Mollie has arrived and Joe's 4th anniversary..." by Sarah (1/6/04)

"Remembering Chloe Gabriella ~ 05.06.2000-19.05.2000" by Damaris 10/13/04

"Remembering Cole..." by Leah (12/14/04)

"4th Anniversary of My baby Harvey`s Birth/Death..." by Beverley (3/06)

"I Can't Bellieve It's Been Four Years" by Lisa (10/06)

In Memory of Michael on your Birthday

Four years ago you were born when I was only 20 weeks pregnant.



I woke up in the middle of the night last night in tears thinking about you and thinking about all of the time we haven't had together. I still miss you. Even though I have two healthy loving kids, I still miss you.

My memories of you and your birth come to me now as if they are flashbacks.

The fear I felt when the nurse said she didn't hear a heartbeat.



The anxiety me and your Dad felt while we waited in the Dr. waiting room full of pregnant women to get an ultrasound to see if you were OK.

The deep heart wrenching pain we felt when we saw the ultrasound and saw that there was no heartbeat and you were dead.

The confusion as I had to go home and tell your 2 1/2 year old brother that you had died.



The lonliness as I laid awake that night before being admitted into the hospital knowing that I would never hear your cry or see you grow.

The anger we felt at how we were treated by the Drs. and hospital when I gave birth to you.

The sadness when I left the hospital without you with me and knowing I would never see you again on this earth.

It is amazing to me that four years later these emotions all rush back to me with such strong intensity and they are so vivid. I feel like I should be use to this week by now but for some reason I'm not and I still feel unprepared for this rush of emotions.

We will release a balloon with your name on it on Tuesday and briefly remember your Birthday but everyday you are a part of me and you are always in my heart.

Thank you SHARE for allowing me to have an outlet for these memories. It does help to know that all of you understand these feelings and have been there yourselves.

Visit

Miscarriage/Relationships

,

Sibling Grief and

Notes South for more of Colleen's thoughts. Colleen
Michael Galloway Weber
1/6/94 Second trimester loss
Born in Las Vegas, NV


E-mail
SHARE Atlanta
1/3/98



~~~~~~~~~~~~Forever in Our Hearts~~~~~~~~~~~




Return to list of Letters and Poems
~~~~~~~~~~~~~~~~~~~~~~~~~~~~~~~~~~~~~~~~
My Angel Baby





Although it has been 4 years since you joined Jesus in Heaven, I just wanted to let you know that I think of you always and wonder how you are and so much want to hold you and tell you how much I love you. I often tell your brothers about their guardian angel who is lovingly watching over them.

Please always know how much Mommy loves you and knows that someday there will a time when I will be with you to kiss you and cuddle you forever...but until then...I will look at the beautiful flowers and the pretty sunsets and think of you. I love you little Angel of Mine.

Michelle
My Angel Baby
Miscarriage
4/5/95
Providence, RI
4/7/99




~~~~~~~~~~~~Forever in Our Hearts~~~~~~~~~~~




Return to list of Letters and Poems
~~~~~~~~~~~~~~~~~~~~~~~~~~~~~~~~~~~~~~~~
Sarah, stillborn





Hi, I'm Debbie. I had a daughter four years ago. It will be four years in less than a month. I was just over seven months along and had the feeling that something wasn't quite right. My weight was too low, and I thought the ultrasound dates based on the babies size were off.

Unfortunately, I was right I found Sarah's heartrate with my own stethoscope, at between fifty and sixty beats per minute. I knew immediately that there was no chance.

The next ultrasound confirmed this, and I went to the IWK-Grace Hospital which specialises in OBS-GYN. I had a fabulous group of people to care for me.

I am a nurse myself and that became a valuable asset when dealing with a husband who does not cope well with grief and for myself. I am glad we all got through it OK.

He still does not like to talk about it, but I tend to be the opposite, I was pried open, peeled back and not too much puts me out at all any more.

My little girl was born at three thirty am weighing only 14 oz. She looked like our other daughter, Jeanne. She had hands like me and ears like my husband. Internally her heart did not develope properly and as a consequence she was hydracephalic and her kidneys were aplastic and her brain barely developed at all.

The problems she had were there by seven weeks gestation, and it is miraculous that she developed as far as she did. I was as in awe of her as I was with Jeanne when she was born. What people have a hard time understanding sometimes is that you bond with a stillborn child as much as with a live child.

When someone asks how many children I have I think three( we have a son now too) and I say two. I had a dream about my Sarah when she would have been three months old. She was sitting in a baby recliner with a little lacy white outfit on and she was chewing her fingers and gooing and she looked directly at me and smiled.

I came to accept that while I would always be her mom, I just couldn't have her every day to raise. I still dream of her a couple of times a year. She has light hair, very thin and straight like mine and she has a small face, like her sister and eyes like her brother. She always looks happy and she is safe.

I can honestly say she has had an impact on my life. The things that used to upset me don't anymore. I can thank her for a great deal.

Debbie

"Debbie's Diary"

Debbie sent me emails about her loss and her healing.

Debbie
Sarah
05/16/95
Stillborn
Halifax, Nova Scotia
4/30/99


E-mail



~~~~~~~~~~~~~~Forever in Our Hearts~~~~~~~~~~~~~




Return to list of Letters and Poems
~~~~~~~~~~~~~~~~~~~~~~~~~~~~~~~~~~~~~~~
This one was my first and it has been four years now, but it still hurts like it did three years ago. I am now the Community Leader for Pregnancy Loss on Parents Place and I deal with life a lot better then I did before. I had a real hard time with this in the beginning, I am just now able to get on with my life.

I lost a lot in those three years since I was not able to understand what I was going though. I lost a friend and almost lost my Dear hubby since I was so angry at the world and God for taking my baby away. It has been a long road, but things are working out now.

I just lost another one back in May, but knowing what I know now, I am dealing with it a lot better and getting on with my life.

Please remember that the loss of a child is the worst loss in anyone's life, but God and your baby do want you to go on.

Wendy (wenmay)
Catherine
1-8-95
Miscarriage
San Antonio, TX
6/24/99


E-mail

Marcia's thoughts: I think your thoughts are very normal...we have many losses as a result of our baby's death and we gradually have some gifts. I know I lost some friends who couldn't cope with what I had to go through...but I also made some lasting wonderful new friends. I directed my anger at God for awhile(thus protecting my family!!) and now feel as though we all have grown for the better. I know my faith is stronger!
Being involved in some sort of outreach is a gift and a comfort for so many of us as we cope. What do you do for Parents Place? I would love to know if you have time to share with me... I co-found SHARE Atlanta as a result of my three losses and we support National SHARE's efforts to support folks who have had a pregnancy or neo-natal loss. There's a lot of us out here...and outreach is so important.
I agree with you...God and our babies would want us to heal and to support one another. I say this many times in our groups!
~~~~~~~~~~~~~~Forever in Our Hearts~~~~~~~~~~~~~
Return to list of Letters and Poems
~~~~~~~~~~~~~~~~~~~~~~~~~~~~~~~~~~~~~~~
Where the Day Takes You





When Damon passed away, there was no way to describe how I felt. The pain was intense, burning, searing, I felt like I was filled with fire. I wanted to scream, but I couldn't find the energy.

That was how I felt on his first birthday. I went to see my baby boy, I made him a wreath, and I talked to him. I told him how much I missed him, and how I can't wait to see him again.

For Damon's second birthday, I couldn't bring myself to go to the cemetary. I felt bad, I felt like I HAD to go to see him. But I couldn't. To this day I still feel bad.

For my son't third birthday, I prayed for him. I still didn't go to see him. Going to the cemetary reminded me that he was gone, and in my own mind he is never gone. I hate going to the cemetary, I want to think of my baby as healthy, happy and alive wherever he is, even if it is in my own mind.

I think this year I will go to see him though. Mommy wants to say hello, and tell her boy that she remembers him.

Forever loved,
Always remembered.
Mommy will ALWAYS love you Damon.



Kelly
Damon Ray Bobbie Kinakin
01/05/96
Died soon after birth
Castlegar, BC
10/1/99


E-mail

Marcia's thoughts: Your sharing is that of someone who is healing, never forgetting, but finding a level of peace around what has happened. We don't have to ever like the loss of our baby-we move down our path of healing.

I love the title "Where the Day Takes You" - how true, how true. We have to let it flow. Forgiveness is part of healing, too. We do what we have to do to make it through all of the parts of this path. Not going to the cemetary is part of it, sometimes. I believe our babies know and understand. As I said, they are forever in our hearts...

Please be gentle with yourself as you continue to heal. Thank you for sharing your thoughts...I know others will read them and shake their heads and be greatful that someone could write what they feel.

Entry #2: Thank you for your words of support. I know that anytime anyone has encouragement for someone who has lost a child, they never fall on deaf ears. Thank you again for taking the time to write me, and thank you for having a place for me to go when I need solace, and to remember my baby.

Marcia's thoughts: I'm glad you wrote! Thank YOU for your kind words of support. The Pregnancy and Neo-Natal Loss Community is becoming more and more Connected do to folks reaching out and supporting one another. Our issues are becoming "ReaL" and that is a very positive thing. We see that the SIDS community has decreased its numbers by more than half...we are beginning to understand some of our medical issues as we work through our emotional issues...and this is important!!





~~~~~~~~~~~~~~Forever in Our Hearts~~~~~~~~~~~~~




Return to list of Letters and Poems
~~~~~~~~~~~~~~~~~~~~~~~~~~~~~~~~~~~~~~~
Ashley's Story





My story begins in October 1995 when I found out that I was 8 weeks pregnant. My boyfriend and I had been living together for 5 years but this was very unexpected.

Five weeks later we were married and very excited about the arrival of our first child. I was very worried about my baby right from the beginning, with thoughts that something was wrong.

My thoughts were proven correct when at 24 weeks I had a show which prompted my doctor to send me for an ultrasound. As soon as the image came on the screen I could see that my babys heart was not beating.

Devastation struck me like a truck. It all happened so quickley, being sent into hospital that night and induced labour the next morning.

I went though 18 1/2 hours of labour and Ashley was born at 2.25am. I was not allowed to see her as she had died a few weeks prior. I thought I had felt her all that time but was told it was only her moving when I moved.

I can only imagine now what she would have looked like and I think that is one of the most painful things a mother can imagine. To hold her in my arms, to smell her hair and count her toes and fingers is all I long for.

Its now nearly four years since my angel went to heaven and I now have a 3 year old son Michael who was 11 weeks early and who I treasure with all my heart. I know that Ashley is in heavan with her grandfather and watches over her little brother and that I will be with her one day.

Thats Ashley's story and I hope that it can help someone through their grief and to realise that your not alone and that one day things will get a little easier but we will never forget.

Rachel
Ashley Kim Natoli
4.2.1996
Stillborn
Melbourne, VIC Australia
12/20/99


E-mail


~~~~~~~~~~~~~~Forever in Our Hearts~~~~~~~~~~~~~
Return to list of Letters and Poems
~~~~~~~~~~~~~~~~~~~~~~~~~~~~~~~~~~~~~~~
This is actually an update to my story, Precious Baby....





...that first appeared in July of 1998 in the neonatal death catagory. It is now the anniversary week of Holly's fourth birth and death day. I would like to say that I have healed completely and moved on with my life but that would be a lie.

The month of January is so devastating for me that I wish we could go right from December to February. I spend these weeks lost in the past and reliving day by day the events of her tragic arrival.

Due to all the problems surrounding her birth and death we sought legal counsel and finally this past spring settled that issue out of court. As with all things in the legal realm there is no expediency so it took 3 1/2 years to finish the case. I don't know that I would choose this avenue again as it really brought me no peace of mind and it didn't answer any of my questions as to what really went wrong that day in January 1996.

God is my rock and to Him I cling but grief and healing are complicated things. By the grace of God I get through this time of year.

My husband and I recently celebrated our 18th Anniversary and we were talking on the way home from dinner how we think about Holly each and every day and what a void there is in our lives without her.

We love and hold our other two children dear but a piece of the family is missing and her absence is clearly felt by all of us. I would like to hear from other moms who have been at this grieving process for years. Does it ever grow dim and the pain subside or do anniversary times always reopen the wounds and make it hurt fresh again?

Jill
Holly Eileen Hemenway
1-14-96-1-19-96
Died soon after birth
Kalamazoo, MI
1/13/00


E-mail
Marcia's Thoughts: I thought about how many of our group revisits at Anniversary Time. I have been leading the group for 15 years now and anniversaries are difficult to say the least (as I have written under the information about anniversaries on the site) . Many parents find the month and or season that they lost their child to be very traumatic for YEARS after their loss.
I have parents, especially mothers, come to the group on their child's anniversary and bring special mementos (often that they have just bought in their child's memory). They share later how being at the group and hearing "fresh" stories reminds them that they have made progress. Their life has gotten easier...for the most part.
Most share that planning something special, like going to dinner as you and your husband did, and discussing the feelings of the moment is very important to them. Many buy a special memento or do something in the community (SHARE Atlanta have a charity that we can bring treasures to) to recognize that year.
Often, by not fighting the need to do something and recognize the time frame it is easier to move through the time. Realizing that what you are feeling is normal...helps. That is why many churches celebrate All Saints DAy...to Remember.
I have seen parents who are doing very well need this time. I have myself tried to "forgo" doing something and have found myself drawn to remembering. I can honestly say that after 17 years, I look at the fall through different eyes. It doesn't hurt as much now.
It hasn't for several years, but I found age "13" and "16" significant. Usually, times that we consider special in a lifetime pull extra hard. Sometimes parents will jot me a note in memory of their child or ask to be included on our newsletters "Memory Board" during anniversary time.
We are made to believe, in a society that shuns death and wants to put this "all behind them", that we heal within a year and go on without remembering. I don't think we do. WE loved these special babies. I haven't forgotten my grandparents, and I will not forget my children.
Remembering rubs the scab on our wound some, but it can be a time of regrouping and knowing that what so many of us fear...that we will forget these special babies, won't happen.
Please email some of the folks who have shared their thoughts "Down the Road". Their are lots from even further than four years...up to 40 years! The pain does subside, the memories become bittersweet, but we don't forget and we shouldn't be afraid to remember.
Take care and thanks for asking a very important question and making some very good points.
~~~~~~~~~~~~~~Forever in Our Hearts~~~~~~~~~~~~~
Return to list of Letters and Poems






~~~~~~~~~~~~~~~~~~~~~~~~~~~~~~~~~~~~~~~

I asked her one day who she was talking to (we were the only ones at home) and she said matter of factly "my sisters mommy". Emily about her sisters in heaven.

It has been awhile since I have had contact with anyone from Share-Atlanta. I want each and everyone of you to know how grateful I am to have you. Without you I could not have "found my spirit" so to speak. For those of you who do not know me, I will give you a brief history as well as an update.

It will be 4 years on April 26, that I lost my precious baby angel. Her name was "Holly". She was named for my mother who had died when I was eleven. This would be the only thing I could give her from "Mamma" as I have few personal belongings of hers.

I was 391/2 weeks when Holly died due to a true knot in the umbilical cord. We had experienced infertiltiy and had to go through artificial insemination to get pregnant with her.

I felt I had died 1000 deaths when they told me she had died. Pregnancy was not the easiest thing for us as a couple to achieve, so therefore I had my doubts it would happen again.

I was induced at 8:30 a.m. and gave birth to the most beautiful baby girl I had ever seen, but in such a short time it was time to let her go. No, I was not ready. I don't know if you are ever ready. To this day I still cry for her. I know one day I will reunite with her.

Five and half months later I had a dream(vision) whatever you want to call it. An adult female angel came to me. Maybe it was my mom. She was holding a beautiful baby girl in her arms. The angel told me "my baby would be fine not to worry, "she" would come on time and in perfect health.

At first I thought she was talking about "Holly", but I realized a week later I was pregnant with my second child. It was at that moment I realized the angel was indeed holding "Holly" and talking about the baby I was carrying, much to my surprise.

My second pregnancy was worry free because of that vision. On June 3rd at 4:12 p.m. We gave birth to another beautiful baby girl. Her name is Emily Rebecca. She will be 3 in June. I always listen and pay attention to all the visions I have.

In February of 2000 we found out we were expecting again, but unfortunately we lost that baby to miscarriage on May of 2000 and we experienced another miscarriage in October of 2000 as well. I think we have just about experienced everything we want to with having babies (Infertility,stillbitth, live birth, and miscarriage).

I never knew just how hard miscarriage was, unitl I had gone through it. It pains me as much as the stillbirth knowing my babies are not with me.

Someone asked me once how I keep it together, and I told her "I had too much living to do" I have done my grieving for my baby angels and now I must do my living for Emily. She had brought me so much love and joy it's so hard to be sad.

After all she was the miracle that survived. What a blessing I have to celebrate each and every day. I asked her one day who she was talking to (we were the only ones at home) and she said matter of factly "my sisters mommy". Who knows maybe she was. I doubt nothing anymore.

I hope I have offered some comfort to you. I can't tell you how much comfort you all have given me. The articles keep me going.

My love to all

Barbie Clement

Barbie
Erin Hollyfield Clement "Holly"
4/26/97
Stillborn
3/01


E-mail



~~~~~~~~~~~~~~Forever in Our Hearts~~~~~~~~~~~~~




Return to list of Letters and Poems
~~~~~~~~~~~~~~~~~~~~~~~~~~~~~~~~~~~~~~~
I just want someone I can talk to that lives close to Cartersville or Marietta. I really need someone to talk to it's been 4 years since I lost Samantha and I really think I should be further along in my grief than I am right now. I will give my number to anyone that will talk to me and help me. I hope to hear from someone.
I find myself sometimes calling my little girl now by Samantha without even thinking of what I'm doing. So please if anyone is close to me and can help me understand please email me. TAMMY
SAMANTHA NICOLE LEE
JUNE 12 1998
Stillborn
CARTERSVILLE GEORGIA


E-mail
Marcia's Comments: Tammy, I see that you are near Atlanta. Have you called our number and gotten our Parent's Packet? It has a good booklist, a years subscription to our newsletter, and some information about our groups and our Angel garden. You might wish to order a memorial brick for the garden or to keep for YOUR garden or home. Doing things in memory of Samantha can be helpful. If you have done this in the past, maybe you are at a different place in your walk and need to do it again.
Sometimes we get too busy (or make ourselves too busy) to grieve and heal. Sometimes other issues in our lives make us revisit our grief around the child we lost. This can happen. I have had woman come to our groups years after their loss who thought they had finished their grief. When they come they begin to realize that they had unfinished issues and needed to look at them so they could continue to heal. Healing usually is NOT a straight line. It can take dips and curves as we move along.
You are welcomed to join our group at anytime. It is never too late to grieve to heal. If you will email me your number I will call you on Thursday or Friday - which ever is better for you. It is good that you realize that you might need to take time to think if you need some support right now. Calling you living child by Samantha is not unusual. It means Samantha is on your mind. (Haven't you heard people go through a list of names before they get to the one they want? I have...)
You might consider a private counselor if talking or emailing someone doesn't give you the necessary support. Only you can make that judgement call. It can be difficult to understand how a pain can keep on hurting. Sometimes it is because we truly haven't looked at it and worked through it. Other times it is because, as I have said, something in our lives at that moment have made us think of our loss. Whatever it is, taking time to think it through is wise.
A second note from Marcia to Tammy: Your reactions right now may be because of your having a new baby. It happens - especially if you didn't move through all your grief before your subsequent baby was born. Few, if any of us, move through "all" their grief during the first few years. We think we SHOULD but in reality we don't.
I would suggest giving yourself a more gentle way towards yourself. We are human beings with feelings and emotions that get confused when new feelings and emotions press on us. As I said in an earlier letter, sometimes people don't grieve until after their subsequent child is born. Please consider joining one of our groups...I had a woman come 15 years after her loss. She was still needing to work through her grief, and she did.
~~~~~~~~~~~~~~Forever in Our Hearts~~~~~~~~~~~~~
Return to list of Letters and Poems






~~~~~~~~~~~~~~~~~~~~~~~~~~~~~~~~~~~~~~~

It's been almost 4 years since you left and it is so hard to for me been without you. I miss you more and more every day. I want to be with you. My life; my heart has an empty space. A space that will never be filled with nothing. It's so sad to be without you in birthdays, Christmas, Thanksgiving, family reunions, trips, Dysney. We know you are there with us, but I would like to see you with us. I know it's imposible but I can't help it. One day we will be together forever - all of us. I love you so much.

Your Mommy
Angie


Second Entry March 26, 2003

IF TEARS COULD BUILD A SATINWELL, AND MEMORIES A LANE,
I WOULD WALK RIGHT UP TO HEAVEN, TO BRING YOU HOME AGAIN.

NO FAREWELL WORDS WERE SPOKEN, NO TIME TO SAY GODBYE.
YOU WERE GONE BEFORE I KNEW IT; AND ONLY GOD KNOWS WHY.

MY HEART STILL ACHES IN SADNESS, AND SECRET TEARS STILL FLOW;
WHAT IT MEANT TO LOOSE YOU; NO ONE ELSE WILL KNOW.

UNKNOWN

HAPPY 4TH BIRTHDAY JAN SEBASTIAN!!
WE MISS YOU SO MUCH
LOVE MAMI, PAPI, ANGEL, JAY
~~~~~~~~~~~~~~~~~~~~~ SOLANGEL(ANGIE)
JAN SEBASTIAN NARVAEZ
MARCH 23,1999 - APRIL 21, 1999
Died soon after birth
RIO PIEDRAS, PUERTO RICO
12/03


E-mail

"JAN SEBASTIAN" by Angie (8/22/02)
Marcia's Comments: It is so special for you to rejoin us as each year passes. There is a special feeling for me as I remember these special children as the years past. They will always be with us, won't they. I feel as though I have grown to know you and him.
I am thinking of you.
~~~~~~~~~~~~~~Forever in Our Hearts~~~~~~~~~~~~~
Return to list of Letters and Poems
~~~~~~~~~~~~~~~~~~~~~~~~~~~~~~~~~~~~~~~
Mollie has arrived and Joe's 4th anniversary...

Hi Marcia, I'm not sure where this goes hence not filling in all the boxes, but I thought I'd share some nice news with you all.

On July 30th 2003, I gave birth to a little girl who I named Mollie. Even thought she is the 2nd baby I have had since I lost my son, Joe, I was stil very very scared and totally convinced myself, as i did with jack,that something would go wrong. Thankfully it didn't and she is thriving.

I've just had Joe's 4th birthday and anniversary go past, and it broke my heart as he should have started school but it wasn't meant to be.

So I'll concentrate on Mollie and the other 4.

And to all you brave ladies - it takes a lot of guts to put into writing what you really feel yet at the same time its easier than saying it. My heart goes out to you all and my thoughts are with you.

Thanks Marcia, much love to you.

"Our son Joe" by Sarah (1/6/02)

"Three Years Later...I stll come to this site at least 3 times a week..." by Sarah (2/15/03)

Sarah
Stillborn
UK
Jan.6, 2004


E-mail

Marcia's Comments: It is good hearing from you.
~~~~~~~~~~~~~~Forever in Our Hearts~~~~~~~~~~~~~
Return to list of Letters and Poems
~~~~~~~~~~~~~~~~~~~~~~~~~~~~~~~~~~~~~~~
Remembering Chloe Gabriella ~ 05.06.2000-19.05.2000

Chloe was my surprise millenium baby. My other two 'babies' were 6 and 10 at the time so you can imagine how excited they were too. They chose the baby clothes, the bath and buggy.

I went for ultrasound scans every month. I bled quite heavily during the first month but after that the pregnancy continued without hassle.

I went passed my due date. Then went to hospital with contractions which stopped soon after my arrival at the labour ward. I was sent to the ante-natal ward to rest but by 10 that night my contractions started with a vengeance.

I was rushed into the labour ward where I gave birth to a beautiful baby girl. I remember looking down and just seeing this dark head of wavey hair. I was so emotional, I cried louder than the baby.

In fact they took her from the room to give her 'suction' because she whined when she was born. We went to the post-natal department and Chloe was swaddled in her cot. I remember feeling her face and it felt cold so I held her in my arms to keep her warm and that is where she stayed.

I kept telling the nurses that she wasn't drinking properly and she kept bringing up water but they didn't seem concerned. They sent us home the following day even though Chloe still wasn't drinking properly.

My other children didn't leave her side. My sports crazy elder daughter lay on the bed hugging Chloe watching volleyball on television. Chloe stayed at home with us for 9 hours, long enough for her to visit every room.

I was very concerned that she still wasn't drinking properly so we took her back to the hospital where it went from bad to worse.

At first we were told she probably had a throat infection but with her being so young she would have to go to the children's department. On arriving there we were sent out of the room. We were informed afterwards that Chloe had been given a lumber puncture to test for meningitis which they confirmed she didn't have.

Standing outside in the corridor for my baby, that was the last time I heard her cry. When they brought her back to me she was staring into my eyes.

Wwe were sent to the special care baby unit. They took her from me then sent me home. Everything seemed so unreal. I don't think anything was registering in my mind.

I returned to the hospital the following morning. I was told that they thought Chloe had a missing enzyme and that she was going to die.

I went into denial immediately. Babies don't just die like that anymore not with all this modern technology, but of course they do.

On Friday 19th May 2000, my beautiful little baby died in my arms.

The pain was so bad I couldn't even cry. I moaned and moaned, rocking her in my arms. I gave her a bath and dressed her all in white.

My eldest daughter was so distraight she couldn't come with me, but my son was so brave, he held Chloe in his arms to say good-bye to her. He even put her shoes on.

The pain of losing a baby is indescribable.

People said things like I could have another baby. This was said to make me feel better but it had the opposite effect. Chloe was my baby. I wanted her. She couldn't be disposed of like that and replaced.

Some people said I should be relieved that I lost her at thirteen days, it would have been more painful if she'd been older. At the time I couldn't respond. At that moment I was so numb everything simply went over my head.

It's not only losing a precious child that we have to face but getting on with life afterwards that seems impossible. A loss at whatever age is painful. It cannot and shouldn't be measured.

I went to the cemetary everyday for the first six months. I believed I was having a bad dream and that eventually I was going to wake up and Chloe would be there. Sometimes I even imagined I could see her in the cot.

When I finally gained the courage to dismantle the cot I sobbed my heart out.

Chloe would have been four and a half years old now. Not a single day passes when I don't think about her. She is in my heart always and forever.

It is true that time is the greatest healer. We will never forget, and we'll never stop loving but the pain isn't so raw. Thank you so much for giving me this opportunity to share a little bit of Chloe with you.

For Baby Chloe Gabriella-

Our Sweet Angel When I close my eyes I see your face.
My little angel full of grace.

The knowing look you gave to me,
My sweet baby Chloe, you wanted to be free.

I miss the softness of your skin, your perfect toes
and button nose.

I wish to hold you in my arms so tight,
Watch while you sleep soundly through the night.

But not for now my little girl,
For as we watch our lives unfurl.

You're up there somewhere high above,
Embracing us with all your love.



Love you, always and forever.xxxxxxxx

Chloe Gabriella
05.06.2000-19.05.2000
Died soon after birth
Damaris
11/10/04


Marcia's thoughts: Damaris, this is a beautifully shared memorial to your lovely daughter Chloe Gabriella. I felt as though I had met both her and your family as I read through it. The pain you felt is there but so is the wonder and love your felt for Chloe.

People do not know the pain..they can not know the pain we feel. They say things to make themselves feel better and, I believe, they hope we will. We talk about this in our group so very much. We have an entire group meeting about Grief and Relationships.

We heal, but we never forget. You have given much meaning to Chloe's presence in your family. I believe this is very important. We honor our child and we help our family appreciate that every person is special...no manner how long they are physically with us. They will be forever in our hearts and our souls. Thank you for sharing your story.

E-mail



~~~~~~~~~~~~~~Forever in Our Hearts~~~~~~~~~~~~~
Return to list of Letters and Poems
~~~~~~~~~~~~~~~~~~~~~~~~~~~~~~~~~~~~~~~
Remembering Cole..

Marcia, Each year on or close to Cole's birthday we plan something to do in his memory, something to celebrate his life. This year we chose to take part in a candlelighting at the cemetary he is buried in and on Sunday we attended the Festival of Trees. Yesterday we visited his grave marker with birthday balloons, which Katie picked out(given a choice of 2 different ones).

Cole would have been 4 years old yesterday and this year the grief and sadness has been building for weeks. I have cried multiple times daily for him. Perhaps because I hate that Katie will never have her big brother around to teach her new things, to play and of course, to bother her. Having Katie makes me realize even more what wonderful, joyous times we missed with Cole.

However, having said that...seeing the SHARE Atlanta tree in honor of our babies and seeing Cole's name written made me smile through the tears. He will never be forgotten, his memory is forever alive in our hearts and minds.

It cannot be said enough- thank you for all you do, thank you for your love and dedication, thank you for joining us in keeping Cole's (and all lost babies) memory alive. I don't know how often you are thanked-- never enough, I am sure! You and Share Atlanta helped keep me from drowning in my sea of grief, you made me feel normal in my grief and you helped me see that eventually life would once again, be worth living again. I just wanted you to know that I hold you in the highest esteem and I thank you from the bottom of my heart for all you do. Leah

Leah's thoughts on the medical procedure, cerclage

Leah Blurton
Cole Alexander Blurton
12/00
SHARE Atlanta
12/14/04


E-mail Leah
Marcia's thoughts: What a blessing your note was to me this morning. It means so much to learn how we help one another. It is why we have our "mutual support" group. I truly believe we can do so much in listening and sharing and comforting each other. I plan on sending this note out to those who are part of our volunteer group, as you are, because it gives us hope that we are really "doing the right thing."
I believe your note also expresses how so many of us feel after the birth of our subsequent child...even years later. Our living children bring to full reality what the loss of our baby means. We are so blessed to have these wonderful sweet babies, but we will miss their siblings - forever. I love it that Katie "picked" the balloons for Cole. I remember Joel, at age 4, finding just the right flower for Seth's first "birthday/anniversary" and how that felt at the time for me. It will always be in my heart - even all these years later.
I do know that as we remember and recognize with memorial bricks, angel trees, litanies..etc. we let ourselves and the world know that every little life is important. They are a part of "who we are." There are reasons for finding causes for losses - so more babies will survive and fewer parents will have to suffer. Each child is significant. As we realize that, too, we do not have to ever deny any child's presence in our lives - and our children who have died join in their place in our family's tree as do our living children.
A thought that has come up so often is this...for many our living children may "not have been" if their sibling had lived. I can't imagine not having my two "living children" - they are more dear to me than life itself- but I know that we most likely would not have had them if our other three had survived. To me, that is why it is so crucial to make each one of our children "special" by giving him or her their own way/place in our family's history. Remembering and honoring continues the love and brings us peace and hope.
~~~~~~~~~~~~~~Forever in Our Hearts~~~~~~~~~~~~~
Return to list of Letters and Poems






~~~~~~~~~~~~~~~~~~~~~~~~~~~~~~~~~~~~~~~

4th Anniversary of My baby Harvey`s Birth/Death...

As the 4th Anniversary of My baby Harvey`s Birth/Death approaches, I found myself looking for support and came across this website with the help of a lady I have never, met but who replied to me and helped me through a very sad week.

This is my story for Harvey. At 31 weeks pregnant I went for a routine ante-natal appointment and the midwife could not locate the heartbeat. I drove to the hospital trying to stay calm and positive. I remember although I am not very religious making all sorts of bargains with God on the journey there. Please let the baby be ok, and I will never do a wrong thing in my life!

When I had the ultraaound I saw Harvey on the screen, I knew I was having a boy. I asked because I have wanted a son my whole adult life!

As the nurse prodded my stomach, I thought I saw a limb move, but I could not see the fluttery litttle heartbeat I had seen on previous scans. I asked, "Did he just move"? The nurse switched the screen off and turned to me, another nurse moved forward and put her hand on my knee. From that day to this my whole life changed.

I was given some medication and stayed in the Hospital 2 hrs until my Husband arrived. The nurse had telephoned him at work. I feel very sad when I try to imagine his journey there. It was a long way knowing what he had to face.

I went into Hospital 24hrs later and was induced. My husband is not good around Hospitals and blood, but he stayed with me throughout.

Harvey Ross Bax was born, and part of me thought maybe they have made a mistake and he will be alive. He was tiny but perfect. I wanted to wash him and dress him, but the Midwife said he was too delicate. So we wrapped him in a soft shawl, and I held him for a long time. He had dark hair like me, and ears like my husband beautifully flat. He was a a tint mixture of both of us.

My emotions were all mixed up, and I wanted to phone people with the news our baby had been born. Yet, I couldn`t.

I made one call to my Sister. As I told her how perfect he was,I heard her voice shake and I knew she was feeling so sorry for me so I said goodbye.

I had told the dr that I wanted to take the baby home with me. They said it was not a good idea and they would speak to Clive, my Husband, about it. To this day I love him for what he said. We had not had time to discuss it, but when they went to talk to him about it he said we would be taking the baby home with us - where he belonged.

After a few hours on the ward I got dressed. Harvey was to be taken down to the mortuary. I wanted to go with him. A nurse told us because we were on the maternity ward there as no easy way to do this..because we would be stared at carrying a basket with a dead baby in. A nurse came in and tried to position Harvey in a moses basket so he could not be seen. Tis made Clive and I very defensive. We told her not to touch him. We placed him in gently with the blanket on his chest just the same as we would wrap a living baby.

I felt very sad leaving the Hospital without him, we had been together for 31 weeks. We had decorated the nursery, had all his tiny outfits in the wardrobe and his pram was there.

We had a zinc lined coffin made, it was tiny and white and lined with blue silk. Harvey stayed in the mortuary 3 nights. In the basket, we put our wedding photograph and a little teddy bear next to him. The day came to collect the white coffin, I was feeling quite numb until i saw it, i broke down and cried.

I knew we had a lot to do to organise the funeral at home. Keeping busy made the day pass quicker. I cried so much. I even cried in my sleep. I would wake up and my Husbands strong arm was around me and tears had beem pouring out of my closed eyes!

My Husband had to call work and tell them the baby had died and he would not be in. When he placed the phone down, he he burst out crying. All his energy was taken up comforting me, and so we took it in turns in a way to break down.

In the paper we, and our relatives, put messages in. I wanted everyone to know how sad I was feeling but wouldn`t talk to anyone. I left the phone on answering machine and wept at each message. Everyone seemed to be affected, even people I hardly new.

Flowers arrived everyday, and I was glad really when they stopped!

This sounds a little strange but my Husband dug the grave. It was not strange to us, we just wanted to do everything ourselves and keep him with us.

I felt very weak, and I can remember my Husband spoon feeding me a meal to try and get me to eat something.

On the funeral day, a handful of special people came. Some people who I had not seen for a long time asked to come and we said "no". This was for Harvey, so the only people who were allowed to come were those who had had anything to do with the 31 weeks he had life.

The sun was shining and it was a beautiful day. We had Harvey spelt out in letters, so everyone knew his name. My husband clive had played "Time to say goodbye" at his Mothers funeral, we decided to play that. I wanted everyone to cry. I wanted the whole world to be sad. Even Clive's elderly Auntie who is very stern cried.

I love each person there for coming. They are all special, they came to our Wedding and they attended Harveys funeral. A few of them have moved away. Although these days I keep all my feelings hidden, I feel a sense of panic if someone who attended the funeral moves away.

I went back to work the following day. The people I saw did not know what to say. One person I know actually avoided me in he supermarket.

One of the worst times was when, although the Dr had given me tablets to dry up the milk. One day after a bath, I had milk. I laid on the floor and cried in despair.

We were so lucky because 5 weeks later I was pregnant again. The whole pregnancy was stressful, and I really wanted anither boy. I just wanted back what I had lost.

When on the scan I found out it was a girl, I cried all the way home. I was glad I found out because I had a few weeks to get used to the idea.

Pearl Claudia Mary Bax was born on 13.02.03. She is the light of our lives.

I feel like something is missing from my life every day. As 4 years has gone by, I know it never goes away.

People have forgotten about Harvey. I don`t always tell new people I meet. I never regretted bringing Harvey home. I see his grave every day.

My little toddler, Pearl, knows her Brother is there. Every Christmas, New Year or sometimes for no other reason than we miss him, we light candles on his grave. That is our story.

Beverley
Harvey Ross Bax
28.03.2002
Stillborn
Sandown, Isle of Wight, u.k
Mar 2006


E-mail


Marcia's thoughts:

Beverley, you have written a powerful letter of love and rememberance for your special son, Harvey Ross. You have shared that we do not forget as the years pass...we will hold these babies forever in our hearts. I thank you for that gift both to yourself and to others that will read this.

What you have shared about "taking personal care" of Harvey, is so very important to share. We, as parents, wish to *parent* our children. You did this for Harvey in the best way that you knew how...both before and after he was born. (My husband dug the space for our son's ashes as well so it does not seem strange to me.)< Others in our group have expressed how important bringing their child home was for them.

You continue to do this by honoring his memory. Your healing is ongoing. You have been a very busy mommy with a wee daughter, now is the time to know that your love for your son will always be there...others do not have to understand or recognize, but you will do in his memory. As you do, you can carry the importance of how we are cared for after our babies are born in advocacy and awareness - as you can. The issues faced by those of us who are in the Pregnancy and Newborn Loss Community have been pushed forward for 20 plus years now by parent and medical advocates. Two Stillbirth Studies have been begun in the last two years...they are a springboard of hope both for those who have experienced stillbirth and those within our community. Please read more on our website and in our last and upcoming newsletter.

Thank you for sharing..four years later.





~~~~~~~~~~~~~~Forever in Our Hearts~~~~~~~~~~~~~




Return to list of Letters and Poems






~~~~~~~~~~~~~~~~~~~~~~~~~~~~~~~~~~~~~~~

"I Can't Bellieve It's Been Four Years"

Today is the fourth anniversary of the worst day of my life-the day my unborn son died. My story is not like other stories and I won't bore you with details-but I have no momentos of my baby even though I was 18.5 weeks along. I almost died myself that day, so this anniversary means something to me in more ways than one. My son would be three and a half years old by now-he would have been going trick-or-treating with his big sister and brother and maybe going to preschool, etc...but he never got the chance. I am having a very hard time with it this year-I do not know why. I just wanted to send in my feelings among friends who I know understand how it feels and don't expect me to be over it because it's been four years. I will never get over it-just keep getting through it. Thanks for listening. And for all of you that are walking the same unwanted path as a bereaved parent, God Bless you and bring you peace and the strength to go on.

Lisa
Matthew David Brooks
Oct.6,2002
Miscarriage
Atlanta, Ga.
10/06


E-mail
Marcia's thoughts: "Hallmark Years" Your thoughts and concern have been talked about a great deal through the years at SA meetings. We realize that for different places along our walk - memories and a level of grieving for what we wish we had and don't - return. It can happen at any given time along our walk...times that mean something special to us. I call it "Hallmark times"...Times when a special activity would be happening with your child...like, for you, preschool and trick or treating. Others it is the 6th(school) 10th,(more grown up) 13th, 16th (sweet 16), 18th (graduation) 21st year, etc. For Jewish families it is often the 7th year when their child would be participating, by asking the key questions, in the Seder. Holidays and special occasions like weddings, birthdays of friend's children, etc can also carry reminders that cause us pain. (My friend could not come to a wedding because the wedding was on her son's death date, and he would have been the same age as the groom. Way too much pain.)
Other years we are often sad but increasingly as the years go by less focused on our pain, and, therefore perhaps less sad. But the Hallmark times grab us. I have found that some years almost get by us...especially after the first several...except for the hallmark years or times. As we get further from our loss, we never forget, but the pain and the focus aren't nearly as intense. Sometimes after the 10th year and sometimes between the 7th and 10th, we might even almost forget the actual day (often we are very busy with other children/our lives, etc).
It is hard to imagine that this would ever happen and parents have told me that they feel guilty when that happens. But, we must remember that not focusing or exactly remembering is part of the healing path. It does NOT mean we have forgotten our baby or have lessened our love around our child. Healing involves different reactions as we move along. Parents fear they will forget...but even the most active do not even if they think they have. As we know the "love stays...forever in our hearts." Our child will be with us forever ...the pain -if we are working to heal - should reduce in level. That is what we wish for.
Realizing all of this is a process...because it is- all healing from our grief and grief *is* a process...over many years. Yes, the first year is the most intense and, blessedly, it lessens after that first year. But, being aware that hallmark times do occur with difficult feelings and reactions, but *never* (if we truly admit it to ourselves) the kind of our initial grief or the intensity from the 4th to 6th month after our loss when the full *reality* of our loss sets in.
Also, acknowledging these times helps us move through them. Don't deny them...go with them. Do something that makes you feel better. Often doing something in memory of our baby...for example, buying something that a 4 year old might like and either keeping it or giving it to a needy child...or one for both...helps us know that this.
You say you have no mementos. It might help you to buy some for you alone to have. I think you have told me that you have put some on the grave site out at the cemetery and maybe at the angel. But, making or buying some treasures in Matthew's memory can be very, very healing. It is never too late for you to do so. If you do, it would be special for you to share with me.

Link to our Newsletters...look at page 5 in the Fall 2006- "Tender Moments with Dorothy Ellen...18 Years of Love" and Also page 11 "Remembering Cole on His Fourth Birthday"




~~~~~~~~~~~~~~Forever in Our Hearts~~~~~~~~~~~~~
Return to list of Letters and Poems
~~~~~~~~~~~~~~~~~~~~~~~~~~~~~~~~~~~~~~~


Return to "Anniversaries, Due Date Menu"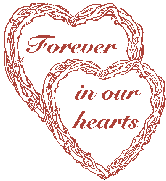 copyright(c)SHARE Atlanta 10/97-06



Graphics on this Site are Copyright