SHARE Atlanta



"As you heal - making your child's presence meaningful"



Thoughts on this Page

"My Gratitude for the Gift of Peace" by Joanne (1/9/99)



"I never knew" by Lori (2/9/99)



"CASEY'S GIFT" by Lisa (7/5/01)



The Tiny "Rosebud" God Picked to Bloom in Heaven for Kamerron sent in by Robin (2/25/02)

"In Loving Memory of Joe Richard Mark Bauckham 14TH - 15TH November 1999 and Baby Bauckham ~ 8th Feb 02" by Sarah (2/27/02)







My Gratitude for the Gift of Peace





I wrote this on my daughter Marissa's 5th Birthday/Anniversary. I had sat down to wait for a friend to come over for coffee, I felt this almost urgent need to write. I hadn't written any poetry for over 5 years and knew that it was time.

I proceeded to write the poem within 20 minutes. I felt such a peace come over me while writing, I knew that this was the right time. I felt truly led by the Spirit and the words just poured out.

I have also felt that it was time to share my story with others and try and help other's along their journey to find peace. Marissa was stillborn at 39 1/2 weeks, cause unknown. The one thing that I am sure of is that she suffered no pain as I had felt none.

She was the 3rd of my 4 children, and gave me the gift of a closer family and The Church. I have a heart that is full of Gratitude for the Peace that has come over time and the Blessing of My angel who is in my heart always.

When I first held you
I thought my heart would stop
you were so tiny, and so very beautiful
every inch of perfection

From the moment I knew about you
I loved you with all my heart and soul
as each day passed, you grew inside me
and filled me with your presence and love.

How you liked to let me know you were there
from the tender kicks, to the somersaults,
you were felt and loved.
Our family eagerly anticipated your arrival
it seemed to take an eternity

Your time came, we were in such a hurry
to meet you and to hold you tenderly.
If only we had known
that a lifetime was only to be an instant.

You were so beautiful, an angel, a blessing
in a brief moment you changed me.
It is with your love felt from inside me
that has made me find the strength
to face challenges and to be truly thankful.

My angel, always as close as the next heartbeat,
felt with each breath.
My love for you fills each day.
I thank God that we had the time together.
I didn't know then that my heart would be filled with gratitude,
for the brief moments we shared.
My angel I know now, how thankful I am for you.
Beloved is the precious child.
Blessed is the mother who loves much.

Dedicated to my Angel Marissa Desiree

With Love Mommy

November 4,1998





Joanne
Marissa Desiree
Nov.4,1993
Stillborn
New Westminster, B.C. Canada
1/9/99


E-mail



~~~~~~~~~~~~~Forever in Our Hearts~~~~~~~~~~~~




Return to list of Letters and Poems
~~~~~~~~~~~~~~~~~~~~~~~~~~~~~~~~~~~~~~~
I never knew

I never knew what faith was,
till I had to live by it.
Because I lost you.

I never knew that what I believed could be so shattered.
Until I tried to pick up the pieces,
after you left.

I never knew that who I was and where I was going
could change so quickly,
because of broken dreams.

I never knew the grip of despair could hold so tightly,
and shake the core of my being.
Till you left me.. silently.

I never knew how profound silence could be,
till I spoke your name to friends and
no one said a word.

I never knew how long a night could be,
till your leaving left my body hungry for sleep
that just wouldn't come.

I never knew I could love so deeply,
and completely.
Because of your being.

Until I loved you,
I never knew.

written by Lori 2/9/99




I have been spending alot of time thinking about my babies and the lessons I have learned. I hope you like it. Also I have added my Erin's picture to her story page and rewrote the story it's at:



Erin

Hugs,
Lori Ayrault


For more thoughts...

"A Letter to Mommy" by Lori and Jennifer (10/4/98)

Lori aka erinquinn & angelsamongus
Mom to 7 earth angels and 2 heavenly angels


E-mail



~~~~~~~~~~~~~Forever in Our Hearts~~~~~~~~~~~~




Return to list of Letters and Poems
~~~~~~~~~~~~~~~~~~~~~~~~~~~~~~~~~~~~~~~
CASEY'S GIFT

The spirit of the spring
The spirit of the warm summer
The beauty of the spirit of the autumn with its golds,
and reds oranges and greens was the time you
came and touched our souls.

The spirit of winter
The spirit of down
The spirit of twilight
The spirit of slnmber
are now protecting your love and joy that was
given for such a short time for us your mummy ansd daddy
and brother Declan to treasure

I see you now in a beautiful place asleep beneath
the protecting tree.
A shaft of sunlight streaming
down in this tranquil place.
All the spirits above are there
to take you on your journeys of joy and wonderment.

Through my eyes you will see the
sunsets and beauties of the world.
Through your daddies eyes the beauties of nature.
Through Declans eyes you will grow and walk
beside him always.
You will be the cool wisper of a wind on a hot summers day.
You willbe the joy Declan feels at Christmas
because all these things you give to him.



Lisa
Casey Brock Jowett
25/10/200-13/11/00
Died soon after birth
England
7/5/01


E-mail


~~~~~~~~~~~~~Forever in Our Hearts~~~~~~~~~~~~
Return to list of Letters and Poems
~~~~~~~~~~~~~~~~~~~~~~~~~~~~~~~~~~~~~~~
For my son Kamerron

The Tiny "Rosebud" God Picked to Bloom in Heaven

The Master Garderner from heaven above
Planted a seed in the garden of love

And from there it grew a rosebud so small
That it never had time to open at all

For God in His perfect and all-wise way
Chose this rose for his heavenly bouquet

And great was the joy of this tiny rose
To be the one our Father chose

To leave earth's garden for One on high
Where roses bloom and never die...

So, while you can't see your precious rose bloom
You know the Great Gardener from the "Upper Room"

Is watching and tending this wee rose with care
Tenderely touching each petal so fair...

So think of your darling with angels above
Secure and contented and surrounded by love

And remember God blessed and enriched your lives too,
For in dying your darling brought heaven closer to you!



"Our Last Angel, Kamerron" by Robin (Newborn Loss/Known Cause) (2/10/02)





~~~~~~~~~~~~~Forever in Our Hearts~~~~~~~~~~~~




Return to list of Letters and Poems






~~~~~~~~~~~~~~~~~~~~~~~~~~~~~~~~~~~~~~~

In Loving Memory of Joe Richard Mark Bauckham 14TH - 15TH November 1999 and Baby Bauckham ~ 8th Feb 02



In a baby castle,
just beyond my eye
my baby plays with angel toys
that money cannot buy

Who am I to wish him back
into a world of strife,
No, play on my baby,
You have eternal life.

At night when all is silent
and sleep forsakes my eyes
I'll hear his tiny footsteps
running to my side.

His little hands caress me,
so tenderly and sweet
I'll breathe a prayer and close my eyes
and embrace him in my sleep.

Now I have a treasure
that I rate above all other
I have known true glory
I am still his mother.



I dont know who wrote that poem, but I love it and I thank them for it.

SARAH
Baby Bauckham
8th feb 02
Miscarriage
ENGLAND
1/6/02


"Our son Joe , Newborn Loss 1999" by Sarah (1/6/02)

"Baby Bauckham" by Sarah (2/23/02)

E-mail





~~~~~~~~~~~~~Forever in Our Hearts~~~~~~~~~~~~




Return to list of Letters and Poems






~~~~~~~~~~~~~~~~~~~~~~~~~~~~~~~~~~~~~~~






Making Your Child's Life Meaningful Menu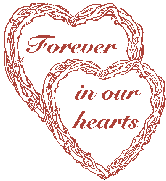 copyright(c)SHARE Atlanta '97-'12



Graphics on this Site are Copyright