SHARE Atlanta
Information to consider
as you continue down the path
towards healing
Month 7 After Our Loss...
...looking back on the two months
after Ian's stillbirth
when all I did was cry every day,
...I can see a difference now.
I do recognize positive changes in me,
and I applaud myself for them.
We need to give ourselves credit sometimes...
...(I'm) still having emotional days
JoAnn
Binghamton, NY

The First Year ~ Month by Month

Most of us grieve a little at a time as time passes
or when we allow ourselves to grieve...
As we move along and begin to heal, new options and ways to heal become clear to us.
It is never too late to begin to grieve, continue to grieve or to "finish a grieving process". Putting "closure" around a loss can happen at any time.
~~~~~~~~~~~~
Take the time and energy to grieve...
As Kathy, in Atlanta, shares how grieving means giving yourself permission to change in order to survive:
I came to realize that I really never grieved for Scott, 27 years ago it was not "THE THING TO DO." We were told to go on with out lives and forget. We didn't have the chance to do the things that parents are allowed to do today: like hold our son; take pictures and spend time with him; in fact, they kept me highly medicated for 4 days.
...I know now that grief does not leave us in 2 months or 2 years
... even, and that we can not get on with out lives like nothing happened. For we are not the same person we were before the death of our child. These wounds of loss are too deep to hide away and "forget," they WILL surface one day.
Support Groups Help..
At least now there are places like this to help us deal with our grief. Today's parents are fortunate to have places like this to go and grieve with others who share the same grief. For we are the only ones who know...and we are fortunate because we do not have to walk alone.
~~~~~~~~~~~~
Surviving a loss is very hard, but our babies would want us to heal...making them part of "who we are." Giving their brief presence meaning...
Krista, from Ohio, writes:
I have carried on with a dignity and grace that has inspired many,
.. especially myself, as I never thought I could be this strong and endure losing our son. I went from begging not to wake up in the morning, to anxiously awaiting another day, and all the creativity and ideas that were to be fulfilled. All that I do is because of my Eric, he is blowing me kisses, sending us all comfort,...he is just a heartbeat away...
Lori, from Texas ~ Giving herself permission to grieve ~ to heal
One day I was stuck in Houston traffic three years after the accident,.... I acknowledged that I was just not going to know why this had happened to me, and there was not anything I could do to change it... It was the most cleansing thing I had ever experienced. From that day the healing process really began...
I used to tell myself - "It's been 4,5,6,7,8 years, you really should be over this by now." Don't let yourself put a limit on the time you need to grieve. Allow yourself to feel everything that comes: Anger, sadness, loss, apathy, and yes, happiness and even joy.
So after months of agony I have finally begun to accept.
I still need work on renewal of my faith, and I need to visit the place where my children are buried. But both of those will come with time...Kristy in PA.

Learn to let others know how you are coping and how they might help you. Learn to take care of yourself...emotionally and physically....
SA parents all over the country have "shared" how they have made their special baby's presence meaningful. Please visit the following link to read some diaries and many notes from parents with helpful thoughts. Our hope is to offer you options and that you will find some that work for you so your own healing can happen. Please join us on our forum or email us some of your own ideas and thoughts for healing.. We are here to help you heal. Marcia 11.2007

"Healing & Making Our Child's Presence Meaningful"

"SA's Forums"


Return to Menu on "Making Choices to Heal"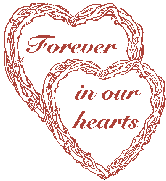 copyright(c)SHARE Atlanta '97-'12



Graphics on this Site are Copyright