"Too Early for Emily"

My husband Todd and I were so surprised to learn that we were expecting again when our son was just 10 months (the due date would make them 18 months apart in age).

My first pregnancy, with Benjamin, was less than ideal. I was diagnosed with incompetent cervix at 19.5 weeks, had an emergency cerclage performed, and was put on bedrest for almost the remainder of my pregnancy. He was delivered at 38 weeks! We were so thrilled to have made it the whole way through.

We knew that every subsequent pregnancy would require a cerclage placed earlier in the term and possible bedrest.

After twelve healthy weeks and several ultrasounds to determine that our new baby was healthy, my cerclage was placed in an outpatient procedure. I went home to enjoy a week of rest while my parents and inlaws took care of Benjamin.

But I didn't get to enjoy myself. I got a stomach virus TWICE within seven days, and a UTI that took an entire round of antibiotics to subside. After the first week (and second stomach virus), I still continued to vomit at least once a day. My doctor attributed it to hormones. I never felt well after the cerclage was placed.

On November 29, I had an u/s and we found out at 16.5 weeks that our baby was a girl!!!! So exciting!

On December 1, I had a routine visit to the OB at which he found a heartbeat of 160 (good). I still complained of vomiting. On Friday, December 2, I was very active with my son at a park. He doesn't walk and is very heavy. I apparently lost my mucous plug that afternoon, but I didn't recognize it for what it was.

I felt awful that evening with back ache, but tried not to complain. At 2:30 AM, I woke with such a high fever that I could not stop shaking. It was very scary. My husband helped me take Tylenol and drink fluids, but I began vomiting violently and couldn't keep anything down.

A call to the doctor on call, then we were at the ER by 5:00 AM. The doctors gave me IV fluids and told me I probably had a severe kidney infection (back ache, high fever), but then quickly changed their mind (back pain not high enough or severe enough).

I was moved to the maternity ward. A nurse finally checked on the baby's heartrate which was 130 (fine), and sent me to have an ultrasound. I was asked to empty my bladder. I reported that I was "spotting". The u/s tech looked at my cervix first. I could tell that she was concerned about something, so I just told myself to expect bedrest for the rest of the pregnancy.

Then she looked at our little girl. She was still, but I just was convinced that she was okay. The nurse had just found her heartbeat minutes ago. I had felt her move earlier that morning. She called in the doctor who informed us that we had miscarried.

I still can't believe those words she said. I just want to go back to that point in time and snap my fingers and change it all around.

The doctor told us I would have to have my cerclage removed immediately so my cervix wouldn't rip open. I began to have contractions and bleed before I could return to my hsopital room.

Everything was happening so quickly, I didn't have time to digest what was going on. They tried to remove my sutures in a hospital room without an epidural. They couldn't do it (good perinatalogist), so they gave me an epi and moved me to an OR. They had to give me a sedative.

They talked to me about holding our baby, but I couldn't even imagine. The sutures came out, then baby and placenta easily. It was very quick. I was very glad for this. They didn't expect me to deliver her at the same time as the suture removal.

A nurse held our baby all wrapped in a blanket and told me she was beautiful. My husband was not with me and I didn't have on glasses/contact lenses, so I wanted to wait to see her. I WASN'T SUPPOSED TO SEE HER UNTIL MAY.

...We did decide to hold our baby, after more encouragement from the doctor. I was very anxious about this, and so looking back did not spend as much time with her as I would have liked. She was a beautiful baby, perfect in everyway; it makes it harder to understand why she couldn't go to term. Some nice church groups provided tiny swaddling and knitted blankets for her. Her picture was taken and hand and footprints made.

For the next four days, I remained on IV fluids and serious antibiotics to eliminate the infection that had or helped terminate my pregnancy. Those days, there were visitors and nurses and doctors with kind words and prayers. I was in total shock. I remember telling one of the nurses or doctors that this was "easier than I would have imagined". I just wanted to get back home to my Benjamin and "get back to normal".

I have been home for two weeks now. I have grieved in accordance with the textbooks: shock, anger guilt, etc.

At a one-week check-up appointment, my doctor did not have the results from the cultures taken at the hospital to determine what was the cause of the infection. I keep thinking that if I can just wait to hear the results, I will have some peace of mind. Was it bacteria introduced during the cerclage procedure? Was our baby the source of the infection post-mortem? Was I too active the day before my trip to the hospital? No answer will make me pregnant with my baby again, though. That is the hardest pill to swallow.

I have a biology degree and a degree in dentistry, but there is no medical book or instrument that can reverse time and make Emily alive and healthy.

So, I am finding comfort in the prayers of friends, family, and strangers. I know that our little girl is happy and alive in heaven. I can only imagine what a wonderful place it will be with all of the special babies there. And I thank God that there are people who understand my grief, although they have unfortunately experienced similar things.

Thank you for reading this. I am truly thankful for your program, and I hope this account helps someone one day. My only regret is that all of the resources for my loss and grief were not introduced to me in the hospital.

Lauren
Emily Reagin
12/03/05
Miscarriage
Atlanta, GA
12/20/05


E-mail
Marcia's thoughts: Dear Lauren, How sweet that your beautiful baby girl, Emily, was swaddled in the loving gifts of knitted blankets from those who care for you from your church. This very outreach is one that SHARE Atlanta is doing as well for families. Our families and seniors that we love are making them for newly bereaved families and our information is attached to each blanket or outfit.
We hope that more families will receive these special gifts as time passes for the very reasons that share in your note. As parents having experienced a loss, we know that we are often not prepared to swaddle our babies. We also know how important it is to "parent" our child from the the very first moment we are holding him or her.
Dressing, wrapping, snuggling..all are important for eventual healing. Our love for these little ones has to be given. So, we are trying to make sure more parents are given those special items to do so. We also know that to be able to take these blankets, etc. home and hold them close as loving mementos from our special baby is important.
The other mission and message in sharing our blankets with newly bereaved parents is to let them know that they are not alone in their loss and that we are "here" for them as they might need us. It is such an alone feeling we have as we hold our baby. Many parents do not receive resource information in the hospital...even after many inservices - this is an issue that is ongoing within our group. Advocacy and Awareness is another area that we feel strongly about.
Lauren, you and your family are not alone, we are here. The process of grief begins as soon as we learn our baby might die or has died. It continues as a process that helps and leads us to healing. Learning to cope with our pain, understanding the perimeters of the grief process, regrouping, finding the medical support we might need before considering another pregnancy, and joining with others who have "been there and survived" - all can give us hope for the future. Healing in a supportive atmosphere is what we are all about.
Though our group is "non-denominational," many of us (including me) believe that our babies are in heaven with Jesus and those loved ones who are there now...and that our babies "play together" in health, happiness and peace. Believing that has always given me strength. Many also believe our little ones in heaven watch over their brothers and sisters here on this earth. That makes me smile inside.
By sharing our stories, our paths of healing, and ideas for outreach, we support one another. I believe that is what God would want. I believe by making our baby's presence in our lives so meaningful we honor their memory and give them all of our love.
~~~~~~~~~~~~~~Forever in Our Hearts~~~~~~~~~~~~~
Return to list of Letters and Poems
~~~~~~~~~~~~~~~~~~~~~~~~~~~~~~~~~~~~~~~
"My angel, Kennedy Kennedy Michelle, February 10, 2006"

My angel, Kennedy Kennedy Michelle was born and died on February 10, 2006. I developed severe pre-eclampsia when I was 27 1/2 weeks pregnant.

Kennedy was my second child and I'm having a hard time dealing with why this happened. My first pregnancy was uneventful. In fact, my first daughter, Lauren was 2 weeks overdue.

I'm also worrying how I will deal with Kennedy's approaching due date of May 2nd. I welcome all comments on how I can cope with my loss. Sincerely

Tracy
Kennedy Michelle Neal
2/10/06
Stillborn
Decatur, GA


E-mail

Marcia's thoughts: As you approach your due date, please consider reading what I have written and others have shared about ways to remember and cope around the due date. This is a difficult time and we help ourselves when we recognize this time for how important it is to us. I have invited you to join us on our forum and I am hoping you will! You can find this information on our site under:

Anniversaries, Holidays, and Due Dates

SA's Forum





~~~~~~~~~~~~~~Forever in Our Hearts~~~~~~~~~~~~~




Return to list of Letters and Poems






~~~~~~~~~~~~~~~~~~~~~~~~~~~~~~~~~~~~~~~






Return to Midterm Losses Menu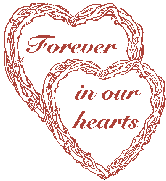 copyright(c)SHARE Atlanta '97-'06



Graphics on this Site are Copyright