Healing and Making Our Child's Presence Meaningful
As we move through our grief, the path of "what will be" becomes clearer and safer to travel.
As my husband, Leon states, "Our losses were significant, they changed our lifes." As we heal, we can begin to "make our child's presence meaningful" in some way. Thus, giving meaning to our struggle and loss which allows us to hold on to our bittersweet memories while refocusing our life's path.
Our Special Babies Become Part of Who We ARE...
On this page, parents share the special path they are traveling as they have reached out to give meaning to their baby's presence. Their suffering and subsequent gradual healing has been interwoven with their hearts and souls.
I have shared many times that all five of my children, three in heaven and two living sons, have helped to mold who I am today.
Many different types of "Healing Stories"
Also included on this page are some "healing stories" that have helped parents heal because the message embraces hope. Some have been written by parents, friends or family in memory of a special baby, all have been shared as a source of comfort.
"Allowing Grieving to Happen to Heal"
... in our drop down box, for more thoughts on the grieving and healing process. Marcia McGinnis

November 17, 1993
It becomes clearer every day
that I have been changed
by the life of my son.

As time passes and
his life is but a misty memory for those around me,
his life has more meaning for me.

I find it a little easier
to sift through the significant and the non.
I find other people's joys and sorrows
more meanignful and understandable.

And somehow, because of him,
I am going down a path
that is clearer and brighter
and this makes me love him more
and think of him more.

And yet, I still regret,
that it is he who has changed
the meaning of my life,
and not I who have helped to mold his.

Julie B.
In loving memory of Justin Paul
Stillborn at 39 weeks
July 31, 1991
SHARE Atlanta


Making Your Child's Life Meaningful Menu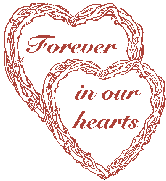 copyright(c)SHARE Atlanta '97-'12


Graphics and "Music Box by Eclipse"
on this Site are Copyright...click on owl!