SHARE Atlanta
"Parenting and loving our baby. Gentle ways to say Goodbye.."

When our baby dies the fog on our path is often heavy. Often, there are no guide lines. At SHARE Atlanta we realize that we did/do the best we can. We learn as we move along this path. Parenting our baby is important.
As Linda Anderson, a SHARE Atlanta member, suggests in her play Cameo, our baby was a brief encounter in our life that leaves a lasting memory in our heart. No one can judge for a parent who has experienced a loss, what their baby meant to them.
Remembering that every pregnancy can be filled with dreams and wishes for a living child, every parent who experiences a pregnancy or newborn loss must be given "permission to grieve" and to recognize their child by parenting them. Holding, powdering, dressing, wrapping their baby in a blanket is important. Naming their baby a special name lets the parent know that this little one will always be in their heart. Taking pictures with loved ones, a little stuffed animal or a favorite nurse may seem odd at the moment, but these along with the other keepsakes(keeping the clothing, stuffed animal, a lock of hair, the hospital bracelet..) will be cherished treasures down the path.

Thinking about a memorial service or funeral to Say Goodbye...
A parent's conditioning from society often makes it difficult to "bury or recognize" a baby that "no one knew." Funerals are often seen as for "all the people who knew the decreased." In their hearts, the parents know that they have known their baby since conception. In SA, we discuss how we began to know our babies when we played "mommy and daddy" as children. So, society's conditioning can be very confusing when decisions about our baby are being made.
Therefore, the time frame of loss during a pregnancy can influence decisions about a funeral. If the family and friends were able to see and hold the baby, there often is no question whether there should be a service. Funerals are considered to be for closure of those who "knew" the deceased. So, there usually is much support for a funeral or memorial service. The parents openly and with support can "say goodbye."
For those whose baby was born too soon to hold or few people saw the baby, society is more ready to discourage parents from naming or holding a service. We talk about ways of healing, if no immediate service is held due to this type of situation on another page...:

"Things you might think about for planning a gathering..no matter when the loss happened"
For some, there also is a level of denial mixed with shock that can influence the parent. A funeral or a memorial service means that this was a real person, a real loss, and, therefore, real pain and grief are happening... For many, this is too hard to accept at first. This is true even for those who experience the loss of an older loved one. But, with care and supportive communication, parents can embrace a very meaningful and comforting service.
The actual service can mean many different things for each family. Giving the parents permission to follow traditions or to carve a new page is important.
Even when we make one set of decisions right after our baby dies, we realize that as we move down our path and the fog lessens, we may choose to remember our baby in a different way. It's never too late to make a another lasting memory. The most important gift you can give yourself is to do what is in your heart as you move along. When you do - you help to free the pain so you can feel the hope and love that is there.

Hospital Service by a hospital chaplain...

Sometimes a service is held before you leave the hospital by the hospital chaplain. At SHARE Atlanta, we have been moved by the lovely services that the chaplains have provided for parents and their baby. These ceremonies give parents warm memories of love and support that we all wish for ourselves and our baby. While the chaplain may have some pre-planned parts of the service, many are open to having the parent include some ideas of their own.

A service upon returning home

Waiting until we return home can be very helpful. It gives mom time to heal physically and time to explore some options to make the service a very special occasion for both the family and their supporive friends and relatives. Planning the funeral or memorial service can be very healing. There are books and tapes that give parents ideas for the way to proceed. Many of today's ministers are familiar with beautiful services that can support a family. Encouraging the family to be a part of the service in any way that they wish can be very positive. We have had parents write and read special poems, gather together meaningful pictures and mementos, and plan very specific ceremonies that "tell their story."

Parents need permission to grieve their pre-term or newborn baby..

Because this baby was not known by many, others are often quick to dismiss or decrease the length of the grieving process. This causes confusion by both the parents and those around them. With support the parent can be helped to understand that their feelings of grief and pain are normal for after the death of their baby (no manner how long the baby was carried). It is often hard for the parent to listen with a clear mind to their heart right after a loss because of the shock of death and the mixture of messages.

As the parent moves down the path of grief, the fog begins to clear and decisions become easier to make. That is why, for some, memorials and mementos take time to realize and make happen. This is normal. It is fine to wait for a service at a later date.

For many, when recognition happens, healing starts in earnest and parents begin to understand some of what is happening to them.

It is most important for parents, and hopefully, those around them, to understand that all their pain, confusion, and sadness are real. These feelings are reactions to someone very important in their lives - sometimes just a brief moment with a small dream to be, but that moment ignited a flame of hope and a glimpse of the future in their hearts. We must not deny their baby's influence on their life's path. To do so, leaves a hole where lots of pain lies. By expressing and acknowledging their loss, pain, and grief, the grieving parent releases feelings through validation of thier child.

When parents "can own the moment", they gradually heal. As the title of the book suggests "Don't take my grief away!"

(Marcia cGinnis..3/99-2007)


Return to "Funerals, Memorial Service, Remembering..." Menu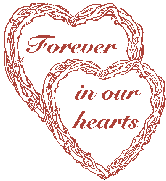 copyright(c)SHARE Atlanta '97-12



Graphics on this Site are Copyright