SHARE Atlanta
Thinking about a service....
"Things you might think about for planning a gathering..no matter when during your pregnancy you experienced the loss...(or how long ago)" by Marcia McGinnis (3/99)

When and how should the service be performed?
The important thing to remember is that there is no "right" way or time for the parent to plan a service or a gathering. Some decide very soon after their loss to hold a gathering, others wait months even years before they can undertake this experience.
When possible, we suggest that the parents do not have to rush into making a decision about a service or a gathering of loved ones. Often the mother has been through much physical as well as emotional pain, and a brief waiting period helps her become a more active participant in making these final arrangements.
Planning the service or memorial ~ Mom and Dad? Be respectful of each others' differences.
It usually is best if both parents can agree that there should a service. The mother often has a greater need for recognizing her child in a more open matter. Mothers have shared, "It is the one thing I can do for my baby that will have a lasting place in my heart." Parents often find that as with many kinds of special ceremonies, the mother is driven to provide the details for the ceremony or service.
Many fathers will often agree to being present and perhaps even speaking or lighting a memorial candle at the ceremony as long as they don't have to be part of the actual planning. It is often too personal for them. Many fathers fear that a ceremony will put too much stress on them as well as others.
Both parents will be strengthened if they can respect each others need for varying degrees of involvement in giving a service.

Making the decision whether to bury or cremate, and where to bury a baby, is usually very difficult, but with support comforting answers can happen.
Most young parents have had no need to make decisions about cemeteries and final resting places thus making arrangements more difficult. Many are aware that there life is very mobile at this point, and don't want to bury a child in a place that they might not remain.
Perhaps, one of their own parents have a family site that is a comforting place to bury a baby. Our son is buried at the foot of his great grandfather's grave. We felt blessed to know we had this location. Often this option isn't available or acceptable.
The cost of a burial plot may be too high(though there are cemeteries that work with parents on this issue). Today, some hospitals are becoming more sensitive to this issue and have a local cemetery that has a plot for a burial several times each year. Ask your hospital about this possible location. Giving the parent some peace as to "what happens to a baby when the hospital takes care of the arrangements" is very important.
For some parents, cremation becomes an option because of the need for more time around the final decision. This eases the stress as to what to do now.
Parents in our group have then gone on to have beautiful memorial services for those that they know want to be included. One father hand carved a beautiful wooden box with a rose inlay for their daughters final resting place. Several weeks later, they held a touching service at a local cemetery with this box placed on a table draped with a quilt the mom had made, roses from their garden with friends gathered around.
A mom made a lovely small cushioned keepsake box for her baby ~ she intends to bury her child with her when she dies. She showed me the box amongst other keepsakes, in memory of her daughter, on a shelf in her bedroom.
One of our familys had a private ceremony, in California where they are from, on the Pacific with their subsequent son. They went out on a little boat on an inlet and released their baby's ashes over the water. A decision that meant a lot to them...that they would not had made immediately after their loss.
Cremation isn't always what a couple might want to do, but I have seen it ease many couples through this period in their life.

Planning a funeral or memorial can be healing.
Parents who can make the choice to bury their child often need to be encouraged to do as much as they want or can for their baby. Making the arrangements can be very healing and gives some closure to the death.
Again, most young couples have not had to deal with these issues, and it doesn't always feel "right," but learning what others have done helps parents move through this time. Many of our parents have taken pictures of their babies after they are dressed in their burial gowns, some have dressed their child...held their child. Most bury their child with a soft stuffed animal, pictures, or a note.
As is seen in our "Saying Goodbye" section, parents will always cherish these last moments and the more they are involved in them...the more meaningful that can be.
Kim, from California, encourages parents:
AND...If at all possible I think the parents should be the ones to close the casket, not the funeral director. It seems to put more closure on it.
I also think that the parents should be directly involved in planning the funeral. I have read that alot of the time when a well meaning family member plans the funeral that the parents realize afterwards that they are uncomfortable with some of the choices made.
For example, my mother-in-law planned Tyler's service and she made the choice to have him embalmed. I really would have rather have had him left just the way he was. And I have struggled with that.

Many different services-simple to very detailed- have been shared in our group
We have seen or heard described beautiful services in churches, living rooms, yards, parks, cemeteries, hospital rooms, etc., whereever the parent feels comfortable about sharing their baby's memory.
Many parents want only close friends and family, others want lots of folks, and still others wish for only the two of them to be present.
Sometimes parents decide suddenly on an "impromptu" ceremony with just the two of them that can prove to be very personal. For example, a year or so after their loss, one couple, who had experience an early loss, quickly gathered some mementos from their baby and took them out into a nearby woods. There they read a poem, shared a prayer and cried together before placing into the ground a piece of paper with their baby's name on it. The mother told me that as they returned home, a sense of peace washed over them both.
Numerous kinds of experiences provide healing expressions of our love and grief thus making this special baby more real. Some can be as simple as gathering flowers for an arrangement in your living room in memory of your child. We have a list of possibilities as well as many folks sharing what they have done in memory of their baby on this site....see Memorial


Return to "Funerals, Memorial Service, Remembering..." Menu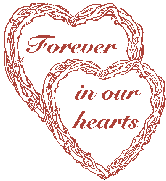 copyright(c)SHARE Atlanta '97-12



Graphics on this Site are Copyright