SHARE Atlanta
"Taking On Wings"
Nicole and "The Angel of Hope"
Chris' Angel Dream and the Angel of Hope
I told you about my dream about an angel statue, which I took as a premonition about how we might want to have the donation to SHARE used. And then, I received your package about the Angel of Hope and it was just the thing I had in mind. Here's why...............
SHARE Atlanta's support
Gentle guidance...
We will always be grateful for SHARE, and how you helped us to understand what happened--and while we may never know why it happened, we have found meaning with the loss of Nicole.
You allowed us to grieve openly in a safe, comforting environment, where there were others like us, feeling just the same. You gave us permission to grieve for a long while, you showed us the value of it, and the way to transcend out of it.
You helped us begin to put the loss of our daughter in our hearts as a treasure, that no one could ever take away. Our little treasure has made us richer in our daily lives because we see what's really important now--we value life and loved ones more than anything--the phrase used to be a cliche, now we know, and we can help our other children to have greater understanding and empathy toward others.
A garden and pathway to visit
You had the foresight to establish a special, serene place at the Arlington Cemetery for families to be able to go to, and have a connection with their lost loved ones.
SHARE's Continued mission
You provided us with support as we nervously awaited the arrival of our subsequent sons, Ryan, age 5 1/2, and Tyler, age 3. I've attached a picture of them. They are our most precious little guys on earth, and Nicole is our most precious little girl in heaven. We cannot thank you enough for what you have done for us, forever.
We think you should continue to stay focused on your mission to support families who have perinatal and pregnancy loses. There is no other group for those families to turn to, and the support you provide is exactly what those families need. It is our hope that the SHARE donation you have received will be used to further your mission by establishing a permanent symbol of hope that gives a sense of peace, tranquility and inspiration.
A little snippet story about my preK son and "his" angel.
The birth's of our children
When our daughter Nicole was stillborn in February, 1993, we made a point to be very open with Terry's three children from his first marriage about what had happened, and how we chose to hold her in our hearts while she had gone to heaven. On the first anniversary of Nicole's birth in February 1994, we learned that we were expecting. When our son Ryan was born in October 1994, from the time he was old enough to talk and ask questions, we have been open with him as well.
The nursery's decor
When Tyler was born in March of '97, rather than do a traditional baby's decor in his nursery, we decided to have an artist paint characatures of each of the family members, doing their favorite activities on his walls. Daddy was driving his convertible, Mommy was playing tennis, Travis was fishing, Kimberly was horseback riding, Kara was teaching, and her husband was sitting at a computer. Ryan was driving a fire engine, and baby Tyler was hanging off the back of it. On the slanted ceiling of his room, was Nicole, our smiling angel up in the clouds of heaven.
Pre-K and special messages
This past September, Ryan started pre-Kindergarten at the Singapore American School. During the first week of school, his teacher handed out construction paper cut out in the shape of a house. She asked the children to draw and name their family members living in their house. Ryan did just that. And at the top of the house, there was a picture of a little girl, named "Nicole, my sister in heaven."
That house was posted up on the bulletin board for everyone to see. When I saw it on Parents' Night, the tears came streaming down my face. I was so proud of him and so emotionally overwhelmed at how he knew where to put her in our home and in his heart! His teacher told me that night that she knew what a special and sensitive child he was, and she looked forward to being with him for the school year.
The Angel...a special place to visit...for all
We would love to have an angel statue to visit -- for our family angels have just become so special -- and our hope is that the angel statue would be special for all families who have suffered a perinatal or pregnancy loss.
Chris
Marcia,
Of special dreams...and angels...
That sounds great!!! We will wait to hear from you. By the way, I absolutely love the Christmas Box Angel and would love to be a part of it. It's so funny how life is. When we knew that the donation was actually going to go out, I had a dream about putting an angel statue in Babyland at the cemetary. My boys, who are now 3 and 5 always refer to Nikki as their angel sister in heaven; and they do not hesitate to tell people that they have an angel sister.


Return to SHARE Atlanta Angel History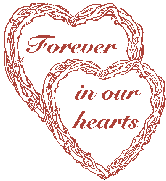 copyright(c)SHARE Atlanta '97-2012



Graphics on this Site are Copyright