SHARE Atlanta
Archived E-mail Exchange from 1997 to 2002 -
Thoughts on the grieving process.

Various Pages to Visit
Direct Connect Topic Menu Box
Click on topic option
Click "Go There."
Click on your "Back" button or click on the "hearts on a rope" icon at the end of each page to return to the "Allowing Grief to Happen to Heal" Menu.








Return to "Allowing Grieving to Happen to Heal" Menu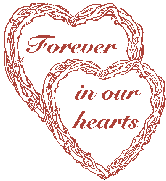 copyright(c)SHARE Atlanta '97-'12 And all of the pages within are also copyright


Graphics and "Music Box by Eclipse"
on this Site are Copyright...click on owl!