"Pathways of Healing"...
SHARE Atlanta's Story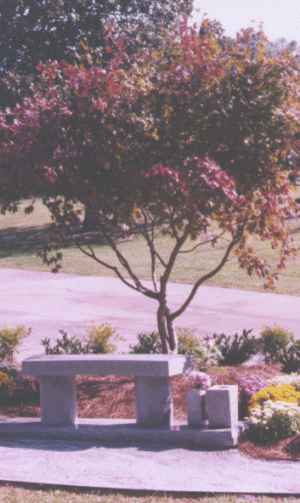 SHARE Atlanta replaced the gravel walk
in front of our bench and garden
with the "name & memory" brick pathway!









"Pathway of Healing"...


How It Came to be...
Naming our babies, Olympic Bricks...
a father's love...







How it started: I thought I'd tell you about some special mementos that I have...

Miscarriage, memories, a few mementos...

There's the sonogram picture of Jamie and my "Mother's Journal" from that pregnancy - only four pages are written on. There are the cards and notes I received after my second miscarriage, which are extra special because there are so few of them. I have two heart-shaped charms on my slide bracelet, each with a tiny birthstone, and my confused rosebush that is blooming (even as I write this) in the cold of November.

A place to go - to remember?

But my favorite mementos are the bricks. I had told my husband, Braxton, that I wished I had a place for my babies - a place to go, a place where their names are written.

Olympic Bricks

He made the wonderful suggestion that we buy each of them an Olympic brick like the one their brother has. I was moved to tears by this idea, coming from a man who has never truly felt at ease with these babies. He is not one to speak of them or to let anyone know he misses them.

Naming our babies - healing begins

Our next problem was that we had never named the first baby we lost. My naming of Jamie several weeks after that loss had been received with caution and suspicion. My family was concerned about my connection to reality.

When I mentioned this to Braxton, he took my breath away by saying, "I already thought of that. His name's Jesse.

I guess this might seem like a small thing to those of you whose babies were farther along, or whose husbands are especially sensitive and supportive. To me, though, this was the first time Braxton had acknowledged (without my urging) the little souls who passed so quickly through our lives.

By naming them he loved them,

.. he made them real, and he made them his children completely.

United

I know this was hard for him, but I also know that this moment strengthened and united us, and it gave me one of my most precious memories.

Jennifer G.
Shared in SHARE Atlanta's Newsletter-3/96







Details about history of pathway and what is offered.

Name Brick Pathway Project Gets A Green Light!!!

(Spring of '98)

Arlington Memorial Park has approved the name brick pathway project for our memorial garden in Babyland.

Now parents can purchase a brick with their baby's name and special dates engraved on it to help complete the garden path. This is a dream-come-true for many SHARE members, especially those of us whose babies have no grave.

This is NOT a fundraiser.

Thanks to continued member support of SHARE, we are able to offer the bricks at a cost of $25.00 each, which will cover the cost of the bricks and labor of placing them in the pathway. Neither SHARE nor Arlington Memorial Park will profit from this project.

We needed a more permanent pathway in the garden, and have been repeatedly asked by parents for ways to memorialize their children.

Each brick can have up to 3 lines of text, with 14 characters per line.

You may also choose to have one of four icons - a heart, star, cross, or star of David - engraved in the bottom right corner of the brick. Please make checks payable to "SHARE Atlanta" and write "pathway project" in the memo section of your check. See "Order Form."

Keepsake Bricks

If you would like an exact copy of your brick, please include a note to that effect with your order along with an additional $20 per duplicate (or keepsake) brick.

Bricks will continue to be sold on a space available basis and added to the pathway. We hope to continue to make this garden a place of peace for our members and all bereaved parents.

Updates on Pathway

10/11/98 ~ Our pathway will be laid this week! We have over 100 memory bricks ready to be put in place!
2/24/99 ~ The pathway is about half filled.
2001 ~ We still have spaces for your special brick.

Permanent Mementos...engraving on the bricks
A beautiful pathway to "complete" our garden area...
SHARE Atlanta is thrilled to announce that the long wished for memorial brick project is now underway. Personally inscribed bricks will be available for inclusion in the pathway at the beautiful memorial garden at Arlington Memorial Park's Babyland.
As most of you know, last October('97) we dedicated the garden and bench during our Annual Memorial Celebration. Now another dream is coming true!
A tangible way to remember our children.
This seems to be an especially pressing need for parents who have no grave to visit or when the grave is too far to visit often.
Each brick is a special "memorial" for a special baby.
Although the garden has provided a place, we realize now that there is a need for something more individual. There is a longing for our babies' names to be written somewhere permanent, for them to be carved in stone. Jennifer Greer.

Dedication of Memorial Brick Pathway 1998 - Announcement!
SHARE Atlanta will hold the Third Annual Memorial Celebration and dedicate the name brick pathway through our memorial garden at Babyland in Arlington Memorial Park on Sunday, October 25, 1998, at 2:00 pm. Arlington has allowed SHARE Atlanta to replace the existing pathway with bricks engraved with the names and dates of our special babies.
Litany of Babies Names...new this year...
A special new addition to the service will be the litany of names read aloud at the beginning of the service. If you would like your baby's name to be included, please call (770) 928-5606 or e-mail SHARE Atlanta. (If your baby is not named, "Baby Smith", etc., is perfectly appropriate also). The message at this number also includes directions to the park. In addition, we are asking for submissions about your own "Pathway to Healing." (See below) Please join us for this beautiful service as we each take another step together down the path.
**In case of rain, signs at the entrance of the park will direct you to the Sunrise Chapel for the service.

Share your "Pathways of Healing"
Parents asked to share their story
This year's('98) Memorial Celebration theme is "Pathways of Healing", and focuses on the steps we take to move forward in our grief.
As we all know by now, everyone moves at a different pace; no two grievers are alike, no matter how similar the situation. Despite our differences, however, the walk is easier together.
At the Memorial Celebration, participants will share memories from many places along their own path. From the newly bereaved to those of us with older "scars", we will remember the stops along the way together.... Marcia McGinnis


SHARE Atlanta Memorial Brick Pathway Ceremony and Dedication...October 25, '98...pictures and description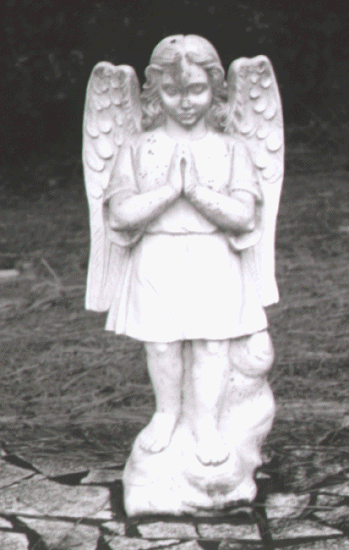 This praying angel faces
SHARE Atlanta's Bench and Garden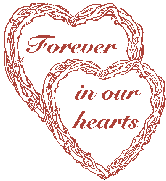 copyright(c)SHARE Atlanta '97-'07



Graphics on this Site are Copyright