SHARE Atlanta
"Small 'Diaries'"
Healing the pain of miscarriage...
Jennie's Diary about Bernice...
Although I lost my baby early,
it was a very much wanted pregnancy
and I waited for her for a long time.
Now I am trying to have another baby,
but Bernice will always be considered my first.

E-mail Jennifer
Updated 8/01






Dear Share Atlanta,


After my loss...No one else knew I was pregnant

I first came here in January of 1999, only 2 months after losing my baby at 3-4 weeks to miscarriage. I had not even begun to grieve yet, although I had spent countless hours crying.

No one in my family other than DH knew I was trying to get pregnant so it was dificult for them to understand why this was such a loss for me.

I was pretty much on my own, because although DH is sweet, he was not as supportive as I needed him to be. Even he did not understand what this meant to me.

SHARE Atlanta helped me to realize I was NOT alone

Anyway, when I came here by chance, I began reading some of the stories, poems, and articles, and I cried many times!

I then knew that I needed to first of all figure out a name for my baby and then begin talking to her. I needed to tell her how I felt about her. I did just that!

A Special Name for A Special Baby

I named her Bernice after my grandmother, who was my first *real* loss at the age of 16. I wrote her poems, letters, and a memorial letter on Share.

As the days went by, I visited Share often.

Weeks later I was still coming here about once a month when I felt like I needed to, or when something reminded me of her. Sometimes I come here to read the things I wrote, sometimes to write new things, sometimes to read what others have written.

Sometimes I come here to listen to the music and remember when I was pregnant.

Remembering Bernice...

It is now August 18th, and her due date would have been July 25th. I cannot imagine that if she were alive, I would be holding her right now. But I can hold her in spirit and hold her everytime I come to this website!

I am on a support group for women who are trying to get pregnant and when one of them miscarries, I always refer them to your site! It was the KEY factor in my grieving process and I thank you!!!

I tell other ladies how important it is to recognize their loss as the loss of a person, a child, not as a medical problem.

I just wanted to say "Thank You" for creating/maintaining this site,

.. and I will continue to visit this site as long as it is here!

I come about once per month now,

.. and as the time draws near when I lost my baby, I know that Share will be here so that I can continue to grieve and make a tribute to Bernice on the day I lost her, one year later.

I cannot say thank you enough!!!!! I will continue to refer people to this site and I hope that you will continue to keep it alive! It is such an important place for grieving women and men!!

Thank you so much,
Jennie
Mommy to Bernice, 11/16/1998

Miscarriage
Greensboro, NC
8/24/99












In Loving Memory of Bernice on your Due Date



Bernice,



Today, July 20th would have been your due date.

During the past nine months I have thought about you many times. I lost you early, and did not get to know you as well as I had planned, but you touched my life like no one else has.

I know that you are with God now

.. and He will take care of you until we meet again. I look forward to that day more than any day I could look forward to. I am still trying for a sister or brother for you, and I know someday you will have one.

You are named after my grandmother, Bernice Williams

..who was truly an inspiration and a friend to me. You were an inspiration and friend to me as well, and I will never forget you. I know grandma is up there playing with you and watching over you until mommy comes to meet you.

This is a sad day for me,
and I feel a strange comfort
which lessens my pain.
Perhaps it is from you my little angel?
Mommy loves you and I will see you soon.
Until we meet again, little one.



Your Mommy,
Jennie









~~In Memory of Bernice~~Month 10
The everlasting flame is as everlasting as my love for you.
Your due date would have been July 25th. I think of you often and I have yet to feel the joy that I felt when I was pregnant with you. If that sheer joy was anything like heaven, I know you are happy and in a state of bliss. I cannot wait to see you and I miss you everyday. I love you with all my heart and soul. See you soon!
Love Always,
Mommy

Bernice...The everlasting flame is as
everlasting as my love for you...

~~Still grieving, but in a different way~~





July 25th 1999 would have been Bernice's due date had she lived.

I lost her at only 3-4 weeks into the pregnancy to miscarriage. At first it was awful. No one understood how miserable I was. When I found this site, I found peace and I found hope and most importantly, I found that I was NOT alone in how I felt.

Since then, I joined a support group for women who are trying to conceive. It has been very helpful!

I now find myself comforting others..

.. who experience loss while on the support group. I know exactly how they feel and I cannot help but thank God that I am not in their shoes right now. I know how it feels.

I know how low it feels to lose a child at any stage in it's life. The pain I felt at only 4 weeks is probably nothing compared to someone who loses an older child or a stillbirth. I pray I will never have to experience that. I find myself comforting these ladies and directing them to this site.

Three things helped me cope. If I could recommend three things for a person who has experienced a loss, it would be:



Naming your baby,

Spending time at ShareAtlanta...not just once,
but many times throughout the day at first,
then avery week, then once a month as
the healing begins to happen.

Thirdly, speak to God.



At first I was angry at God.

So angry that I could not even bear to pray to Him. But after visiting this site and a few good cries, I began to realize that for whatever reason God took my baby away, He had a good reason. It might not be one that I will ever know in my lifetime, but when I die I will know, and it will all make sense.

Perhaps there was something I needed to get from that experience. Without that experience other women who go through it might never find this site because I am the one who suggested it to them.

There are really no words

that one can say to someone who has lost a baby. Only the words of other women who share in their grief and the words of God can really comfort them.

Do something in memory of your baby...

If you have not shared your story here, or have not created a memorial for your baby, I urge you to do so right away because it will take an unbelieveable weight off your shoulders.

I wish all the best to those in grief. May your dreams come true.

.

Love,
Jennie











~~A grave for Bernice~~
When I had my miscarriage at only 3-4 weeks pregnant, I kept the actual material that came from my body. I do not know if any or all of it is part of my baby, but I have kept it.
Initially I kept it to take to the doctor to confirm the miscarriage but the doctor told me it was not nessecary because of my hCG level. I kept it in my freezer in a ziplock bag. This may sound gross, but it's in the back out of view. I hardly even think of it when I open the freezer. I decided to keep it because I want to give Bernice a proper burial place. I live in an apartment so that is really impossible right now.
A special place for remembering...
We are buying a house in October of this year (it will be a year since the miscarriage on November 16th). I am going to save it until November 16th, and on that day I will give her a burial and a small memorial service with just my husband and I.
I will be able to visit her grave everyday and remember her always. I will probably just make her grave in a flower garden and mark it with a tiny white cross.
Other Mememtos...
I also am in the process of making a very special pillow on my sewing machine in memory of her. I will keep it in my future baby's room so that my little angel Bernice can watch over her always.
Every life is special...
These are just a few ideas I had. Although I lost my baby early, it was a very much wanted pregnancy and I waited for her for a long time. Now I am trying to have another baby, but Bernice will always be considered my first.
Marcia's thoughts...mementos
Others have shared with me that burying saved tissue or parts of the placenta or the small preterm baby is very healing. Many have had comfort as they find a special place to bury whatever they have chosen to remember their miscarried baby. Some have buried small mementos from their brief pregnancy or something that meant much to them around the memory of the pregnancy. Even a special given name on a slip of paper can mean a lot to a mother or dad....





August 1999: Thank you for placing my thoughts on the diary page as well as other places.]

I truly hope that my story will help others to heal and show them that healing will happen if they let it happen.



(Marcia's comments..In thinking of being pregnant again, Jennifer comments...)



...I know that I am taking a chance of experiencing that hurt again.

I know that even if my next pregnancy ends in miscarriage, I must cherish every moment that I have with him/her. And I know that Share Atlanta is going to be there for me and I can just keep trying!

Once again, thank you so much!

I love the little 'angel' at the top of my diary! It is absolutely beautiful! I had tears in my eyes when I saw it. She is perfect!!!!!

SHARE Atlanta and Bernice

I will be back on Share in November when the anniversary takes place, or before that if I get pregnant between now and then. It almost feels like Bernice 'lives' at Share, I know that sounds strange, but it's true! It's like when I go there I am comforted and I get a few moments away from the 'world' and get to read and listen to the music and spend time reflecting and remembering.













August 23, 2001
Bernice's new brother or sister is due in March...

Dear Bernice,

From the moment I knew I was pregnant with you, I loved you like I have never loved anyone before. You were the most important thing to me in my whole life! Here is is almost 3 years later, and I still think of you often. Especially now, because I am carrying in my tummy your little brother or sister.

I have a feeling that you personally chose him or her as your brother or sister and sent him to mommy!

I never saw you on ultrasound, but I knew you were there, and you were real. When you came out of my body, you know how much I grieved for you, and still do.

I just met your little brother or sister today on the ultrasound, and it made me really think of you. I have't been here to the "cemetary" in a while to visit you and I knew it was time to pay you a visit.

Mommy misses you very much, and I'm sorry that you could not be a part of my life physically, but no matter how many children I go on to have, I will always remember that you were my very first, and even if it's 30 years from now, I will stop one day and look around and wonder how old you would be, what you would be like?

This is August, the month you would have been born in. You would be turning 2 years old this month. It's so hard to believe sometimes!

Well, know that I love you and I am thinking of you always!

Your Loving Mommy,

Jennifer

Due March 25th 2002 with your little brother or sister.

Grieving you since 11/25/1998.









Return to Healing After a Miscarriage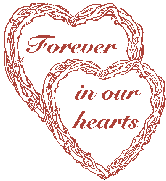 copyright(c)SHARE Atlanta '97- '12



Graphics on this Site are Copyright