"TBS 17 Super Citizen of the Week" Award for week of May 2-8, 1992
Hightlights from the newspaper and other written articles on this award:
Marcia was selected to receive this award because of her role in beginning the SHARE Atlanta support group in Atlanta and for the continuous support she has provided as the President of the group. She was featured on TBS' community-affairs series, Between the Lines, on May 2, and in publice-service announcements throughout the week. The feature included a footage of McGinnis and her group during one of their candlelighting services. (Marcia: Actually we used a "mock" group made up of our volunteers. We never invade the privacy of any group to provide the numerous tapings for the local television programs and newscasts that we have done.)
McGinnis co-found SHARE Atlanta in 1984 after the death of her newborn son, Seth, in 1981 and her two daughters, Catherine Marie and Elizabeth Hope lost to miscarriage. The organization is run by parents who have themselves experienced a miscarriage, a stillbirth or an newborn loss. SHARE is dedicated to educating the publice about the loss of a child.
Along with her work with SHARE Atlanta, McGinnis is the assistant theater-school manager at Dekalb Theater and is an active member at St. Luke's Presbyterian Church. She holds a masters degree in elementary education and has taught in elementary school and been a religious education director.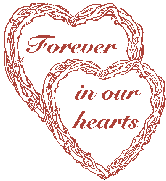 copyright(c)SHARE Atlanta '97-2011



Graphics on this Site are Copyright