Marcia's note: JoAnn's poem tells of "secondary losses" - our expectations for "what should be" in our future, our roles as parents, our place in society - are laid to rest with our baby. It also speaks to the confusion and great sadness that is overwhelming after we have lost our child...
Getting Through the First 4 Months with Special Holiday Mementos
Our first child, Ian, was stillborn September 11, 1997. As we continue the journey on this rollercoaster of emotions, I have found it comforting to include Ian in our family traditions; for example, at Halloween we bought 3 pumpkins and in thick magic marker wrote "Ian" on the top of the pumpkin. Now every year Ian will have his own pumpkin.
Although I wasn't particularly interested in Christmas due to our loss, I bought 2 very special Christmas ornaments (boy angels) and hung them on the tree for Ian; now each year I will buy Christmas ornaments in memory of Ian. We also bought a Christmas gift for Ian; now each year I'll place a special gift under the tree for Ian. Most of all, I finished a scrapbook with photos of Ian and other memories (such as the Mother's Day card I received from a friend in May 1997 when I was about 5 months pregnant and ultrasound pictures). I also have a shelf in my curio cabinet dedicated to Ian with various stuffed toys and other collectables.
I found the most wonderful water globe in the Penney's Christmas catalog (inside the globe is an angel overlooking a baby's cradle). Perhaps this may seem all a bit "going overboard" however it's helping me cope with the loss of our son, whom I talked to while he was inside of me and shared hopes & dreams for the future.
I can't imagine how my Mother feels; she lost her first-born daughter to stillbirth in 1953 and never got to hold her, never got the chance to even think of naming her.
Even though my husband & I sorely ache and the pain is still unbelievable, we are fortunate to have been able to hold our son and remember him in photos.
Remembering him in the ways I am today
is the best way I can be sure
he is never forgotten.

Entry #3 ~ 2/6/98


Crashing Down 5 Months Later
----------------------------
Looking back 5 months ago,
I feel I've come a long way.
February 11th marks 5 months since I gave birth to a stillborn son, Ian. Looking back 5 months ago, I feel I've come a long way.
Concentrating at work is still difficult, even moreso than I thought it would be. I cringe when I hear people say "we had a new baby" or they talk about their grandchildren.
Friends & family haven't necessarily said, "aren't you over it yet?" But I get the feeling when they say, "oh you seem to be doing better today" really means they think I'm "all better now."
Well, I'm sorry, I will never be "all better." I'll be a little bit better, but never will I say I'm "all better." It's NOT like getting a paper cut!
The head stone we ordered for Ian's grave arrived this week and the kind gentleman at the monument company placed it on 2x4's on Ian's grave, although they can't set it until Spring.
I rushed to the cemetary to see it. I knew I would cry uncontrollably, and I did.
I still can't believe it's true. I still have thoughts that any day now my husband and I will be going to the hospital to give birth to our "crying" baby. Some days it still feels like I'm living in a dream. For 2 days I've been in a hopeless funk, however today I'm "a little bit better."
I guess my point is, there will be "okay" days and "not so okay" days during your grieving process and by all means "it's okay to have those kind of days."
Even though some people must think I'm from another planet, I don't really care.
My son never had a chance,
I think I have a right to feel this way.

Entry #4 ~ 3/11/98


6 Months Later
--------------
It's still very difficult six months later,
however I am starting to feel more hopeful.
Today, March 11, 1998, at 8:07pm EST marks the sixth month since my son, Ian, was stillborn.
A week ago I received a notice at work regarding a meeting at another company site; meeting date March 11th. I cringed. Should I go? How could I predict how I'd feel a week ahead? Well, I did end up attending, a 5-hour commute.
I was definitely "blue" today, however things were going reasonably well (meaning I didn't break down enough for others to notice) until lunch.
At lunch everyone began chatting about their children (I have no other children now). I hid my head behind the menu and hoped that no one would ask me that dreaded question, "do you have children?" Depending on what mood I'm in depends on how I respond to the question. Today wasn't a good day for anyone to ask the question since to me March 11th marked a significant "anniversary" of Ian's stillbirth. I prepared a response in my mind. I was going to say, "yes I have a son, but he's not with us, he's in Heaven."
The question was never asked of me, so I have some mixed feelings about that. I dreaded the question, yet at the same time I feel slighted because no one asked me. It's a very strange feeling.
A few people asked me, "how are you doing?" I often don't know how to respond to that question either.
With one individual whom I hadn't seen in months, I confided that it has been a very emotional six months and today was especially hard; she nodded and said, "good to see you" and then quickly excused herself. The theory "it's old news to others" strikes again. Suddenly I felt extremely isolated.
Five hours later I was back home again. At 8:07pm my husband and I lit a candle in memory of Ian. We cried together and listened to the Eric Clapton song, "Tears in Heaven." I also played several other favorite tunes including Elton John's "Your Song." I bawled. There's something about certain songs; you become attached to them and they symbolize your emotional turmoil and deepest feelings.
I feel guilty today because I was traveling on company business and didn't get to visit Ian's gravesite in the daylight.
There have been many other emotional times recently as well. Last weekend my husband's family all got together to celebrate two birthdays. My brother-in-law and his wife have a 2-year old toddler just beginning to talk. I broke down bawling when she kept chiming, "Mommy Mommy." I often dream of Ian saying that to me.
Our family members don't understand sometimes. My husband had a bad time that night at the birthday party; he confided in me that he, too, had difficulty coping with celebrating other nieces and nephews birthdays knowing that we'd never be able to do that with Ian.
That statement just proves that once we know we're pregnant initially, we prepare for "the future" of our children in so many ways, even to the details of dreaming of birthday parties.
It's still very difficult six months later, however I am starting to feel more hopeful.
Recently I read a statement that said, "if your confidence is greater than your fear" then perhaps it's time to consider another pregnancy. That's where we're at right now. My husband and I have decided to attempt another pregnancy soon. Of course, that doesn't mean we're over the grief of Ian. Far from it. We'll miss Ian forever and we know there are more emotional rollercoaster rides ahead.
~~~~~~~~~~~~~~~~~
Marcia's Thoughts: Around the fifth and sixth months parents have moved through denial and more reality sets in. We can begin to reflect on where we have been and more fully comprehend all we have lost. Up to now our denial has protected us, and we have expected to hurt.
Now, because others are encouraging us to return to our "old selves," we begin to wonder if something is really wrong with us...because it still hurts.. Many in our group have realized that they can now speak of their grief because they recognize it. But since some kept telling everyone that they were "okay," others can't hear about it!!
Good days are mixed with "bad" days. We can usually tell the difference, now. Where as before, we seem to cruise along at one level (low). We struggle to piece together the good of what we have with the pain of what we lost. Often our confusion increases for awhile, while we sort out what to do next.

Entry #5 ~ 3/22/98


Dreams & Nightmares
-------------------
Reading Christa's entry about her nightmares during her subsequent pregnancy prompted me to write again.
For approximately 3 months after Ian's stillbirth 9/11/97, I lived through horrible nightmares. My sleeping patterns were messed up anyways (I didn't sleep at all or very little during the first few months afterwards), but in addition to that I started having really bizzarre nightmares.
In one nightmare Ian was a toddler and we were playing hide-n-go-seek in our side yard. He hid behind a tree and I found him there, giggling; he gave me a big bear hug. Then Ian ran; I thought he was still playing the game, but suddenly we were at the cemetary near his grave. As Ian climbed back into his grave he said, "It's okay Mommy, it's okay." That nightmare still haunts me today every time I visit Ian's gravesite.
Another nightmare took place on the dirt road we live on. Ian, as a toddler again, was walking away from the house, hand-in-hand with a man I did not know. It seemed like October, because the trees were full of leaves falling to the ground in the wind. The man and Ian kept walking and I woke myself up when I realized I was talking in my sleep saying, "No no. Come back. Come back Ian, don't go."
These are just two examples of my nightmares; I've had many others, and I did start keeping a diary of them. I'm not sure why the nightmares/dreams have been of Ian as a toddler. But I do know once I focused my mind away from the nightmares to more positive thoughts (trying to maintain positive thoughts in my waking hours), my dreams have changed to the positive side. I have dreamed of giving birth to live babies! I'm not a nightmare/dream expert; what I've learned is, I won't be afraid as much now if I do have more horrible nightmares since I've had some positive dreams in between.

Entry #6 ~ 3/22/98
My Son, Ian's, Stillbirth
Has Helped My Parents With Their Loss
-----------------------------


Gifts...
I'm not sure what "type of story" this belongs in. Often times we parents who have had losses "get in a funk" and start believing there is no good to come out of a stillbirth or other loss. I still feel that way alot, now six months later since my son, Ian's, stillbirth.
However, there is one important thing that has happened since the loss of Ian. My parents had a stillborn daughter in 1953. My parents never shared their loss with me until much later in my life.
Times were different back in 1953; my Mother never got to see her daughter. Also, my parents had never bought a headstone for my sister's grave. By accident I found out they had bought a headstone shortly after we had Ian's graveside service in September 1997. The headstone is inscribed "Baby Girl 1953."
Now I wish I had known they did this, because I would've suggested they name my sister. But that's okay, too.
Now I call her "B.G." and take great comfort knowing that if it hadn't been for Ian's stillbirth, my parents may never have bought a headstone for their daughter's grave. It warms my soul to know that when my parents leave this Earth, at least they will feel better about doing this for their daughter.
Now I have to go cry, thanks for letting me share again. (Me, too... Marcia)

Entry #7 ~ 4/11/98


Month 7 After Our Loss
----------------------


I do recognize positive changes in me,
and I applaud myself for them.
We need to give ourselves credit sometimes, I think.
April 11th marks the 7th month after the loss of our son, Ian. Many days seem brighter, however within the last few days due to discussions my husband & I have had, I am beginning to realize that our "grief paths" are now going in different directions.
Suddenly I feel lonely and isolated. I'm hearing a childhood song in my mind, "you take the high road and I'll take the low road." I hope this "grief road" meets up someplace later! I don't really want to be left alone on a deserted road.
I'm still having emotional days where I withdraw and then eventually cry until I can't cry anymore. Today was one of those days again.
After a long day at work, I drove to the cemetary, tended to Ian's gravesite, and cried. It does make me feel better doing that, but I'm starting to wonder "why am I still doing this?" My husband is questioning the same thing now, I believe. He may state, "you don't have to feel sorry about crying" however I really feel he's thinking "why isn't this situation getting better? Why is she still so bitter?"
Actually looking back on the two months after Ian's stillbirth when all I did was cry every day, every hour of every day, I can see a difference now.
If you look back in time until today, I can see a phenomenal change. But if you look back just last week or three weeks ago, probably not much change. It's still going to take time, I guess.
The positive thing is, I can see a change "for the better."
I do recognize positive changes in me, and I applaud myself for them. We need to give ourselves credit sometimes, I think.
I no longer immediately feel angry or resentful when I see a pregnant woman or hear of someone who recently had a crying baby. In fact, I'm feeling "hopeful" for the future (my husband and I have no other children). I no longer cry at the spur of the moment when I see a toddler (like driving home yesterday from work I saw a child riding her tricycle). Instead of me saying (which I would have months ago) "it's not fair, my child died and I won't be able to enjoy those simple pleasures" I think to myself, "I hope that's me someday, helping my child learn to ride a bike." When I think of it that way, I've made incredible progress.
It's a long road, though. I accept the fact that my husband is starting to climb the "high road" and I'm still on the "low road." I told him recently, "I will probably still have bad days."
I know that for a fact. I'm trying to recognize what I can do with that energy in another way. What else can I do to help myself heal? Sometimes I feel as though a black cloud is hanging over me, and I'll never escape it. I hope upcoming weeks ahead and months ahead will help me reach "the higher road."
The other day we found out neighbors of ours are expecting their first child. When my husband suggested we send a card I immediately said, "I don't think I can do that." What a terrible thing to say! In fact, I didn't realize what I had said. When my husband stated, "you shouldn't hold a grudge" I panicked. I started getting emotional and analyzing myself and saying to myself, "what is wrong with you, do you realize what you said?" Of course, I apologized.
Even though some days I feel hopeful and less resentful, there are some other days mixed in between where I am extremely jealous. I guess "jealous" sums it up. I wish I were in their shoes. I wish my experience was all a dream.
Unfortunately, I can't change the situation. Ian was stillborn. It happened. He is still our son, though. He will never be forgotten and forever loved.
Day by day, I'll get "better"
and hopefully not more "bitter."
I'm trying. It's hard.
I applaud myself for trying.
~~~~~~~~~~~~~~~~~~~~~~~
Marcia's comment...
JoAnn's letter reflects the thoughts, feelings and reactions of someone who is trying hard to heal, but still has, honestly, addressed her real "now" place. There is no time frame for an individual's grieving process. As she states her husband is possibily, for now, going down another path. Very Normal!!!!
In our SHARE Atlanta groups, it is about the seventh month that the mom continues coming to the meetings, and the dad has dealt with the issues. I don't believe that he has totally healed, he just does not want to discuss it as much, and he is ready to focus his thoughts on the future.
That should be received and accepted by the mom (as best as she can). In their effort to continue communication, mom needs to clarify that it is normal for this to happen and that she still needs to openly grieve - and do what she needs to do to continue to heal.
JoAnn's actions and expressions of remembering sound very much in line with what I have heard and studied for 13 years as a group leader. She needs to do concrete things for Ian.
If both parents will understand that what is happening is normal, then the energy put into worrying about what's "right," can be focused on healing. Both parents sound like they are healing!
JoAnn's clear statement - that she can observe change and healing taking place, and she can begin to make small steps for the future - is very positive!!!
~~~~~~~~~~~~~~~~~~~~~~~~~~
JoAnn's Reply:
THANK YOU FOR THE "REALITY CHECK." Sometimes I think I'm really out to lunch with what I'm feeling. You certainly made me feel like I'm "on target" considering the timing since our loss. While I was reading the site last night my husband was standing over my shoulder. He gave me a peck on the cheek and said, "I'm sorry." Well, I explained he didn't need to apologize, that's just the way it is.
I recently met another Mother who had a stillbirth 8 years ago. She's a counselor for the local EAP. Just as I was thinking that I was "out to lunch" with my situation, she brought me back to realizing that everything I'm feeling is normal. What a relief. SUPPORT does work! And somewhere along the line I feel somebody somewhere was looking out for me in making sure I met Joanne. It's funny how that evolves.

Entry #8 ~ 4/21/98

Haunting Triggers/Releasing Emotions
------------------------------------


Triggers that remind me of my son, Ian's, stillbirth on 9/11/97, sometimes catch me by surprise.
My husband & I were invited to a friend's 40th birthday party on 4/18/98. Another couple at the party brought their 6 1/2 month old son with them. When I first saw the child it was like a STAKE had penetrated MY STOMACH. My initial thought was, "how am I going to make it through this night?" Another thought was, "Ian would've been about that size today." I panicked slightly, but somehow found the energy to maintain my composure through the evening.
I dreaded the inevitable "baby stories" however there weren't as many as I expected. My husband's face looked a bit flushed after while; I could tell by his expressions that the sight of that child stirred up emotions inside of him as well.
The minute I left our friend's house and we started the short drive home, I fell to tears. I bawled all the way home.
This situation finally made me really understand that we need to cry and we need to let those emotions out as often as we need to during the initial grieving process. I cry because I love my son and I miss him. I'll always love him and miss him. Sometimes I try to take the approach, "I'm crying for my son and he deserves to be recognized that way."
It was very difficult managing my emotions in front of a group of people when I saw that child. The child's Mother & I had shared "pregnancy stories" throughout our terms.
She didn't say too much to me that night, it must have put her on edge also, seeing me there. I guess I'll never know. Of course we never talk about "the elephant in the room."
Later at home my husband said, "I know how difficult that was for you." I responded, "it must have been hard for you, too." He didn't say much to my response, but I knew it hurt him, too.
The next day I used the emotional energy that had built up inside of me to make a special momento for Ian's grave. It helps me cope. I need to do this for my son. And, I need to do it for me, too. I miss my son and I love him.

Continue with page two of JoAnn's Diary


Return to JoAnn's Diary "Title Page"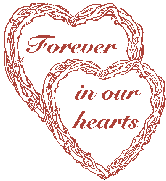 copyright(c)SHARE Atlanta '97-'2015



Graphics on this Site are Copyright