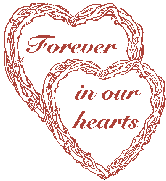 SHARE Atlanta's
Holiday Candlelighting Form

12/4/04 ~ This page is not working right now. Please click on the candle and go to the other candlelighting page and tell me you wish for your candle to be in the holiday page. Thanks, Marcia

Candlelighting
Of course, any of the above information is optional.
It is never too late to light a candle for your child - if it has been 25 years or more, we welcome you and your baby(s). This is your page - a safe haven of gentle memories. Our baby(s) will be Forever in our Hearts...
I will light a virtual holiday candle in memory of your baby within a week after I receive it. My hope is for you to feel some peace during this holiday season. Please know we care. Marcia
Sharing Stories Form
Click on the snowman if you would like to share some thoughts about the holidays. I will place them in our "Holidays, Anniversary and Due Dates" section under Christmas or Hannakah. I will send you an e-mail as soon as I post your entry.


copyright(c)SHARE Atlanta '97-'04

Graphics on this Site are Copyright