SHARE Atlanta Local Grief Support Group Information
"A 'Highlighted' Timeline of SHARE Atlanta's Twenty Year Outreach"
Events and Programs by Marcia McGinnis



The purpose is not to heal, only to love.
It is the love that heals.
Gurudev (Yogi Amrit Desai)
~~~~~~~~~~~~~~~


Direct Links to different years:

SHARE Atlanta as of January 2005

1981 to 1983

1984 to 1986

1987 to 1990

1990 to 1995

1996 to 2005

SHARE Atlanta ~ Brief Information

SHARE Atlanta as of January 2005

A 'Highlighted' Review of SHARE Atlanta's Twenty Year Outreach

Significant Dates, Events, and People

Marcia McGinnis





Every Person is important..

Through the years there have been members who have held each other together by supportive words and outreach. These people are as important, in many ways, as those who have held offices on the board, run groups, supported us through financial gifts, started and carried through outreach projects, inservices, awareness activities, been interviewed, or worked on minute details to make an important event even more special. EVERY person is important in a group such as SHARE Atlanta.

People are what make our group viable..

The most important fact about every one who has helped and worked so hard during these twenty years is that all did so for two reasons:

to continue the love and support that they received in SHARE Atlanta from other parents. Because SHARE Atlanta is here solely for supporting those bereaved who wish to heal.



to honor and show their love for the babies that brought them to SHARE Atlanta.

The gift of love and support...

The sincerity and care that each person has brought to this group has been a lasting gift that continues to give.

I have been truly honored to be a part of such an unique organization.

In this review of the "history," I have focused on the main chain of events that propelled us along in time. I have mentioned a few, certainly not all, of our members in relationship to some of the events to begin to highlight the importance of the people in our group. Many more are highlighted in our Media, Inservice, and Volunteer sections of our website.

The love stays...

The one thought that remains with me as I work on the history, remember the members through the years, and think of those who join us today, is "The Love Stays..." The love for our babies carries us along and in SHARE Atlanta it keeps our thoughts to outreach and support for each other to honor their memory. Even in our volunteering, we preserve the kindness that helped us to heal.

Sincerely, Marcia McGinnis, January 2005.





Return to list of Options

AMEND
1981 to 1983
'81: The AMEND Grief Support Group, started by bereaved mom, Joan Dewar, and Ina Moore, in 1981 - was the forerunner for the SHARE Atlanta group. AMEND, which met at the Link Counseling Center in Sandy Springs, had one monthly group meeting, several phone people, and no other programs or activities. Actually, many of the newer parents contributed to the phone lines while still healing during the first year or so after their loss.

Atlanta's AMEND provided caring outreach from the volunteers and members that made the group viable. Those who attended the group were pulled together in a common bond of grief and love for their baby that died and the need to heal.





AMEND and SHARE Atlanta had a common mission with the same ultimate goals...
During the early 80s, being together in AMEND, gave to us bereaved parents what SHARE Atlanta has continued to hope to do through the years. Basically, those who had experienced the pain of pregnancy loss provided comfort and support to one another. Our healing efforts were focused on regaining our hope so we could make new subsequent choices.
We are not alone ... our pain in grief is normal
What we have come to realize is that a group such as ours keeps our losses on a personal level. The pain of loss and the subsequent grief is not necessarily a clinical situation. We learn that the grieving process is a normal part of dealing with loss. The process helps us heal. Parents support each other as they move through their grief (especially during the first year).
The group provides an understanding of how to deal with grief with ideas for coping. Parents are seeking the ultimate ability to make new choices - whatever that means for parents on their path. For most of us, our lasting and ever present desire is to come to a place where we can celebrate a new life as we bring a subsequent baby into our family.
Marcia McGinnis, 1/2005

SHARE Atlanta
When Joan closed the doors of AMEND in 1984, a few members were determined to continue some form of a pregnancy loss group in Atlanta. We began with and have continued to create the kind of mutual support group model, that Sister Jane Marie Lamb envisioned in 1976. This was very similar to the AMEND group here in Atlanta.

Return to list of Options

1984 to 1986
We have been in existence since November 1984 - when we changed the name from AMEND to SHARE Atlanta. As we began, we had very little structure. Structure grew out of need. Our group grew as the needs of the Pregnancy and Newborn Loss Community here in Atlanta became more and more clear to those of us who supported the group. All of our materials, services, and direction have been developed by SHARE Atlanta parents and, in some cases, friends or family of SHARE Atlanta parents.
Phone outreach, continued from the AMEND group, through the Link Center...'84.
Men and women's group was opened January 1985 in a room at the Sandy Springs, Link Counseling Center. Larry Connelly (1985 to 1986) and Marcia McGinnis (1985 to 1990) were the group facilitators.
Women's group begun in October of 1985 at Jean Shulman's home (led by Marcia McGinnis) then split into 4 groups. It became "one" again in the summer of '86 at Marcia's home and continues there each month under her guidance.
First SHARE Atlanta brochure in September 1985 by Lily Adams, Larry Connelly, and Anne Thrift.
1985: Social gatherings by our members happened because they felt safe with other group members. Together we knew what to say and what not to say...until we could heal. These gatherings gave us a happy place to be together.
SHARE Atlanta Newsletter November '85. (First two were typed by Anne Thrift.)
Our first candlelighting was in December 1985 in Indian Creek Baptist Church in Stone Mountain by Tom and Roberta Kohn (our very first SHARE Atlanta members) and other members of SHARE Atlanta. Annual candlelightings followed and were held in the McGinnis' home.
Information sheets, articles and information, gathered together by members in spring 1985 for group and inservice. This was Tom Kohn's idea.
Informal inservices began in 1985. Often with visits by a member to "their" hospital carrying "information packs" of printed materials about pregnancy loss and our brochure. Then, members were included on panels with Parent-to-Parent and Premie Parents' members. These were at Northside, Piedmont, and Shallowford. Also, several informal talks to small nursing staff groups were presented. The need to spread the word about support was immediately realized by our members. Why? Because we had benefitted from the support given to us.
First business meeting held at Piedmont Hospital, January 21, 1986, and Marcia McGinnis was elected president.
Anniversary notes and thank you notes in January 1986.
SHARE Atlanta post office box in 1986 by Jean Shulman.
Subsequent Pregnancy group begun in 1986 by Lily Adams and co-led by Nancy Schultz with topic meetings. Husbands joined during the last meeting. (Just as we do today.) Pam Slayback began facilitating this group in 1987.
First "Baby Reunion" at the McGinnis' home in 1986 evolved to "Family Reunions" because members came bringing older children as the years passed. Bob and Kathleen Blum held many of our "Family Reunions" in their home over the years.
Linda Anderson wrote "What to say and do when someone loses a baby" in 1986, and it published in Growing Parent in February 1987.

Return to list of Options

1987 to 1990
Incorporation: completed by Att. John Bender, a SHARE Atlanta dad, on April 14, 1987. Our by-laws had been worked on by Jean Burditt and Jean Shulman. Then, in 1989, Pam Slayback worked for our tax-exemption status affective as of August 2, 1988.
Business group with more developed structure (president, v-p., etc.) came out of the incorporation. SHARE Atlanta's meetings consist of the board who are volunteers working as coordinators for our various programs, and any volunteer who wishes to join us. Through the years, the SHARE Atlanta volunteers collective care and concern, for the bereaved parents included in the Pregnancy and Newborn Loss Community, has been demonstrated by their ongoing devotion to make SHARE Atlanta a supportive and effective group.
Kate Bissel in 1987 bound 15 of our books that held articles, and the background and mission of SHARE Atlanta. Piedmont helped run them off. We used these in inservice and for groups.
First of 12 television outreach programs in January 1987: Cable News Network (CNN): Health Week. Charlotte and Neal Faulkenberry, Jean and Bob Schulman, Tim and Sandy Spaeth, were the panel for an Resolve Through Sharing Certification Course, and CNN was present. CNN wanted to learn more about these couples and interviewed them at their homes. Thus began our media coverage. Through the years, each show included many of our members and their stories. Many were filmed in Marcia McGinnis' family room.
Two members, Linda Anderson (who also was a group leader) and Susie Blackmun, wrote articles that went into magazines such as "Parenting", "Mothering." Linda's piece is entitled: "When birth ends in death: Bereaved parents need help of friends, family to cope with pain." Susan's aritcle is entitled "A Stillborn's Gift" and was published in 1988.
The play, "Cameo", was written in 1986 by our own Linda Anderson. The play was performed for the Seventh National Peri-natal Bereavement Conference here in Atlanta by Atlanta actors in 1990. It was then made into a video that was shown at conferences.
Four month rotating topics for grief meetings encouraged by '87.
First of 12 newpaper articles in April 1988 - The Dekalb News/Sun: "Group Shares Grief Of Baby Loss." encouraged by and focused on Candy Frazier.
"Parent Packets" to new members when they call. Peggy Moore, phone coordinator - 1989
First Memorial service, at Springdale Park, on Ponce De Leon in form of a "Walk to Remember" in October 15, 1989. It was coordinated by Joanna Merwin, Diane Jordan, Melody Werner, and Esther Gutierrez. We planted an oak tree at the corner of Springdale and Ponce. The walk was our first October Pregnancy and Infant Awareness event.

Return to list of Options

1990 to 1995
Library begun by Lynne Anderson.
SHARE Atlanta phone with answering machine (in a home) in 1990 financed by Ellen Padgett, grandmother of Dorothy Ellen Ritter (Mark and Reece's daughter).
Lynne Anderson took the men and women's group at the Link (then moved to Roswell and Marietta) in 1990 (to 2000).
Marcia McGinnis was awarded the TBS Citizen's of the Week award for her service in the community in May 1992. A special featuring SHARE Atlanta on TBS: "Between the Lines" included 11 of our members in a mock SHARE Atlanta meeting.
Structured inservice and promotional program better developed by Karen Gipson beginning in 1994. Karen carried our program to new heights and reached many by getting information out on radio, television, flyers, and newspaper. She also strengthened our relationship with caregivers. Karen Major worked along side of Karen for many years.
Telephone outreach becomes structured with coordinator and mailings. Peggy Moore and then Lynne Anderson were instrumemtal on this development. Jeneanne Organ, grandmother of Lynne and John Anderson's sons, helped by running the materials off. '93.
Lynne Anderson designed our Double Heart Logo and slogan "Forever in our hearts" in 1994.
First, "Survival Kits", by Lynne Anderson and Marcia McGinnis, for those in the hospital and newly bereaved created in 8/94. These were modeled after Southeast Missouri Hospital SHARE group's packet. They were first used in Dekalb Medical and GA Baptist. The ones we have now were created by Marcia in 2000.
Subsequent Pregnancy Parent Packets mailed to members when they call - 10/95 started by Taylor Deane.
Job descriptions for SHARE Atlanta volunteers written in 9/94. Taylor Deane worked many hours to make this happen.
Single mom issues addressed.
Volunteer retreat weekends (at Clare Weaver's family's lake home) or Saturdays to work on SHARE Atlanta's path, to educate our leaders, to refresh our bonds of friendship, to relax and have fun.
Topic booklets from resources used in meetings.
Letterhead stationary and matching envelopes - 1/95

Return to list of Options

1996 to 2005
Annual memorial services began with the first one at St. Luke's Prebyterian Church in May 1996.
Memorial garden with bench at Arlington Memorial Park in Sandy Springs, GA formed in 1997 - led by Jessica Kysar and garden created by Janet and Clay Algood and their landscaping company. Jennifer Greer, Karen Gipson, Karen Major, and Marcia McGinnis focused on project and had it on 11Alive's program.
Phone message voice mail with parent directed call back.
5 month rotation and topic booklets for meetings by Marcia McGinnis. 1996
Website by Marcia McGinnis in 1997 supported financially by Roger and Taylor Deane.
Outreach to community with donations to charities begun in 1998 by Phillis Almgren.
SHARE Atlanta sets up a Special Events phone line in 1998.
Chatroom online by Harold McClure in 1/98.
Memorial brick pathway in 1998 created by Jennifer Greer.
First March of Dimes participation in 1998 - led by Jennifer Greer.
CARESHARE, a senior citizen's outreach, wishes to donate memory boxes that they make to SHARE Atlanta, 8/99 - thus beginning a positive relationship.
Telephone Packet for our volunteers detailed by Jessica Kysar in 1999.
SHARE Atlanta quilt project in 1999 by Jennifer Greer, Pam Renner, and Sharon Cryor.
"Remembered with Love" section in newsletter begun in '99 after survey done by Jennifer Greer, ed..
Carol Lanham, author of Pregnancy after a Loss did inservice for SHARE Atlanta. Meredith Tyree arranged a room at Dunwoody Methodist Church with Ass. Min. Barabara Bean's help. Jennifer Greer worked to bring Carol here.
Marcia McGinnis was awarded the 11Alive's Community Service Award and Jefferson Award for Public Service given by WXIA in April 2001. There was a two minute footage of the group "in action" with several interviews on the television presentation of these awards.
SHARE Atlanta was invited, and Marcia McGinnis attended, CDC "Safe Motherhood/Difficult Pregnancies" Conference in 9/2001.
Mary Morgan, 2001, sketched our angel for our brochures and painted several pictures of the angel.
Angel garden and path in 2001. Garden designed by Joe Keen and created by Joe and Polly Keen's landscaping company. Chris and Terry Clontz provided substantial funds for angel garden. Over 30 SHARE Atlanta parents supported the effort in many various ways with Karen Gipson, Karen Major and Jennifer Greer being instrumental in starting the project. Richard Paul Evans, author of The Christmas Box spoke and the Atlanta Children's Choir and St. Luke's Handbell Choir provided music. Wes Sarginson of 11Alive was our master of ceremonies.
Advocacy and Awareness for medical and emotional support and research with brochure, website presence, and October Loss Awareness Pins become central to our program. This is because the Pregnancy and Newborn Loss Community is gaining a voice, (as a result of doctors, March of Dimes, NIH, medical research and understanding and groups such as ours), and we support these events.
SHARE Atlanta and Angel Garden highlighted in the Atlanta Journal-Constitution - 10/5/03
Spanish Survival Kits finally become a reality and we devote 12 pages of our site to our Spanish community. This is in 2003 by Marcia McGinnis, Angie Morales, Suzanne Ridenhour, and for SHARE Atlanta in memory of Milagros Susana Acedo Perez 1980.
Power point presentation, "Cirle of Healing" by Marcia McGinnis, tied with the usual panel for inservice is created in 2004.
Festival of Trees participation begun in 2004 by Marcia McGinnis.
"Blankets of Love..bunting, bonnets, booties" outreach program started in January 2005 by SHARE Atlanta mom, Kelly Mishkoff in memory of her 2 sons born still..Zachary and Jeremy. Her friend, Jennifer Carter supported this effort. Marcia and CARESHARE's (a senior citizen's group) Eydie Clement are continuing and broadening this outreach.

Return to list of Options

SHARE Atlanta ~ Brief Information
600 men and women annually receive our quarterly newsletter
SHARE Atlanta is non-denominational. Every individual is accepted and important as he/she moves down the path of grief. There is no charge for our programs.
Every member is an unpaid volunteer. Their are no salaried members. We have no grants and no funding other than through tax deductible donations.
More than 25 healed or healing bereaved parent volunteers organize and facilitate programs. While most of our volunteers are bereaved parents, we have some family members or friends who have been touched by a parents' loss join us. We also have some wonderful people who, for their own personal reasons, reach out to support our outreach in the community. Their love and caring has meant a great deal to all of us at SHARE Atlanta.
We have been recognized in segments by CNN, Parenting Today on CNN, TBS, WSB TV, WXIA Volunteers of the Week, The Atlanta Journal and Constitution, and numerous local neighborhood newspapers.
Our meeting coordinators have educated themselves further around the issues of grief and newborn loss through workshops, readings, and experience through helping and being in groups.
Our special children have helped us to be conscious of the need for the support of parents "who have been there." We hope to be here for you for a long time to come!


SHARE Atlanta Information - history, timeline, people and places...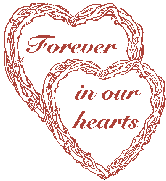 copyright(c)SHARE Atlanta '97-'12



Graphics on this Site are Copyright