Dolls that are made and dressed to look like our tiny babies & many have ways you might buy one for a very special keepsake...

Wee Bundles
These dolls are made of fabric and can be the size of your baby...

Miracle Baby Dolls
Here is a page with darling baby dolls made for the size that many of these clothes would fit. These dolls are made to look like real children who were born this tiny! I was 32 weeks and I showed my mom these pictures and she said I looked like that! I have pictures of me at that size (or a little bigger!). Just thought you might like to see! (It has links to tiny, tiny baby dolls as well..smaller than 12 weeks!) (Marcia)

God's Little Ones
Lots of links to lots of preemie baby things!

- Memorial dolls are created as mementos that look just like your baby.

Preemie Memorial dolls - patterns for or you can have one made to the size of your baby...


SHARE Atlanta's Blanket's of Love Menu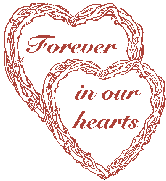 copyright(c)SHARE Atlanta '97-'12


Graphics and "Music Box by Eclipse"
on this Site are Copyright...click on owl!