Here is Saskia's Long story you may edit it if you want. I originally said that she died due to cord accident but found out today that the cause is actually unknown.
You truly are an awesome and fantastic person. Take care and have joy in your heart Gypsy.
In June 1998 we found out that we had got the posting, we had applied for, to Nowra, NSW, Australia. Dad went away to Ohakea for a course and while he was away we decided that while we were in Australia it would be a good time to have our second baby. So I stopped taking the pill and started on Folic for a healthy baby.
Not long after we arrived in Australia the Squadron went on an exercise to Darwin and Perth, for 6 weeks. The night before Dad left, October 21st, we made you.
On the morning of November the 4th I did a home pregnancy test and confirmed that our second, much wanted, and already much loved baby was on the way.
Our neighbour, Carla, was the second person to know about you because I was so excited I had to tell someone! This was the day that Dad was transferring from Darwin to Perth.I rang the MFC and asked him to pass on a message to Dad.... "Congratulations."
That day Kieran and I went into town and brought you your baby diary and a pair of sunny yellow shorts, Kieran chose a toy for you. I wrote the first entry in your diary that afternoon....
...you made me feel very tired and I had to keep eating all day or I felt sick. We had our first visit with the Midwives on the 18th of November. Their names are Lois and Meg. All was well with me and I guess you too. We were planning to have a home birth with you.
Dad and I are having on-going discussions about what to call you if you are a boy. It took us a very long time to agree on Kieran's name so we had to start thinking about this early or we may not have had one by the time you were born. Our girls name was already decided, Saskia Caitlin Ann.
We saw you for the first time on the 27th of November, this was your first ultrasound. Dad and Kieran came with me and we videotaped it. We could see your little heart beating away. The ultrasound estimated your age at 8 weeks and 3 days which made you due on the 6th of July, which is about what I thought.
We had a midwife appointment on the 13th of January and we heard your little heartbeat for the very first time, it was extremely cute.
Around the 24th of January, (16 weeks), I thought I could feel you moving but I wasn't too sure as you were too little to make much impact.
By the 2nd of February I was sure it was you though. I could tell you were already getting into a routine of waking and sleeping. You woke up in the morning with me. Then again in the afternoon when I was giving Kieran his pre-afternoon sleep breastfeed. And in the evening when I settled down on the couch to watch TV or when I went to bed this was your most active time. You were certainly a lot more active than Kieran ever was, like a wee disco dancer.
On the 13th of March we went to Canberra for the day. That is when we got your little black and white Tiger (the one you have with you now). We got it at the National Aquarium.

You got more and more active as time went on Dad and I would lie in bed at night and watch you wriggling around. If I snuggled up too close to Dad you would kick him in the back!

Getting ready for you...

By the end of March we had you basinet all set up and made waiting for you, in our room. We put all your special new stuff in it and Kieran was really keen to play with your toys.

Over Easter weekend we went away up North and we chose a top and a pair of trousers for you at Pumpkin Patch. That weekend we also won a pack of baby toiletries and massage oil. Dad used it to massage my back, it smells really lovely I think you would have liked it.

The squadron left for Perth on the 12th of May. Fortunately the decision was made that Dad would stay back. Which is lucky as otherwise he would not have been here when we found out you had died.

>Sunday the 9th of May was Mother's Day and I got a lovely card from you and Kieran. We also went to the Parent and Child Show up in Sydney. We got some cool stuff for you including a very special red, black and white play-mat and a ladybird.

Towards the end of the pregnancy you were really taking a toll on my back and my hips. So I started going to the Chiropractor.

On the 22nd of May your big brother got very sick he had a Gastric Flu and I was up all night with him as he was throwing-up all the time. On the Monday I got the flu too so we were quite worried about you. Lois came and checked me out but everything seemed ok. I had another Midwife appointment a couple of days later and once again we were both well.

On Wednesday the 2nd of June I sat on the couch with Dad and we felt your hiccups. I can't remember if you were very active that night, or not.

Death....


The next day I said in your baby diary that you had been very quiet.

I didn't really think about just how quiet until I was sitting on the couch that evening. I mentioned to Dad that I couldn't remember you moving at all that day. We went to bed and you still didn't start-up. That was an awful night I woke up many times holding my belly and willing you to move, but you never did.

In the morning I rang Lois. She came over, I lay down on the floor and she tried to find your heartbeat. She couldn't, so we went onto the hospital to use a better machine. Still no joy, we were pretty sure by then that you had died.

An ultrasound that afternoon confirmed it.

After the ultrasound we went and bought you an outfit to wear when you were born, it was a white Peter Rabbit suit which would be nice and soft on your skin. Then we went home and made travel plans for our trip home to New Zealand.

Birth....


On Saturday, Harky came at 3:30am to drive up to Sydney Airport with us. We checked in at 6:00 am and our flight left Sydney at 8:00am. It took 3hrs to get to New Zealand. When we arrived Glenys and Natalia were there to meet us, it was 1:00pm NZ time.

We drove straight from the airport to Waikato Hospital Delivery suite. Dad went on to Te Aroha to settle Kieran in at Aunty Kathy's and I was admitted to the ward.

Later that night Dad came back and they gave me the first dose of gel to induce our labour.

On Sunday there were two more doses of gel and in between times Dad and I went out to Spotlight to get some special material for your photos.

On Sunday afternoon Grandad, Sylvia, Sam and Finn arrived from Christchurch.

On Monday there was another dose of gel and Dad and I went out with Nana to Pumpkin Patch to buy you a hat and get some lunch. In the end we got your hat from Farmers.It was Purple with Winnie the Pooh on it. Dad stayed that night in the hospital with us.

On Monday night things really started to happen. They tried to break your waters and they didn't think they were successful until I stood up and found that they definitely were! After that they put the drip in and started up the Syntocinon to get the contractions going. Our Midwife that night was Sherina. At about 11:00pm it was starting to get a little sore so I had an Epidural. From then on I slept on and off and so did Dad.

My fingers were starting to swell up so at around 4:30am I asked for someone from the emergency department to come and cut off my ring which was getting sore.

At 5:30am I was starting to get really sore so I had an extra dose of Epidural.

I think this was transition, because after that I started to get kind of uncomfortable and disorientated. I told Sherina I thought she had better have a look she did and sure enough I was 10 cm dilated and there was your...arm! I'm not sure if you know this or you were just trying to be difficult but babies are supposed to come head first. The registrar came to see if she could put your arm back so that you would come out the right way but she couldn't.

So I held your hand until 10 minutes or so later when you slid easily out, with one big push. It was 6:03am.

A girl, Saskia Caitlin Ann.

You had the cord very tightly around your neck twice we thought that this was why you died, but there are no answers to that question.

After you were born I held you and then Sherina cut the cord. After that Grandad came in to see you.

Then we weighed and measured you. You weighed 5lb 2oz (2330gms), your head circumference was 29cm, and you were 47cm long. Sherina took swabs from you.

Then I washed and dressed you. You wore a little nappy, a hospital gown, white Peter Rabbit suit, and your Winnie the Pooh hat which was just right.

Then we took lots of photos of you especially your tiny hands and feet. We also took video of you.

Then I put on your little white socks and wrapped you in your blue blanket.

Then Dad had a cuddle with you.

After that lots more people came to visit.

Nana, Sylvia, Sam and Finn, Aunty Kath and Trudy, Christine, Dawn, David and your big brother, Kieran. There were lots more photo's.

During the day Dad and I had lots of time with you.

We got you a wee pair of booties from the hospital family care room. The lady gave them to Dad for free because she had, had a baby die as well.

Saying Good-bye...

Glenda from the funeral directors came and picked you up at about 3:30pm.

After that Dad and I went into town and brought you another outfit for your funeral. We got it at Pumpkin Patch it was green with little black spirals on it. Then we went and got you some flowers, I chose Paper Whites and Pink Tulips. I promise to get you some every year for your birthday.

After that we went home to Nana's.

The next day Kerry, the other funeral director, brought you to Nana's in your Casket. We had it open in the lounge so people could visit with you and see you and say hello.

We put one of your nicest photo's alongside it. During this time you got some books, teddy bears and some other special gifts from your family.

You have three very special things with you. A letter from Dad. A pounamu from Chris and Teresa, they gave us two identical ones, I wear the other one every day. The final thing is a little silver bracelet. You remember how I had to get my ring cut off during the labour, well that ring was a silver Russian wedder, which means it is three rings intertwined, Dad gave it too me for Valentines Day 1997. One of the rings is your bracelet and Dad and I each have one too.

On Thursday night you slept in the room with me and Dad.

On Friday I took you out of your casket
and took you outside. I showed you lots of things
like the flowers and the cat. We took some more
photos of us as a family.



Good Bye (for now)...stars, flowers, a special birthday cake...



On Friday the 11th the Funeral Directors arrived at 3:00pm to drive you to Te Aroha Cemetery. Grandy and Uncle Eric are also buried there and we will be there with you one day.

We had a short service for you delivered by the Anglican minister and then Dad and Grandad lowered you into your grave. Everyone had a smiley face to give you and Sylvia, Grandad, Sam and Finn gave you big silver stars. Some people left flowers for you.

After that Dad, Kieran and I drove up Mt Te Aroha and we talked about you and what life would be like without you.

Then we went back to Nana's everyone was there. We gave a little speech and then we cut your birthday cake. It was chocolate and it had little white Daisy's all over it, a 0 candle, and Saskia in gold letters. Then we had a toast to you.

Before we left Te Aroha to go back to New Zealand we came to see you a couple more times and we brought you some flowers from nana's garden. And we said Good-bye, for now at least.

Love you lots



Entry #3: Further Down the Path...a new pregnancy...



Gypsy's Subsequent Pregnancy Diary...started 12/19/99

Entry #3: Saskia's first Anniversary



The day before we left(for our holiday) was Saskia's first birthday- we got her birthday cards for her scrap-book and a bunch of flowers very similar to those that we got her last year.

I am in the process of making a blanket to donate to the local hospital for the parents of the next still born baby to have as a keepsake. I think that all of these things will become tradition.

Only a few members of our family acknowledged that it was her birthday which was a little disappointing and I was upset to learn that my sister-in-law had been made to feel bad (by my mother-in-law) because the balloons they took to her grave had left a mark on Saskia's cross. Personally I am absolutely delighted that they cared enough to make the effort as far as I acn tell no one else did!

Gypsy
Thirdterm/cord accident Nowra, NSW Australia
6/16/99


E-mail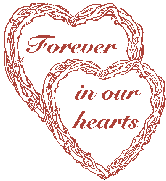 copyright(c)SHARE Atlanta 97-'05



Graphics on this Site are Copyright